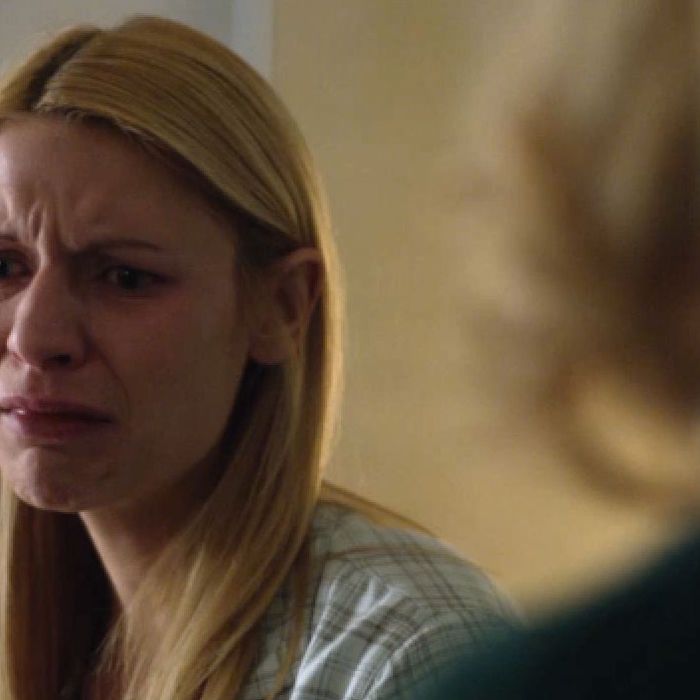 Last Sunday, Homeland returned for a fourth season of paranoia, violence, intrigue, shouting, and unwise sexual decisions. One big reason we keep tuning in is for disgraced/reinstated CIA agent Carrie Mathison (Claire Danes) and her Emmy-winning cry-faces. (Since Halloween is approaching, print this out.) Even calling them "cry-faces" sells them short: Danes luxuriates in her sorrow, inhabits it. She cries with her whole body. She is a master. Here is a ranking of her cry-faces from the first three seasons. What makes one Carrie cry-face greater than another, you ask? Our criteria: commitment, total absence of vanity, its ability to elicit empathy from the viewer, and, occasionally, context.
17. The Romance Cry-Face (Season 2, Episode 11)
Starting small with a standard, barely lit, romantic cry-face. This would be good work for most people, but for Claire Danes, it's run-of-the-mill.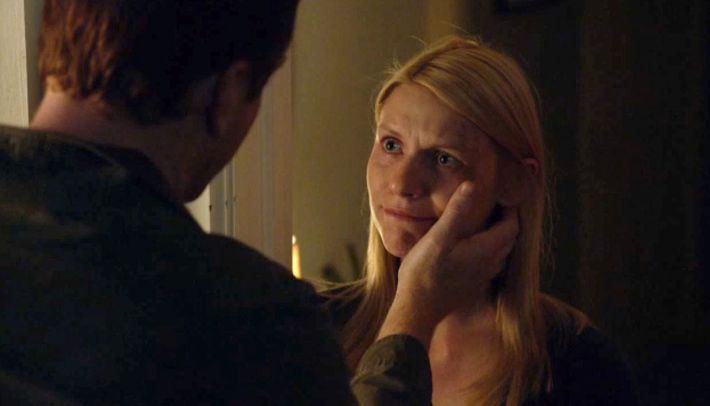 16. The Corporate Cry-Face
Corporate sadness. It's efficient, if a bit generic. (Coming to the office makes everyone feel like this.)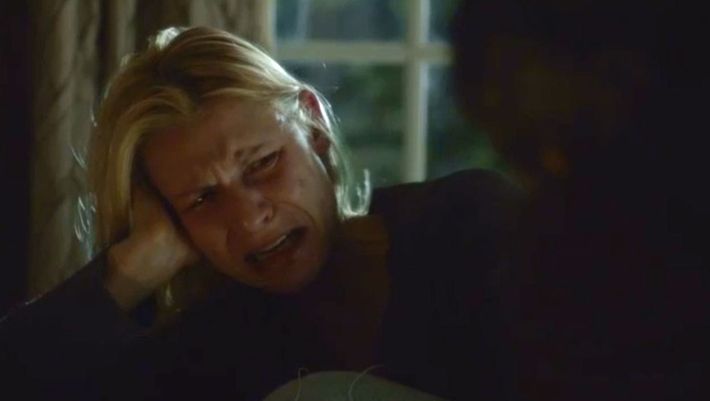 15. The Girl, Interrupted Cry-Face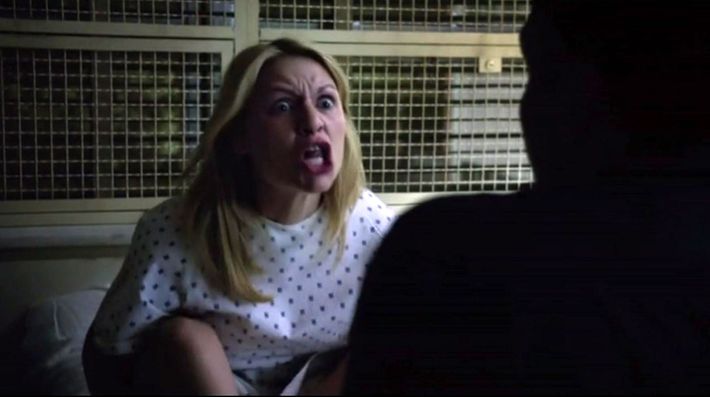 14. The Casual Cry-Face
This could be a "before" picture from a commercial for A-Carrie-a™, a new anti-depressant.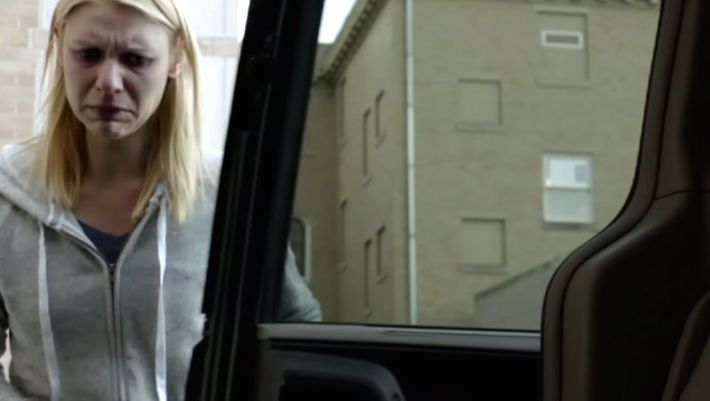 14a. The Alternate Casual Cry-Face
Another "before" shot, now in a car.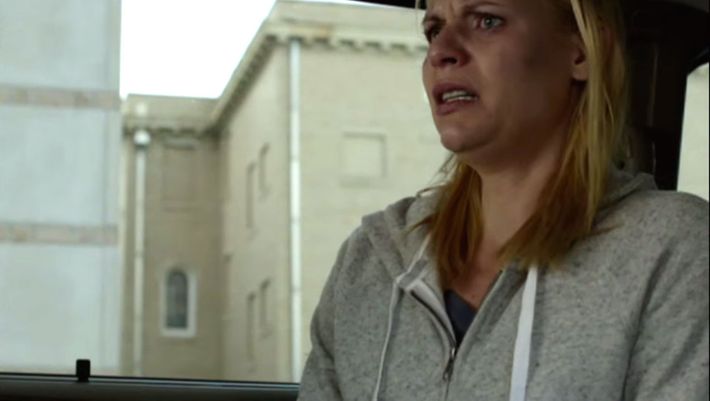 13. The Anxiety Cry-Face
Haunted, hunting, and hyperventilating in Lebanon.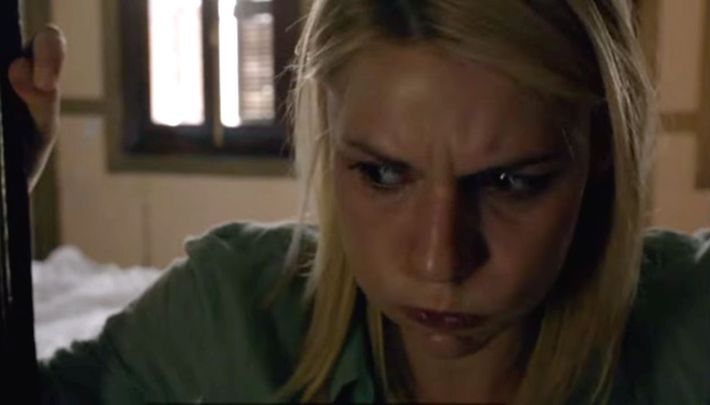 12. The Long-Distance Cry-Face
She sports a more subdued, subtle look as she bids farewell to her lover, who is a Dead Man Walking. ("You hang up first. No, you. Wait, I shouldn't have said, 'hang,' should I?") Impressive forehead and chin work here.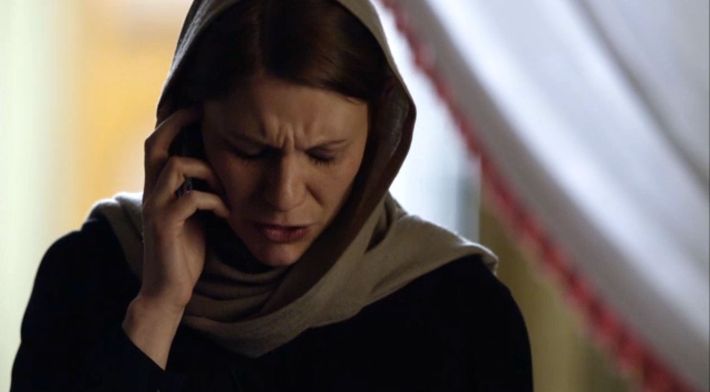 11. The Jack Nicholson Cry-Face
"One flew east, one flew west, One Flew Over the Cuckoo's Nest …"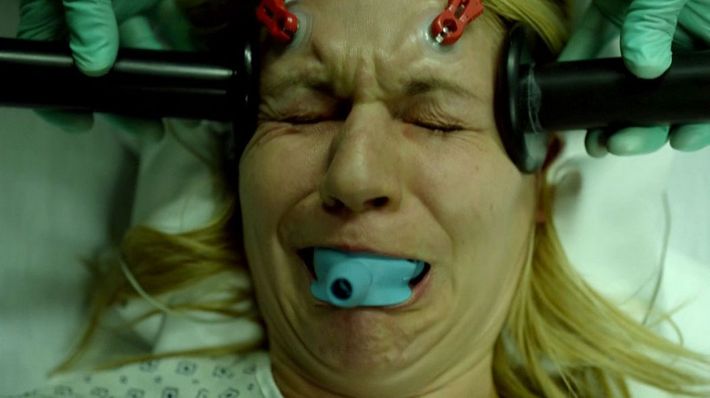 10. The Lovers' Quarrel Cry-Face
"I've been shot by the guy who wishes he could ask me to the prom," starring some impressive neck veins.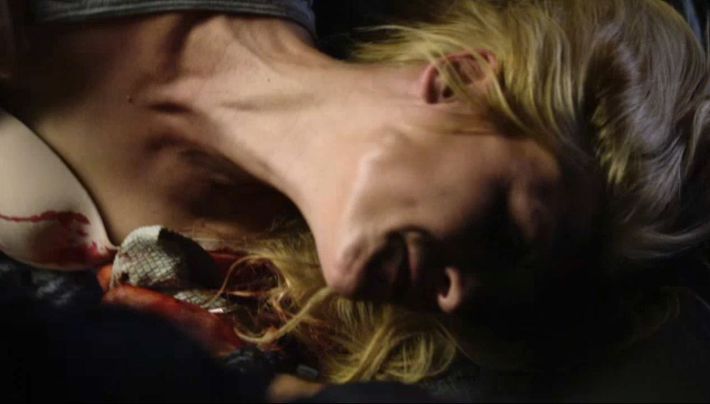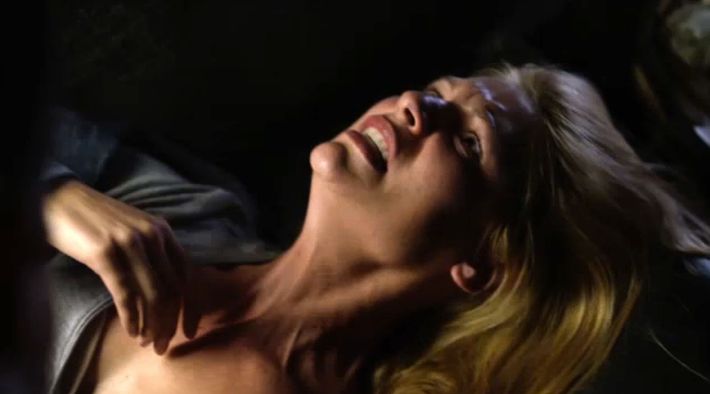 10a. The "Shock's Wearing Off" Cry-Face
Continued: "Did you hear me? I've been shot. Where the fuck is Saul?"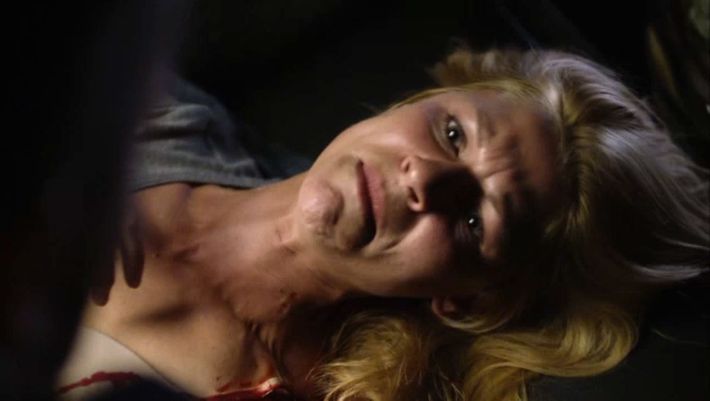 9. The "Fuck You, Saul" Cry-Face
There he is! "Fuck you, Saul."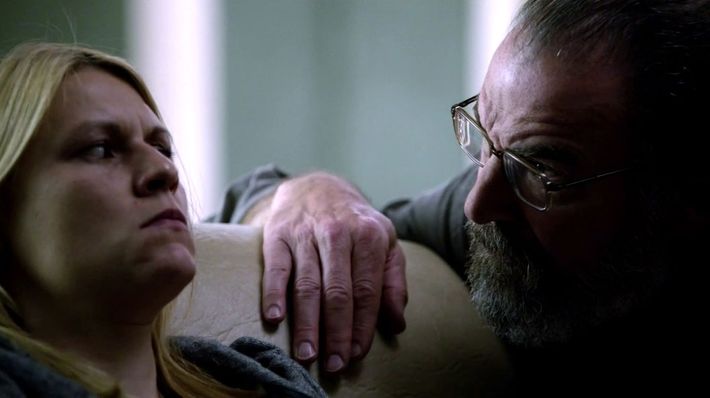 8. The Brokeback Cry-Face
"I wish I could quit you."
7. The Assassination-Chic Cry-Face
"I'm about to witness an assassination, and I can't do anything to stop it!"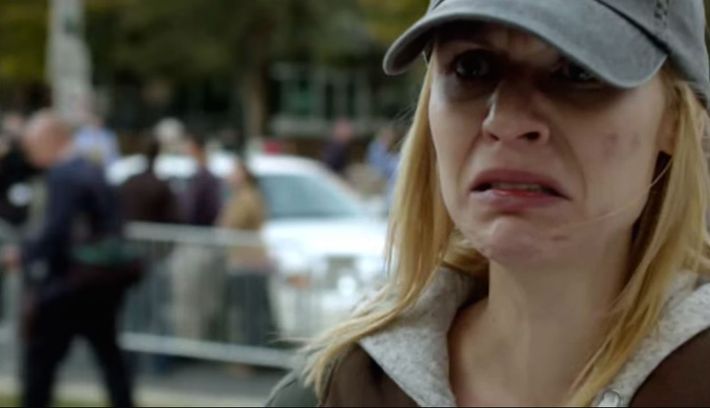 6. The Triumph Cry-Face
"I WAS RIGHT?"
6a. The Triumphant Despair Cry-Face
"I WAS RIGHT!"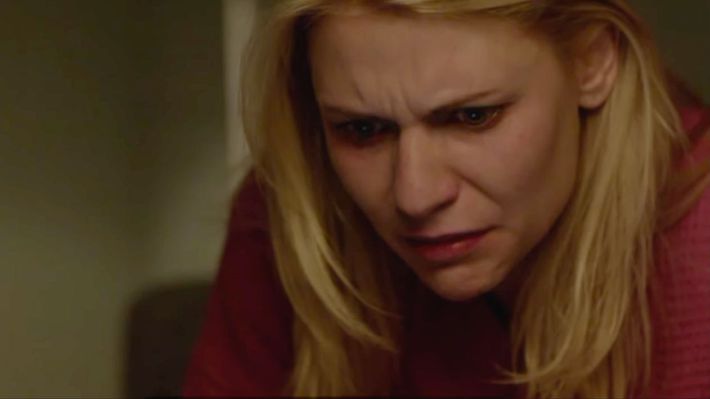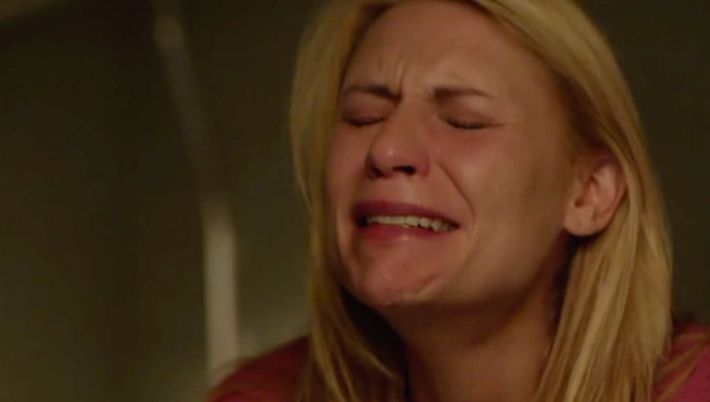 5. The Uh-Oh Cry-Face
"I was so, so wrong." Also known as the Rooftop Breakdown, Parts I-III.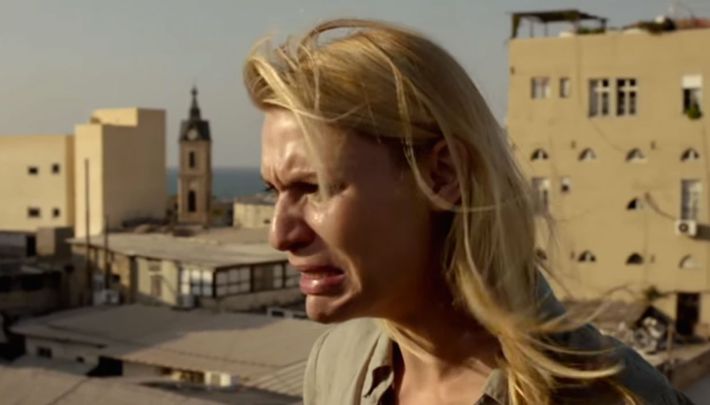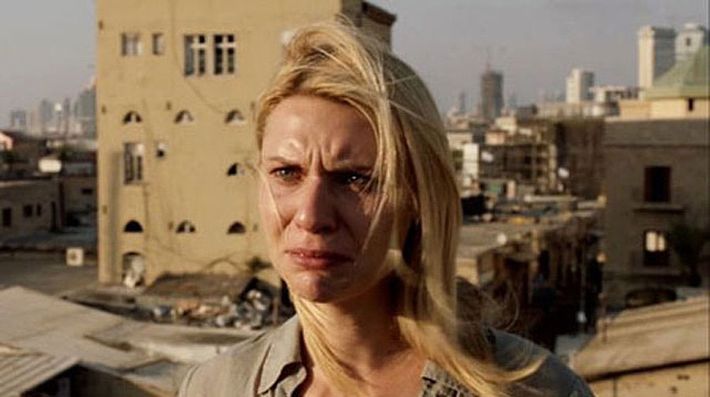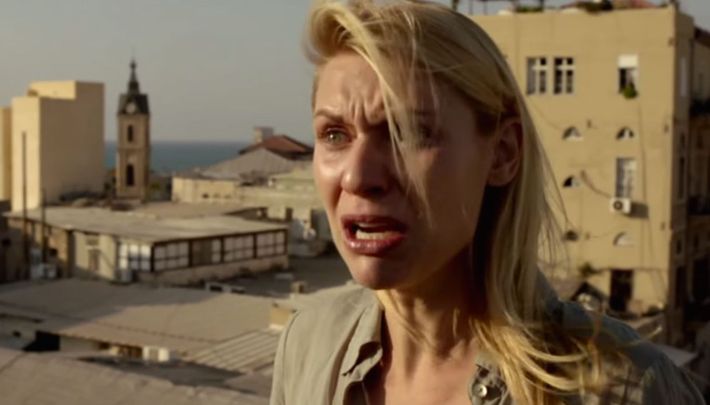 4. The Bulletin-Board Cry-Face
"You don't understand, I'm this close to nailing Avon Barksdale."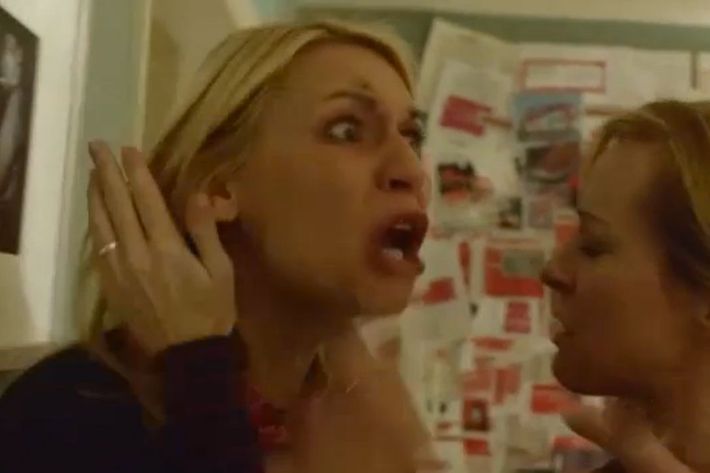 3. The Stoic Execution Cry-Face
"The Iranians are about to execute my secret lover and I'm pregnant with his baby." This could double as an old-school USSR propaganda poster. Just masterful.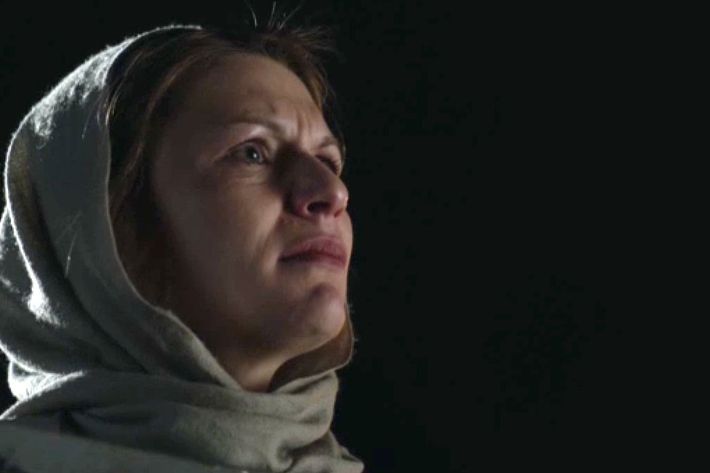 2. The Abortion Cry-Face
"I miss my murdered lover, but also I don't want his baby," in two angles. Who else but Claire Danes could so exquisitely demonstrate how it feels to eat that layer cake of despair?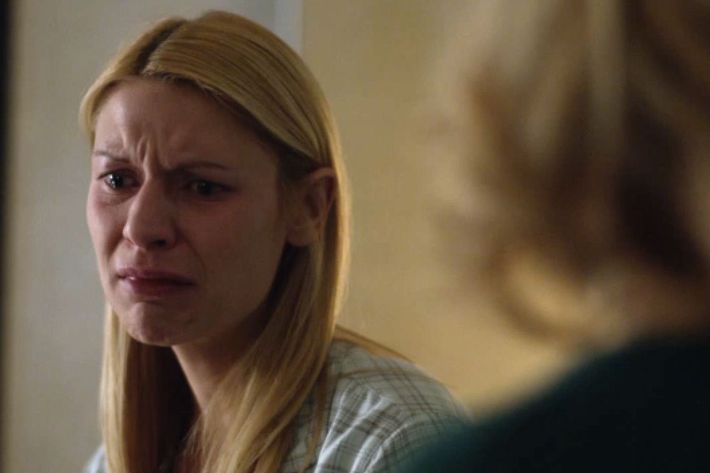 1. The Quadruple-Axel Cry-Face
The ultimate Carrie Mathison cry-face from Homeland, seasons 1–3, this look combines pathos and context, as well as expert face- and neck-work. It comes at the moment she realizes she is in irreversible, star-crossed love with a married, possible murderer who, even if he's not a terrorist, still certainly has issues, and she is doomed to ugly-cry her way through life for many, many years to come.