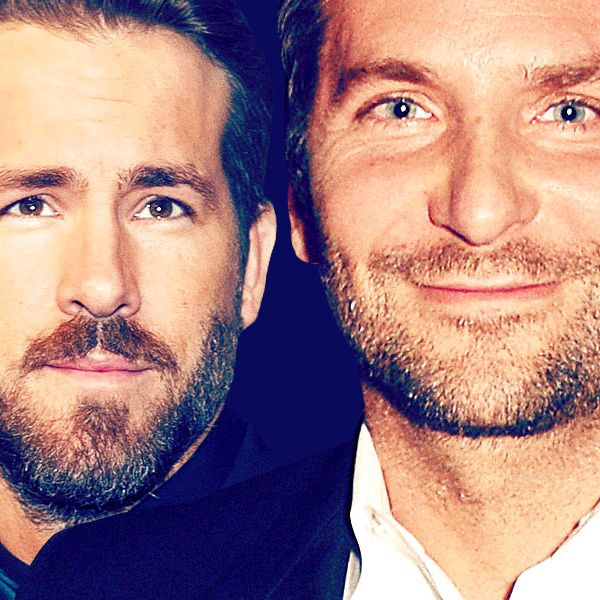 A few years ago, if you wanted to hire a good-looking, up-and-coming movie star who could handle comedy, drama, and action (all while inspiring MASH notes from female fans), you'd likely consider Bradley Cooper or Ryan Reynolds, two actors who'd managed a successful jump from the small screen and were even friends in real life. A lot can change in a few years, though: This year, on Vulture's 100 Most Valuable Stars list, the 39-year-old Cooper finally cracked the top ten even as 38-year-old Reynolds continued his recent career slide into the list's bottom ten slots. How could things be going so right for Cooper when the superficially similar Reynolds is having such a tough time of it? To figure it out, we parsed all their recent choices in a year-by-year breakdown that reveals just why they ended up on such different Most Valuable Star trajectories.
2009
Let's begin here. Ryan Reynolds has just come off a string of consistent (if low-boil) leading-man roles in The Amityville Horror, Just Friends, and Definitely, Maybe, while Bradley Cooper is still best known for his roles on Alias and Wedding Crashers. Cooper starts the year off strong as part of the ensemble cast in the hit romantic comedy He's Just Not That Into You, where his character hooks up with Scarlett Johansson, who's married in real life to his buddy Ryan Reynolds. (Meanwhile, Cooper himself is dating Renée Zellweger.) Things get even more turbo-charged for Cooper that summer, when his comedy The Hangover makes a shocking $277 million, while Reynolds has two summer hits, including X-Men Origins: Wolverine (meant to spin off his character Deadpool) and, more crucially, The Proposal, which pairs him with Sandra Bullock to great success and becomes one of the highest-grossing rom-coms ever. Both Reynolds and Cooper promptly become the frontrunners to land the hottest new role in Hollywood, that of the titular superhero in Green Lantern. At the end of the year, Reynolds wins the part over his friend — Cooper would later blame his bad audition — just as Cooper's own Sandra Bullock comedy, All About Steve, becomes a Razzie-winning misfire. 2009 was the best of times and the worst of times for Cooper, but could he have known then what a lantern-size bullet he'd just dodged?
2010
We're at peak Ryan Reynolds now, as he's named People's Sexiest Man Alive and invited to join the Academy while rumors swirl that his Green Lantern co-star Blake Lively was responsible for the dissolution of his marriage to Scarlett Johansson. Everywhere you go, there's a spate of headlines about Reynolds, but that hype doesn't nudge his box-office appeal northward any: Reynolds only stars in two small indies that year, Buried and Paper Man, and both bomb. Perhaps alarmed by his missteps, Reynolds signs onto a project that would reteam him with Sandra Bullock, as well as a buddy-cop movie where he'd star opposite Bradley Cooper. (Neither comes to fruition.) Cooper, meanwhile, is patiently putting together his career, pulling in a $5 million paycheck to make The Hangover Part II while testing his mettle in another ensemble rom-com, Valentine's Day (which does quite well), and the potential franchise-starter The A-Team (which doesn't). Nevertheless, Cooper earns a lot of press for his chiseled physique in the latter, building his nascent reputation as a sex symbol, and Valentine's Day at least lets him shed the douchebag screen persona that had threatened to become his stock-in-trade after Wedding Crashers.
2011
Cooper's Hangover stardom starts to bear fruit as he appears again in The Hangover Part II, the year's fourth-biggest grosser, and Limitless, an unusual drama that also overperforms expectations and gives Cooper his least true-to-type role yet. (Cooper produced Limitless — his first at-bat behind the camera — and he'll produce four more movies over the next few years, including two Best Picture nominees.) Things heat up for Cooper on the romantic front as he breaks up with Renée Zellweger and takes up with Zoe Saldana, and after a video of him speaking fluent French goes viral, he's named People's Sexiest Man Alive.
Things aren't going as great for the previous year's Sexiest Man Alive, Ryan Reynolds, whose big-budget production Green Lantern comes out and makes significantly less than two other superhero origin stories released that year, Thor and Captain America. His R-rated comedy The Change-Up is another bomb, earning little more than the small comedies Reynolds made before The Proposal raised his profile, and his indie Fireflies in the Garden can't even crack six figures. He's still in the press, but now it's because he's dating Blake Lively, whom he met while married to Scarlett Johansson. At the end of the year, he begins filming the doomed Men in Black wannabe R.I.P.D., so suffice it to say, things are not getting better any time soon.
2012
Cooper continues to patiently assemble his career, flirting with a Woody Allen project, wisely dropping out of a reboot of The Crow, engineering a theatrical production of The Elephant Man, and finally signing on to Silver Linings Playbook. The latter Oscar-nominated role would turn him into a new muse for director David O. Russell, and it prompted one top producer to call Cooper "the next Paul Newman" in a Vulture "Star Market" feature. (Another publicist told us then, "I am rooting for him. I think he is super-talented and appealing.") Still, Cooper isn't craven about his success, starring in two smaller movies, Hit and Run and The Words, in order to help his friends get them financed. Meanwhile, Reynolds has a brief career reprieve with the action hit Safe House, but most of the credit for that one goes to his co-star Denzel Washington. Reynolds spends much of the year signing onto projects he wouldn't actually make, including Big Eyes and a remake of Highlander, then disastrously does make The Captive, an Atom Egoyan film that would earn boos at Cannes two years later. He also continues filming R.I.P.D. as the studio pours more money into fruitless reshoots. On the bright side, Reynolds has a nice wedding to Blake Lively in front of the house from The Notebook. Martha Stewart's minions have a hand in the wedding, which becomes important later.
2013
During one brutal week in July 2013, Reynolds's big-screen stardom goes from tenuous to seriously troubled as his animated comedy Turbo opens so low that DreamWorks would later take a massive write-down on it. It's finally followed two days later by R.I.P.D., which was budgeted at $130 million and can manage no better than the seventh-place spot at the weekend box office. The headlines turn grim for Reynolds — at Vulture, we ask, "Why Can't Ryan Reynolds Become the Big Star Hollywood Wants Him to Be?" — while his wife, Blake Lively, refrains from making any new movies, spending her post–Gossip Girl energy on a new lifestyle website inspired by Martha Stewart and Gwyneth Paltrow. At one point, the biggest story about Reynolds is whether or not someone had vomited on him at an airport. It ain't good. Cooper, on the other hand, is doing great, finally leaving behind the Hangover franchise to concentrate on ambitious movies like The Place Beyond the Pines and American Hustle, the latter of which earns him his second Oscar nod. He announces his intentions to helm his own movie soon and nearly corrals Steven Spielberg to direct him in American Sniper. (When Spielberg falls out, though, Cooper quickly enlists Clint Eastwood to come onboard.) Even Cooper's personal life remains buoyant, as he breaks up with Zoe Saldana and begins dating the indelibly named Suki Waterhouse, a young model who starts to land movie roles after her relationship with Cooper becomes public.
2014
Cooper's hot streak continues into this year, as he is a crucial part of Ellen's Oscar selfie full of A-listers, the co-chairman of the glamorous Met Gala, and the lead in The Elephant Man, which has finally made the transfer to Broadway. "In him, I sort of see myself at certain stages of my career," Eastwood tells the New York Times, just before their movie American Sniper debuts to super-strong numbers in limited release. Cooper even finds time to voice Rocket Raccoon in the year's biggest movie, Guardians of the Galaxy. Meanwhile, Reynolds attempts to mount a summer comeback via his Cannes entry The Captive, but withering reviews hold him in check until the fall, when two bits of good news finally arrive: He'll be having a baby with Blake Lively (who announces their future child in a gauzily lit post on her website Preserve), and his long-dormant superhero movie Deadpool is suddenly a green-lit project after test footage leaks online to fanboy acclaim. That minute of purloined film is the first thing in years that millions of people have watched and liked Reynolds in, even though he wears a mask the entire time.

2015 (so far)
Cooper and Reynolds once again seem irrevocably tied to one another as the latter's latest entry, wacked-out black comedy The Voices, arrives in theaters that are already dominated by Cooper's record-smashing blockbuster American Sniper. One of the highest-grossing movies of the year, Sniper also earned a raft of Oscar nominations — including one for Cooper — and its success should help carry him over a few rare rough patches, as Cooper's indie dud Serena finally comes out this spring, leading into his summer movie Aloha, the Cameron Crowe comedy that Sony head Amy Pascal practically disavowed in leak emails. Still, the end of the year looks bright once again for Cooper, as he's got a chef movie from August: Osage County director John Wells (which reunites him with his Sniper co-star Sienna Miller), will likely shoot a supporting role for David O. Russell's Joy, and then plans to make his directorial debut on Honeymoon With Harry, co-starring Robert De Niro. Meanwhile, The Voices is just the first movie in an indie-dominated year for Reynolds, who is trying to engineer some sort of McConaissance with roles in films like like the Weinstein-backed Woman in Gold (debuting at the Berlin Film Festival) andMississippi Grind (which just won good reviews at Sundance). He's also got more mainstream, mid-budget movies on the way, including the Kevin Costner vehicle Criminal and Tarsem Singh's sci-fi thrillerSelfless, but Reynolds will likely be biding his time until February 2016, when Deadpool finally debuts.