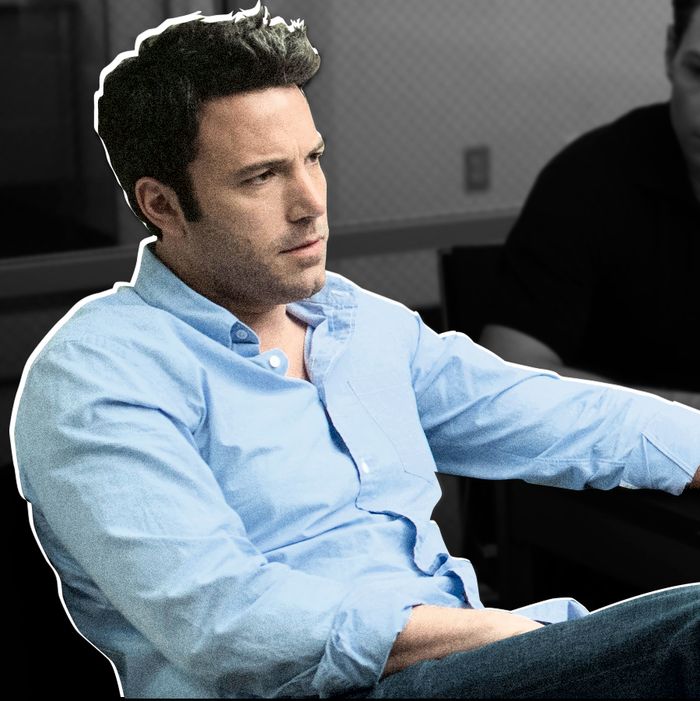 Photo: Maya Robinsons/Merrick Morton/Twentieth Century Fox and Regency Enterprises
David Fincher's marital thriller Gone Girl offers up a twisty game of "he said, she said," a series of shifting alliances, and one memorably stunning reveal … and yes, this entire sentence was about the internet furor over Ben Affleck's penis. Some people (including Affleck himself!) think the Oscar winner's dong makes a surprise appearance in the film, but some other people are like, "Wait, I didn't see a penis, was there even any nudity, was Ben Affleck in this film, did I accidentally see The Boxtrolls instead?" Those people are nice people — maybe even your friends, family, or co-workers — but they are also wrong people. Ben Affleck's penis is in Gone Girl, and I will make like Detective Boney and prove it to you by explaining exactly under what conditions it can be spotted. (Detective Boney is the name of a crucial character in Gone Girl. It is not another one of my bad dick jokes.)
Here, then, is your spoiler-free, step-by-step guide to solving the biggest mystery (yet) of the fall moviegoing season. Before we begin, I must warn you that there is a first step that will make the dick-spotting much, much easier, but is unfortunately and irrevocably out of your control:

1. Be a dude. An informal but very thorough poll of all the advance journalists who have seen Gone Girl reveals a pretty strict gender divide when it comes to the existence of the Affleck member: Nearly every guy I've spoken to is convinced with 100 percent certainty that the dong cameo is real, but almost every woman seemed to miss it. Women are typically way more observant than men, so I'm at a loss here (except to suggest that maybe, on account of having a practice dong that can be studied at length, men are just better equipped to notice another one when it appears onscreen). Some reputable female journalists have advanced the notion of a secret, dickless alternate cut, and while that is an implausible but deliciously conspiratorial idea, it's worth investigating simply because I would love to imagine Fincher's cackle as he conceived an elaborate game of cinematic hide the salami.

With that settled, then, here's how you can actually start preparing.
2. Settle in. Big Ben doesn't make his appearance until the movie is almost over. Enjoy the ride before then! Isn't the movie cast so well, and so eclectically? Tyler Perry! Neil Patrick Harris! Casey Wilson! The woman from the "Blurred Lines" video! Even Lee Daniels could not have cast Gone Girl any better (or weirder).

3. There will come a time near the very end of the movie when one character suggests that Ben Affleck take a shower. This is your cue! Lurch forward in your chair, elbow your date, pull out a pair of opera glasses, and generally behave in a fashion that you'll regret later.

4. The other character will then leisurely stroll upstairs, and the next scene begins in media res in the bathroom, with Affleck shrugging off his clothes as he approaches the shower moving right to left. Focus intently on the screen at this moment. One method of concentration I'd suggest is to open your eyes very wide and emit a high-pitched, unnerving keen, in order to better block out dangerous and distracting external stimuli.

5. Do not look at the other character, who is naked and showering at scene-left. You did not come here for this other character. Know your mission. Memorize it. Say it out loud to yourself in the bathroom mirror before you leave your home.

6. The camera will start a parabolic dive-swoop towards the disrobing Affleck as he pulls off the below-the-waist garments that have previously restricted your visual access to his nethers. You will experience a brief moment of panic and may even find yourself murmuring, "Wait, the camera is rising all of a sudden, am I even gonna see his ass? This movie ticket was $15 and I might not even see a famous person's ass! Goddammit, Julie!" (Assuming your date's name is Julie.)

7. Relax, because there is the ass. Is it not fine? Smooth, supple, and tinted olive by director of photography Jeff Cronenweth? It is a good ass. The people nod in assent, knowing this in their hearts to be true.

8. You may be tempted to focus on the ass. You cannot. Instead, shift your attention to the furthest-left part of Affleck's thighs. This is where it will appear. We are close now. Can you feel the anticipation? The moral rot? It is a great thing to feel these things communally at a movie theater.

9. Lo, it appears, in the bottom-middle of the frame, emerging briefly from behind Affleck's thigh like Tom Cruise's similarly curious dong in All the Right Moves! We have dick! We have the Affleck dick! Pop some Champagne! Kiss a baby! Tell Julie she's going home alone tonight! WE DID IT, AND WE DID IT TOGETHER. (Did what? I don't know.)

10. Promptly leave the theater.

Here are other ways you can enjoy the Affleck dick if you see the movie repeatedly, or simply want to recapture that initial magic after seeing the movie repeatedly:

• Actually let the rest of the film entertain you with its merits, so that the prelude and post-dick prologue are fun, additional parts to look forward to

• Practice by watching the first 20 minutes of Fincher's Fight Club again until you have caught all of Brad Pitt's subliminal, one-frame appearances (this is good visual training)

• Pretend you are Matt Damon

Good luck! Also, the dick will probably be on Tumblr by midday Friday, so there's that.