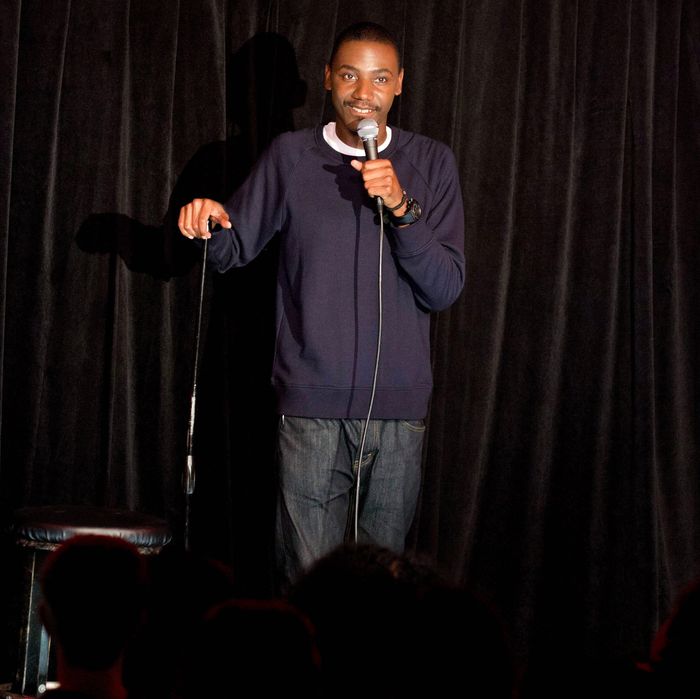 When Jerrod Carmichael (Comedy Bang! Bang!, Lucas Bros. Moving Co.) left Winston-Salem, North Carolina, for Los Angeles in 2008, his first stop was at an open mike night at the Comedy Store's historic Original Room. Six years later, his Funny or Die–produced debut special — filmed in that same room — debuted on HBO this past Saturday night (and is set to reair many times over the next two months). Showing off Carmichael's low-key and conversational style, Love at the Store also happened to be the 26-year-old's first-ever stand-up TV performance, and the milestones should only grow more impressive from there. Here are a dozen things you should know about him.
1. He holds significant sway at one of the most legendary comedy club in the country.
Prior to Love, video cameras had been banned from the 40-year-old Sunset Strip institution's 150-capacity Original Room, the neon-lined home stage of Richard Pryor, Robin Williams, Roseanne, and Jim Carrey. "I've had some of my best and worst sets in that same room," Carmichael told Vulture recently. "It was really, really important to me to have the special there."
2. Spike Lee is a big fan. 
The director was already familiar with Carmichael's work prior to receiving a call from the latter's reps pitching him on the gig. Turns out Lee didn't need convincing. When a Brooklyn number appeared on Carmichael's phone the very next morning, the two broke the ice speculating on Carmelo Anthony's future with the Knicks before discussing what would ultimately be Lee's follow-up special to 2000 concert film The Original Kings of Comedy.
3. Carmichael's young, but he's comfortable onstage.
Jamar Neighbors, who performed on the May 7 Love tapings, was also present at Carmichael's first Comedy Store open mike. "He gets onstage and he's talking really fast," Neighbors recalled in a recent interview with Vulture. "He got offstage and I just walked up to him, like, 'Hey … you funny, but you need to slow down.' We've been friends ever since … I'm sure he has his growing phases and everything, but he's always had a sense of himself. He's one of the few comics who didn't really have to find their voice. He's always had that. He didn't have to dig too deep for that."
4. So comfortable, in fact, he's not afraid to pull out the notebooks.
Carmichael gravitates toward personal insights and social commentary while keeping the mood loose and in the moment. That versatility allows him to move between mainstream clubs and alternative rooms, nearly always with a few pages in tow. He even consults his notes during Love, simply because he felt like trying out new material.
5. It's not just his material — Carmichael's musical choices make a statement, too. 
Rather than pair his casual, contemplative style with rap or rock, Carmichael determined that Love's musical backdrop should be provided by "a jazz DJ." Credit DJ Premiere, acclaimed producer and half of hip-hop duo Gang Starr, with setting the discerning tone.
6. Even his director of photography is an impressive get. 
Love DP Matthew Libatique's film credits include Black Swan, Iron Man, and Requiem for a Dream. As Carmichael puts it, "He did Noah, and then also me talking about my childhood."
7. Focus remains one of Carmichael's paramount attributes.
In pressure-heavy environments like SXSW, Just for Laughs Montreal, or the Oddball Comedy & Curiosity Festival, Carmichael tends to keep a low offstage profile. Ditto on the road (where he prefers writing back at his hotel room and turning in at a reasonable hour) and in L.A. (where he only accepts party invitations to events it's professionally important for him to attend).
8. NBC really wants to work with him. A lot.
Carmichael is currently putting the finishing touches on a fast-tracked fall sitcom for the Peacock network. This isn't the same sitcom based on the presentation pilot centered around Carmichael's life that was announced last December, mind you. This is a whole new show altogether … that's how bad NBC wants him.
9. His debut film role will be best remembered for its bad impressions. 
As Delta Psi Beta member "Garf" in Seth Rogen and Zac Efron's May comedy Neighbors, Carmichael channeled both Samuel L. Jackson in Pulp Fiction ("The path of the righteous man is beset on all sides …") and, at the behest of a police officer played by fellow stand-up Hannibal Buress, proclaimed, "I hate Mondays!" and licked his human paw à la his namesake, Garfield the cat.
 10. He hangs with comedy royalty. 
Carmichael was recently invited (or, as he put it, "summoned") to Bill Cosby's L.A. home to talk stand-up, television, career, and personal responsibility. "I wish I could repeat everything. But he was very honest with me, very open."
 11. And is all about paying it forward …
… like by sponsoring a PeeWee football team, for example.
 12. But at the end of the day, it's all about the art.
Carmichael ultimately describes Love as "just this classic 'a man and his thoughts' type of thing," expounding, "I think there's a responsibility more as an artist to try and push in the direction you think comedy should go … The biggest thing I could do for the art that I love was keeping it art: keeping it special, keeping it honest, keeping it truthful."