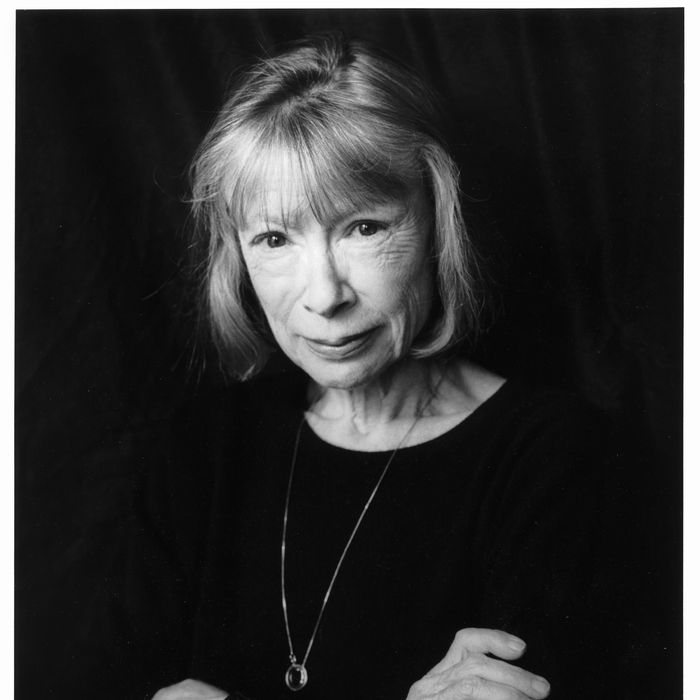 As of today, Joan Didion can cross "crowd-funding" off her bucket list. The laconic 79-year-old essayist — who vivisected the '60s, became half of a Hollywood power couple, and more recently wrote two best-sellers about losing her husband and daughter suddenly — will be the subject of a documentary titled (aptly, if unoriginally) We Tell Ourselves Stories in Order to Live. Her nephew, the actor Griffin Dunne, who will co-direct it with documentary veteran Susanne Rostock, put the project up on Kickstarter yesterday. It reached its goal of $80,000 at 10:30, roughly 24 hours later.
As teased in a video and text on the site, the doc will alternate old photos of Didion with snippets of her reading selected passages (illustrated with gauzy stock footage), interspersed with newsreel-style coverage of the political upheavals she covered and talking heads like Patti Smith, Liam Neeson, Jann Wenner, Anna Wintour, Graydon Carter, and the camera-shy Times critic Michiko Kakutani. Those names (and the fabulous yellow Corvette Stingray in the freeze-frame) promise to give us a sense of the glamorous swirl in which Didion and John Gregory Dunne led their lives — role models of high living, hard work, and lasting marriage who made it look easy and fun.
Sixty hours of footage have already been shot, and the film should be done by next September, according to the list of donor goodies, which includes digital downloads of the film at $15 a pop. More glamorous giveaways include a visit to the premiere for $500 and one to the set for $5,000 — and for $2,500 (still unclaimed!), you can own one of two pairs of "Joan's personal sunglasses."
If such bargaining seems a little beneath the subject, the official explanation for why a family so wealthy and exceedingly well-connected — Didion was one of the best-paid screenwriters in Hollywood; Scott Rudin will be among the talking heads — would go the Kickstarter route is a pat statement about wanting "to reach as many people as possible." Another explanation — both more generous and more plausible — could be that Dunne and Didion don't want any imperatives, commercial or otherwise, to get in the way of the story they're telling. The essayist who made art out of walking the line between evasion and confession — a line that runs right through Blue Nights, in which her daughter's death is turned over and over but her life never comes quite into focus — gets to have her say in just her way. It calls to mind the PBS documentary Philip Roth: Unmasked, which was illuminating but never redeemed the promise of its title. Joan Didion is an icon, a heroine to women, writers, and anyone who wants to think clearly about morality. But a documentary that dared to ask a few tough, uncomfortable questions about family, politics, and class might have turned out to be a little more interesting than a crowd-funded family affair. But what a family affair it is; we can't wait for it to hit our inbox.
UPDATE: Yesterday afternoon, Griffin Dunne called and provided more background on the project. He had tried pitching producers on the documentary, but usually heard back that writers have neither the star power nor the lurid hook to get a big documentary made. "People are always looking for a kind of sexy catch," he says, "or having it be something to do with a violent episode — something that kind of leaps off the page at you." HBO did put in about $20,000 — in return for a first look when Dunne shops the finished doc around — which roughly matches what Dunne has personally put into it. The Kickstarter haul already dwarfs those amounts (it broke six figures a couple hours ago), and there are still 28 days to go. More money means more research and more talking heads; while all those names pitched on the Kickstarter page are accessible, none are definitely booked.
When Dunne asked his aunt if she'd be up for a documentary that would involve hours and hours of shooting, "she took three or four beats and just said, 'Alright.'" The decision to go with Kickstarter was made recently, and pitched to Didion only last week. He showed her the teaser video; "She loved it" and was immediately sold on the idea. She was "flabbergasted" that people would be interested in her sunglasses and recipe book — all brainstorms from the Kickstarter people — but fine with it. Didion had six identical pairs of those sunglasses on her hall table and readily parted with two.
Griffin wants to draw on photos and images to turn Didion's life, as told through her essays, into a dramatization — "an audiobook for the eyes," based on her life as she's written it. There will be plenty of erstwhile private photos — Vanessa Redgrave sent in pictures of the Didion-Dunnes vacationing with the Redgraves in the South of France. But, asked if an informed reader and fan will learn anything new about her life, Dunne said, "I don't know."