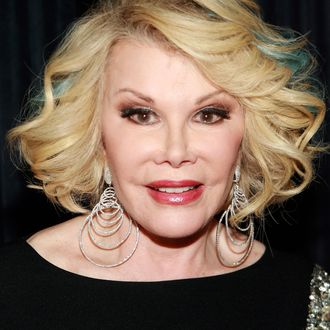 Photo: Sylvain Gaboury/Patrick McMullan
Melissa Rivers has reportedly hired a law firm to look into the death of her late mother, Joan Rivers, after she passed away following complications during a routine throat procedure this September. "Page Six" reports that Rivers plans to file a multi-million-dollar medical malpractice and wrongful death lawsuit against both the clinic where her mother's procedure was performed and the individual doctors.
The New York City Office of Chief Medical Examiner recently ruled that Rivers's death came from low oxygen flow to the brain, which was a "therapeutic complication" of the surgery, meaning it "resulted from a predictable complication of medical therapy." However, there have been a number of questions raised about the conduct of the clinic and the doctors involved, particularly whether Rivers's personal doctor Dr. Gwen Korovin performed an unauthorized biopsy on her. "In order to fully determine the facts and circumstances surrounding the death of Joan Rivers, we confirm that our firm has been engaged by Melissa Rivers and her family," said lawyer Ben Rubinowitz in a statement.