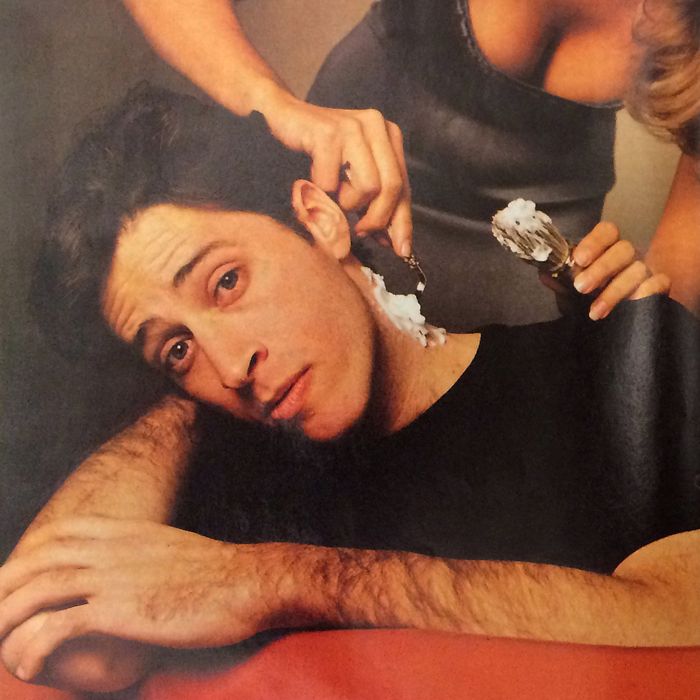 Ah, fame. It gets comedian Jon Stewart the best seats in restaurants — like this charming, only slightly greasy Formica perch in the window of New Pizza Town, with its romantic view of the corner of 78th and Broadway.
Fame also brings fans, like the quartet of 20-ish stockbrokers settling in at the next table. It's just before Christmas, and the gentlemen eyeballing Stewart are jaunty, whimsical, downright festive, though their silk neckties remain, at 11 p.m., firmly knotted. The lads are clearly stoked by the Yuletide magic in the air — or maybe just cheap office-party eggnog.
"Hey! Are you that f—ing guy? With the f—ing show?" bellows broker No. 1. "You're on LTV, right?"
"I think you mean MTV," Stewart says dryly. "I'm Jon."
"You do look like him, you prick. What's the show called?"
"The Jon Stewart show."
This rouses broker No. 2. "Your commercials suck. And if it is your show, which I don't believe, how do I get into Duff's pants?"
"You?" Stewart says, "You'd have no problem, you're so smooth."
No. 3, wearing a bow tie, pipes up. "So where do you live?"
"In a suite at the Dakota. I told John not to go out that day, but he went."
This sails right over their drunken heads. The abuse spews for another ten minutes; eventually the Wall Street worthies ask a really offensive question. "Hey," yells No. 1, "what are you doing with your short-term money?"
Stewart shakes his head as we escape to the sidewalk. "I was kind of hoping you'd get to see a really pretty girl come up and say, 'I love your show; would you like to date?' Guys like that, you don't have any one thing you can say to them that would totally sum up the damnation you feel in your heart. There's not one sentence."
He pauses for a half-second. "That's why I've written this song …"
Here in the '90s, when everybody except Chevy Chase has a talk show, Jon Stewart brings three all-important qualities to MTV's entry in the chat wars: He's funny. He's not afraid tackle tough issues with guests like the 7-year-old Olsen twins from Full House. And he has an abundance of body hair. "They have to shave my neck during the hour between taping," Stewart says. "Is that something I shouldn't have shared?"
This is the man who should have been Conan. In fact, Stewart made it to the finals of NBC's Replace Dave Sweepstakes, only to have Lorne Michaels choose O'Brien, who'd spent as much time in front of a television camera as Doris Duke.
"And what do we have for the losers?" Stewart intones in his most unctuous game-show-host voice. "A week at Giggles Comedy Club in Rochester!" Stewart's consolation prize turned out to be more valuable: MTV launched The Jon Stewart Show.
All the standard talk-show elements are present in Stewart's speedy half-hour, but they're slightly skewed: Announcer Howard Feller looks heavily sedated (he played an inmate in Awakenings). The musical guests (the Breeders; 4 Non Blondes; Gin Blossoms) are loud and quirky. Then there's the host, a boyish, smartly sarcastic comic who's a regular guy — quick-witted, but not overpowering like Robin Williams; ironic, but not smug like Dennis Miller.
Stewart is also doing his best to be perky. "Jon's shown more of his nice-guy side so far," says pal Denis Leary. "As this show continues, it will get uglier; eventually it will just be this raging little Jewish man screaming into the camera."
Even with a cheesy set and an odd schedule — weeknights at 10, except Thursdays — Stewart is beginning to draw the hip, younger audience that eludes Late Night With Conan O'Brien. MTV will make the challenge more overt in February, when it moves Stewart to 12:30 a.m., directly opposite Conan.
By then, Stewart will have paid his cable bill and had his service reconnected. There's one talk-show competitor he's had his eye on for years. "Robin Byrd," he says. "The other night I'd been dialing for an hour and I finally got through. I said, 'I just want to tell you ladies, I fought in Vietnam, and you are the kind of people that make America worth dying for.'"
Stewart says he's 29 — "And I'll keep saying it until they move me to VH1" — but there are a few gray hairs scattered just above his ears. He was raised Jonathan Stewart Leibowitz in Lawrence, New Jersey, a suburb of Trenton; his parents, a teacher and a physicist, divorced when he was 9. Asked if he was a hip kid, Stewart cackles and confesses that his first big crush was on The Brady Bunch's Eve Plumb. "There were never any hot Jewish girls on TV," Stewart says. "Although there was that Gilligan's Island Chanukah episode. 'We're trapped on the island, but look, a menorah washes up!"
He graduated from the College of William and Mary in 1984 with a degree in psychology and without a clue as to what to do with the rest of his life. "My college career was waking up late, memorizing someone else's notes, doing bong hits, and going to soccer practice," Stewart says. "A fine institution of higher learning, and I spent half of it bent over a little plastic tube going, 'Turn up the jam!'"
Hapless attempts at real jobs practically drove Stewart into comedy. He worked as the agar chef in a cancer-research lab, then separated live male and female mosquitoes as part of a New Jersey state project on encephalitis. That job left Stewart looking like a five-foot-seven-inch chigger bite. But show business, at first, seemed nearly as bleak. Stewart performed for kids as part of a puppet show about the disabled. "I was a cerebral-palsy puppet, a blind puppet, a deaf puppet, a hyperactive puppet — and a puppet who couldn't commit to a relationship. How sad."
He'd always been a wise guy, though. Heredity helped. "My grandfather had a talk-show back in Russia," Stewart says, "Getting Through the Pogrom With Nathan Laskin."
When Stewart moved to New York to become a comedian, his mom promised she'd keep his room at home ready.
Anna-Marie Goddard looks a little skeptical. Playboy's 40th-anniversary Playmate has balanced her 36-24-35 frame on the ugly green vinyl car seat that serves as The Jon Stewart Show's interview couch and now the host is blindfolding her.
"You're from Holland," Stewart says, "Let's see if you can tell the difference between Edam and Gouda." He places a hunk of cheese in Goddard's giggling mouth. What happened next, Stewart later says, is the kind of transcendent moment that makes a man proud to call himself a talk-show host.
"When she spit the cheese out in my hand, that's when I thought" — he puts on a pompous, stentorian voice — "'Hey, we're making television here!'"
Stewart has selected the Cedar Tavern for tonight's interrogation. It's within sprinting distance of his apartment, should the locals turn hostile again. He puffs on a Camel Light, the smoke curling up in front of his handsome face, one that combines the best of Rob Morrow and Richard Lewis. Budweiser in hand, Stewart considers his critics.
An interesting if still minor comedian. "That's great! I didn't know you talked to my father!"
Attractive only to MTV viewers too brain-dead to switch channels. "Ah, ha, ha! I imagine that's an older person who just doesn't like MTV." Told it's from The Hollywood Reporter, Stewart grins. "Yes! That's the guy who loved Chevy's show!"
A sharp social commentator in the honored tradition of Lenny Bruce. "That's got more to do with my affinity for strippers and heroin than it does anything else."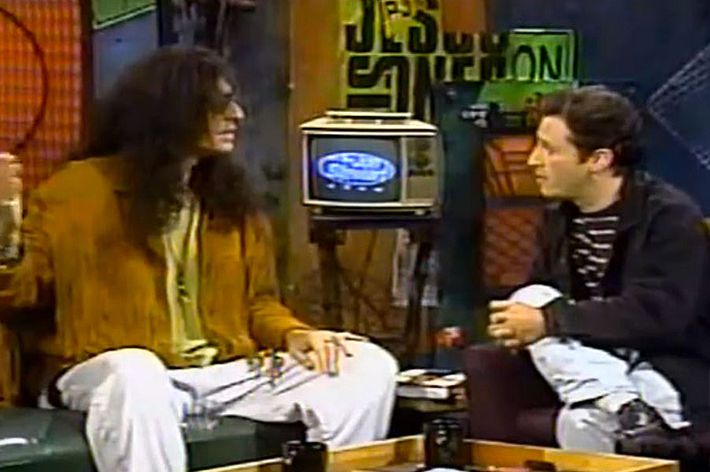 In fact, Stewart bought Bruce's record when he was learning to be a stand-up. His stage debut was in 1987, five painful minutes at an open-mike night at the Bitter End. One of the first changes he made was his name. "I know it seems like one of those self-hating-Jew things to do, but I just don't like my full name. Then I started performing under the name Destiny, and everyone expected me to take my top off. So I used my middle name. And Woody Allen called and said he approved."
Up the comedy ladder he went, from an appearance at the New Jersey Division of Mental Health Christmas party to a regular slot at Stand-Up NY to Caesars Palace. In conversation, Stewart can fire off one-liners as if rim shots were following him around. His stand-up act is considerably more subtle, and, thankfully, a whole lot more acerbic than his MTV show.
One Friday night at Stand-Up NY, Stewart prowls the stage wearing an Agnes b. leather jacket and a hooded Nike sweatshirt. He moves from the Pope ("the guy's a hat choice away from being grand wizard of the Ku Klux Klan … round hat — good; pointy hat — bad") to Yom Kippur. "Jewish day of atonement. You don't eat for one day, all your sin for the year is wiped clean. Tremendous deal," Stewart says. "What do the Catholics have? Forty days of Lent. Forty! Even in sin you're paying retail."
Despite his success on the club circuit, Stewart didn't feel he'd arrived until he appeared on Letterman last March. "When I walked onstage, I blanked," Stewart says. "The audience is dark, and there's just a little red light. At that moment you'd realize, it'll be really quiet here if I don't talk." Stewart's comedy reflexes kicked in, and the rest is hysterical.
Besides doing stand-up, Stewart's also spent a year hosting Comedy Central's Short Attention Span Theater, and 13weeks trying to rise above the fart jokes on MTV's You Wrote It, You Watch It.
In October, he returned with the cheerfully low-rent Jon Stewart Show. "Other talk shows, their bits are like, 'All right, we're going to fly Costas in a helicopter; then he's going to parachute down and present me with the Soupy Sales figurine,'" Stewart says. "We're like, 'Can we afford that picture of Hasslehoff?'"
Stewart presides from behind a Nok-Hockey table instead of a desk. In the first nine weeks, he hasn't come up with anything as inspired as Letterman's legendary Alka-Seltzer suit, but he's showing a talent for the loopy device. On one show, the aged Margarita Sames hunched over a blender, mixing the frozen tequila drink she claims to have invented 45 years ago. Then there was Blind Date Night, when the producers fixed up Stewart with Leonora, a gangly blonde so opinionated that she should have her own show. "It was not the start of something big between us," says Stewart, who is single.
But Tisha Campbell slow-danced with him, and William Shatner caressed him gently. "Captain Kirk," Stewart deadpanned on the air, "you're boldly going where no man has gone before."
"You want to take Jon home with you," says Tawny Kitaen, a recent guest. "Like a puppy. You want to make sure he's okay."
Now, that's a compliment that makes every man cringe, but Tawny's right — Stewart's got a vulnerable quality. When the show's first guest, Howard Stern, launched a hilarious assault on MTV ("They ruin people's careers") and Stewart ("I don't know who Gene is"), Stewart played right along; "I'm scared to death," he said, and the quiver in his voice sounded real.
Stewart is sometimes too nice to his guests. His show's other big weakness is that it can seem like an MTV infomercial, stuffed with fellow MTV talking heads like Kurt Loder and Cindy Crawford. "I agree," Stewart says. "In the beginning, it was really important to get a lot of people on the air that the MTV audience recognized."
The show's appeal has broadened since then, to the point where MTV says its ratings are only second to those of Beavis and Butt-head. "I've met Butt-head," Stewart says. "Beavis has an attitude. You can't talk to him. He's got an entourage."
The modest success of Stewart hasn't gone unnoticed at NBC, where execs also considered Stewart as a successor to Bob Costas on Later. Says a Lorne Michaels staffer, "Jon would make a good replacement for somebody — you fill in the name."
Stewart's keeping everything in perspective. "I used to watch MTV in college," he says. "You're with your roommate, watching Duran Duran's 'Hungry Like the Wolf,' and you're high and you're eating an egg sandwich, and you're like, 'Martha Quinn is cool!' Somewhere I bet there's a 19-year-old kid, high, eating an egg sandwich, saying to his roommate, 'Hey, where's Martha Quinn? And who's this hairy guy?'"