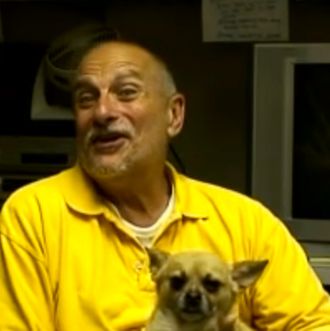 David Letterman's cue-card guy, Tony Mendez, is out of a job after assaulting staff writer for the show Bill Scheft. Mendez told the New York Post that there had always been tension between the two because Scheft "encroaches" on his work: "Bill was always undermining me — making himself out as Dave's No. 1… Trying to pretend that I wasn't even in the room." It all came to a head on October 8, when Mendez told Scheft to "Get off my back." According to Mendez, Letterman said, "Tony, your sour disposition isn't helping," which prompted him to reply, "You're the one who has the sour disposition, motherfucker." He says the two had the kind of relationship where they regularly traded barbs.
Mendez stewed on the incident all night and believes Scheft was "trying to create a wedge" between him and Letterman. So the next day, he got to work and was at Scheft's throat: "I just grabbed him by the shirt. He was very surprised. He didn't say a word. He was cowering, his eyes were real big, he probably peed a little bit on his pants." Obviously, he's feeling contrite about his actions: "I'm the first one to say I should have never put my hands on him, but I never hit him." He was booted from rehearsals immediately, and executive producer Rob Burnett officially fired him the following Monday. Guess that means he can't do his behind-the-scenes videos anymore.

Scheft and CBS have yet to officially comment.