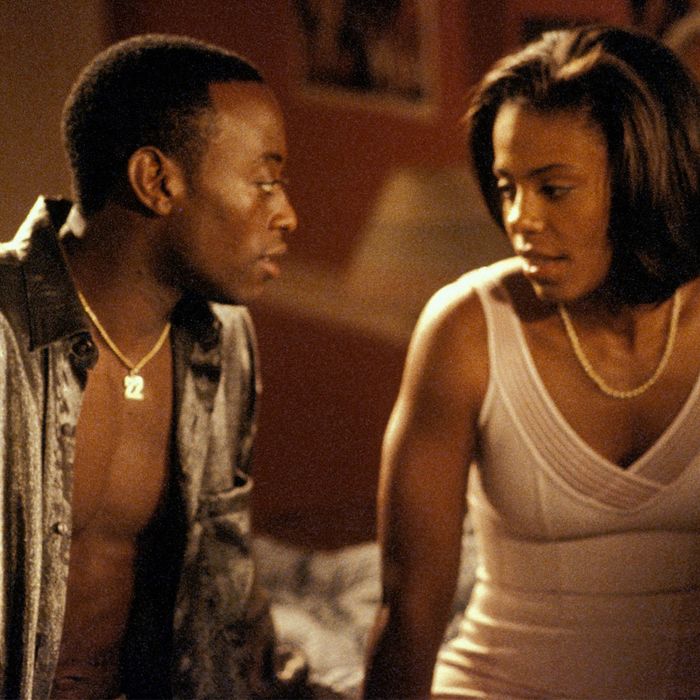 Love & Basketball came out 14 years ago, and it's never really disappeared. Just this past September, rumors swirled about a sequel after a (fake) movie poster hit the internet, compelling the film's male lead, Omar Epps, and writer-director Gina Prince-Bythewood to officially debunk the story on Twitter. That same month Roxane Gay hosted a Love & Basketball screening and discussion with its auteur. In an October interview with Lena Dunham, the two writers geeked out over the movie, and in November, Prince-Bythewood will release Beyond the Lights, her first film since 2008's The Secret Life of Bees, which is sure to inspire more fond reminiscing about her breakthrough.
To understand why this particular bildungsroman still lingers, it helps to look a little deeper into the film's story of Monica and Quincy, two young athletes and best friends growing up in L.A., as well as the cultural landscape of its time. Before Love & Basketball there were touchstones like Poetic Justice and Clueless, but Baz Luhrmann's stylized homage to Leonardo DiCaprio and Claire Danes's chemistry, Romeo + Juliet, released in 1996, had become the gold standard for sophisticated, romantic teen dramas. It had an all-star cast, cleverly adapted its Shakespearean signifiers to a future-modern California, and boasted an incredible soundtrack.
Though it took in around 20 percent of what Romeo + Juliet made at the box office, Love & Basketball is, in its way, also one of the greatest love stories of all time, and had its own indelible impact: It is one of the top 10 highest-grossing basketball films ever, and it served as a signal-booster for the careers of its magnetic young stars, Epps and Sanaa Lathan. The film, partitioned into four "quarters," spans just over a decade and culminates in the early '90s. That pre-WNBA context — the league was established in 1996 — is crucial. While Quincy flounders on the Lakers' bench, Monica thrives in Italy, playing for the International Women's Basketball Association. The subtext of the film is clear: Anything boys can do, girls can do better. It follows that the legacy of this film belongs to Lathan, who also became crush fodder for a generation. (The line that melted so many hearts: "I've been in love with you since I was 11, and the shit won't go away.") She's quietly powerful in her role as the gifted but awkward tomboy who struggles to contain her on-court emotions. Emmy- and Golden Globe–winner Alfre Woodard co-starred, as well as a bevy of young and cute up-and-comers: Gabrielle Union, Boris Kodjoe, Regina Hall, and, uh, Tyra Banks. The soundtrack is a gorgeous relic of early '00s neosoul (Lucy Pearl's "Dance Tonight" is key) balanced by Al Green and Chaka Khan classics. And when the romantic tension between Q and Monica finally boils over and they hook up, it's Maxwell's perfect cover of Kate Bush's "This Woman's Work" that plays. Sigh.
Though it's helpful to see Quincy and Monica's relationship develop and change over the course of four acts, Love & Basketball has its pacing problems, mostly because disproportionate emphasis is placed on the subplot of Q's philandering father. But the story is held together by Lathan's steely charisma, her cosmic on-screen chemistry with Epps, and the film's cute, oh, snap! dialogue: "You stupid and your daddy plays for the worst team in the NBA," says a young Monica, clowning Quincy before they get into an innocent fistfight. 
Prince-Bythewood made a film about a girl who's a little prickly; one who says what she thinks, plays with the boys, and is hesitantly dragged toward conventional femininity and sexuality by others. When Q and Monica finally do get together, toward the end of high school, he's so dumb, he has to see her in a skintight white dress to get it. In college a few years later, Monica opts to follow coach's curfew instead of staying out late with Q, and he selfishly blows up. As a teenager, I remember debating this endlessly with friends, and it was a matter of, Well, she needs to stand by her man versus Nah, she's at school to play ball and nothing else. This is where the film asks you to choose: Whom do you take more seriously as an athlete, and why?
Love & Basketball, like Romeo + Juliet, became generationally important because it didn't take its young audience for granted or assume its watchers were unsophisticated. Over time, we've seen the widening of films that are made and marketed toward teen demographics: There are comedy franchises, high-grossing book adaptations, pop-star showcases, concert flicks, a billion rom-coms, and the occasional mumblecore-lite breakout. But Love & Basketball still stands out because story lines involving middle-class black families and a young female who is both ambitious and good enough to pursue a professional sports career remain relegated to Hollywood's margins. (Sports, though you wouldn't know it from Hollywood, can be just as foundational for girls as they are for boys.)  The long afterlife of Love & Basketball would suggest that people actually and totally enjoy movies about dedicated athletes, nuclear families, and true love — even if (gasp!) the cast and context involves black Americans.
In the aftermath of Love & Basketball, there were the multiracial teen flicks Bring It On and Save the Last Dance, and it seemed for a moment that the culture was welcoming the idea of stories about and involving people of color. But somehow, we've since regressed into a post-racial, nuance-phobic hot mess. (Would you say Crash was the low point? Or maybe it was The Help? At least TV, thankfully, is trying to do something different.) To be fair, there's been an obvious uptick in the number of indie filmmakers telling a range of stories — but that's only apparent if you're able to hear about or see amazing films like Barry Jenkins's Medicine for Melancholy, Dee Rees's Pariah or Ava DuVernay's Middle of Nowhere. In a 2013 piece, BuzzFeed's Shani Hilton referenced Love & Basketball and wrote, "It's been nearly a decade since black audiences were able to see a film that spoke to a familiar, but underrepresented aspect of black life — what life is like when you have the degrees, the car, and the job, and the nice house."
I'd modify that sentence and argue that it's been a very long time since all audiences got to take in that perspective, the kind of thing that made Love & Basketball so much more than a film about athletically gifted teens in love. Instead of building upon a framework of smart, multi-perspective popular entertainment featuring people of color, the industry, Shonda Rhimes excepted, has seemed to develop amnesia and become more segregated. When Love & Basketball came out, it was important for me to see a film about people who listened to the music I listened to, cared about the things I cared about, spoke the way I did, and looked like my friends and my crushes. In that sense, Love & Basketball still feels singular. Fourteen years later, it could use some company.