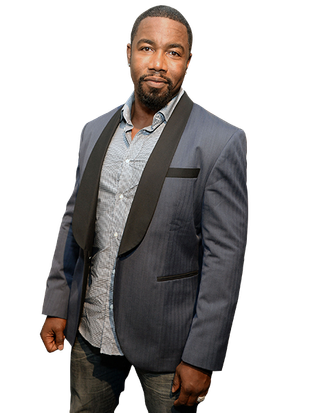 Photo: Ben Gabbe/Getty Images
Michael Jai White is a familiar face to those who know him from his brief part in 2008's The Dark Knight, playing a mob boss murdered by Heath Ledger's Joker, or bigger roles in multiple Tyler Perry–produced movies and TV series — he's in his fifth season on Tyler Perry's for Better or for Worse. But it's his star turns as the title characters in 1997's Spawn, where he was the first African-American actor to play a superhero lead onscreen; and 2009's Blaxploitation homage Black Dynamite (which he also co-wrote) that define White for action fans.
White continued to play Black Dynamite — a 1970s martial artist, Vietnam War veteran, and former CIA officer — after the cult film, voicing the character in the Black Dynamite animated series on Adult Swim in 2012. White sat down with Vulture during New York Comic-Con to discuss the series, whose long-in-the-works second season begins Saturday.
For the uninitiated, talk a little about the show.
It's an urban action comedy set in the '70s … like Fat Albert's badass uncle. [Laughs.] It's one of the most satisfying things I've ever done. It's like, there's something that came out of your brain, and other people think it's funny as well. It's more personal than when you're just performing a character — where every other department is working to make you look good — Black Dynamite is very fulfilling.
It seems like the show gives you the chance to do the sequels you've never been able to do in live action. The stories are bigger and even a little broader on the series, like when Black Dynamite drives a race car that's essentially KITT from Knight Rider, but with the voice of Eartha Kitt [played by MADtv's Debra Wilson].
You know, we're still planning to do sequels to the movie. I always pictured Black Dynamite as a trilogy, sort of like the Monty Python movies: Holy Grail, Life of Brian, The Meaning of Life …
It's quite a different animal in the animated world. You've got so much you can do on so many different kinds of canvases. There are obviously similarities to the movie, but the show is focused on the adventures of the whole Black Dynamite "family," while the movie was really more ronin-like. [Ronin refers to leaderless samurai who operate without a lord to report to.]
While the movie had Richard Nixon in it, the first season of the TV show upped the ante with even more historical figures from the '70s, from a returning Nixon [in an episode featuring Elvis Presley as Nixon's dupe] to Richard Pryor, O.J. Simpson, and more. Can fans expect cameos like that in the new season?
We're gonna have a lot of cameos: Mister Rogers, Woody Allen, James Brown, Don Cornelius … it's more of the same, but better. Everything was so new the first time, but now we have the benefit of knowing what worked best, and we really applied that knowledge this time around.
Give me an example.
We found that we can do our thing and come out unscathed. Some of the things that I was a little more worried about turned out to be no problem at all. Like the Michael Jackson episode. [In which a Jackson 5–era Michael Jackson is revealed to be a half-alien monster.] I mean, Michael Jackson was, without a doubt, the most famous person who ever lived. And to get away with what we did with him … we can get away with anything.
I was pleasantly surprised that there wasn't any backlash. Maybe people realized how ridiculous criticizing it would be.
It's not exactly a documentary.
No. [Laughs.]
Black Dynamite gives you the chance to pay homage to a bunch of different Blaxploitation characters from the period. If you had the chance to remake any Blaxploitation movie, is there one you'd especially want to dig into?
Hmm … I would definitely love to do another Mack [A 1973 film co-starring Richard Pryor and Max Julien]. I think that was an underappreciated movie. In a way, Hustle & Flow was kind of like doing another Mack, an updated version. Doing a drama set in the era where The Mack was set, focusing on the drama between the two brothers … that would be a tremendous movie.
Not an action movie per se …
"Blaxploitation" encompasses other movies that are not … you know, Shaft, was one of the earliest ones, but it was just an urban action film. Then some "Blaxploitation" movies just jumped on the bandwagon of getting black audience dollars in theatres. It's a convenient moniker that gets attached to any black movie of that time. Black Dynamite was a celebration of all of it, the good and the bad.
You've done a lot of voice acting apart from Black Dynamite, but as live-action heroes go, you're probably best known for Spawn. Answer the comic-book fan question: who wins in a fight between Black Dynamite and Spawn?
Black Dynamite. Because Black Dynamite doesn't lose. He just. Doesn't. Lose.