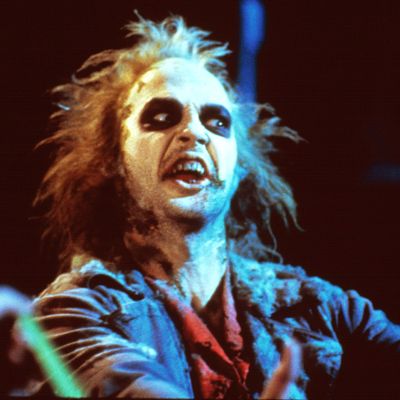 Photo: Warner Brothers/Everett Collection
Hollywood loves a comeback story, and this one couldn't be any sweeter. With the much-anticipated release of Birdman this weekend, Michael Keaton is back on top. One of Hollywood's biggest draws in the 1980s, he seemed to be able to do it all. His work with Ron Howard showcased his biting comedic talents and quickly made him a leading man. Playing a crude ghost with the most and a legendary superhero for Tim Burton made him a worldwide superstar. But by the late '90s, Keaton'sstar was on the decline, though he continued to work consistently. With around 80 roles under his belt, we look back on 11 that shine brightest.
11. Pacific Heights
In this John Schlesinger thriller set in San Francisco, Keaton plays a psychotic con man who torments young couple Matthew Modine and Melanie Griffith, who've rented him an apartment. Outside of cheesy '80s moments, like Keaton sprinting after a car on a busy street, the film has solid tension, with Keaton relishing his Tenant From Hell role. Here he ranges between slyly demonic and utterly rageful.
10. Live From Baghdad
Based on a book by Robert Wiener detailing his experience as a CNN executive producer in Baghdad at the start of the Gulf War, Keaton plays Wiener as a determined, schmoozing newsman working for a station that is still early enough in its history that it's a network whipping boy. The performance garnered him a Golden Globe nod for Best Actor in a Made-for-TV Movie, the only major award nomination he has received to date. (You can bet that will change this year.)
9. Clear History
You'd never expect Keaton would be the right fit for a Larry David comedy, but he shines in the outlandish role of explosives expert Joe Stumpo. Almost unrecognizable with a mustache, muttonchops, wool cap, and a trusty pipe, a bit of the Beetlejuice-like energy shines through in his scenes with David and Bill Hader.
8. Jackie Brown/Out of Sight
When Jackie Brown debuted in 1997, Quentin Tarantino already had a reputation for taking forgotten stars and casting them in amazing roles. But for this adaptation of Elmore Leonard's Rum Punch, he went all out: Pam Grier for the title role, Robert Forster as the smitten bail bondsman, and Keaton as the egomaniac ATF agent Ray Nicolette. Having not been in a hit since Batman Returns, Keaton could have overreached, but instead, he plays Nicolette small. Keaton would reprise the role a year later in Steven Soderbergh's Out of Sight in a cameo as Jennifer Lopez's cocky pre-Clooney love interest.
7. Gung Ho
Always able to play fancy and one of the guys, Keaton does both sides perfectly in this Ron Howard–directed comedy about the Japanese buyout of an American car company. (Very '80s.) Keaton plays a car-maker who suddenly gets over his head when the Japanese workers who've come to take over the Pennsylvania plant he works at enact some outside-the-box requirements that don't mesh well with the blue-collar workers there. Keaton's exhaustive peacemaker act is delightful, and then he caps it all with a humbleness that brings both sides together.
6. The Paper
Marking the third time Howard cast Keaton, this drama co-starring Glenn Close, Robert Duvall, and Randy Quaid is set at a New York tabloid newspaper. Keaton is the Metro editor who is getting courted by the equivalent of the New York Times, trying to appease his pregnant wife (Marisa Tomei) and attempting to avoid running the wrong story about two black kids accused of murder. Once more, Howard gets the best out of Keaton, who is full of witty quips, moments of New Yawk rage, and has some great chemistry in the scenes opposite Duvall and Close.
5. Night Shift
For Howard's sophomore directing effort, he delved into the sleaze of early-'80s Times Square for this raunchy comedy starring Henry Winkler as a nebbish night-shift attendant at the New York City morgue. Keaton, in his breakout performance, plays Winkler's new assistant. Keaton's infectious energy is palpable every time he's onscreen. Hopefully he's thanked Howard for giving him a hilarious and memorable movie entrance: a silhouette bopping and singing "Jumpin' Jack Flash" outside an office door before busting in.
4. Mr. Mom
A year after Night Shift, Keaton was handed the lead in this John Hughes–penned family comedy that's as much, if not more, relatable today than it was in 1983. Though the film didn't make big waves at the box office, it pushed Keaton from next big thing to leading man.
3. Batman
Before the internet, angry fans sent letters. And boy, did they send a lot to Warner Bros. when the studio cast Keaton as the Dark Knight in this Tim Burton–helmed adaptation. But that ire quickly subsided when the film opened in June 1989 and shattered box-office records. Keaton's Bruce Wayne is debonair and reserved. His Batman is even more silent, letting his actions and those wonderful toys do the talking.
2. Clean and Sober
In this 1988 film, Keaton defied how Hollywood perceived him by taking on perhaps his most risky role, drug addict Daryl Poynter. Finding the girl he spent the previous night with unconscious in his bed from a cocaine overdose, Daryl decides the best way to lay low from the cops is to go into a drug clinic. Keaton the actor uses every tool at his disposal. He does the con man act to his counselor (played by a young Morgan Freeman), puts the charm on one of his fellow patients, and delivers an utterly heartbreaking scene when he phones his mother and begs her to give him whatever she and his dad have laid out for him in their will. We only watch Keaton's side of the call, which goes from adoring son to manic tweaker in a matter of seconds.
1. Beetlejuice
Before donning the cape and mask, Keaton put on a ghoulish pinstripe suit for Tim Burton in this still one-of-a-kind comedy. Alec Baldwin and Geena Davis play a deceased couple whose house is being taken over by the living. You can tell Keaton is having a blast playing the perverted lead spirit. You can't stand him but also can't wait to see what he'll do next. He's manic, he's filthy, he's hilarious, he's magnetic. It's no surprise that Beetlejuice is the only role Keaton has said he'd like to play once more.