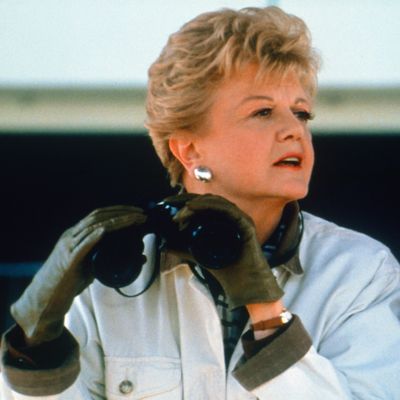 There's a 97 percent chance your grandmother watched Murder, She Wrote. Columbo producers Peter S. Fischer, Richard Levinson, and William Link's Miss Marple redux designed the 1984 drama, which premiered 30 years ago this week, to comfort CBS's aging crowds, taking the mystery-of-the-week format and turning a sweet, keen, 58-year-old widow into a hero. It worked wonders. Angela Lansbury's cardigan-wearing supersleuth Jessica Fletcher walloped competitors, remaining in the Nielsen top 20 for 11 of its 12 seasons.

Murder, She Wrote defines a bygone era of television, when 22-episode seasons were made to order. There's nothing "great" about the show in the way that M.A.S.H., Seinfeld, and Breaking Bad were great. Even the countless CSIs and NCIS spinoffs tether weekly episodes together with more narrative coherency, character arcs, and dramatic realism than any two successive installments of Murder, She Wrote. It's a grandma show. But it's the best grandma show. And I love it.
Netflix pioneered the all-at-once television consumption method, but by reserving space for all 264 hours of Murder, She Wrote, the streaming service makes an inadvertent case for an archaic format. If written with wit and ambition, merely reliable television can mature into something approaching greatness. Below, a smattering of reasons why you should make time for Murder, She Wrote:
Angela Lansbury
Television was Angela Lansbury's third career. After carving out a Hollywood niche as an oft-chilling character actress (The Manchurian Candidate) and then blossoming into a vivacious Broadway star in the '60s and '70s, Lansbury inverted her reputation with Murder, She Wrote. The compassionate, squeaky-clean author turned detective J.B. Fletcher was unlike any role from her past and, more important, the antithesis of her own personality. She put it best in a 1985 New York Times interview: "Mostly, I've played very spectacular bitches," and "Jessica has extreme sincerity, compassion, extraordinary intuition. I'm not like her. My imagination runs riot. I'm not a pragmatist. Jessica is."
If Mother Teresa could have identified arsenic residue, she would have looked something like Jessica Fletcher. She is the polar opposite of the archetypical hard-nosed gumshoe with a shadowy past. Where a tough detective might punch his way through hostile witnesses, Jessica gently scolds them into submission.
Forever Her Own Woman
A widow who never had kids of her own (minus her klutzy nephew Grady, who makes a number of appearances in the first few seasons), Jessica is perfectly content jet-setting around the country on the millions she's made from her mystery-writing hobby. Men want her, and Murder, She Wrote occasionally cranks up the heat, but in the end she's still "with" Frank, her deceased husband (whom she goes on to exonerate from murder —  twice!). Later in the series, Jessica's longtime friend Dr. Seth Hazlitt proposes turning their friendship into a romance. She respectfully declines.
Sherlock Holmes-Light
Dedicated viewers will inevitably begin to pick up on the Murder, She Wrote writers' clue-dropping (take a drink every time the camera zooms in close on an out-of-place ink splotch or pauses for a character's unusual request), but sometimes they fudge the details, turning Jessica into a living Siri. "Research for her novels" is the classic excuse for why Jessica knows the chemical components of Thallium. "Photographic memory" is the catch-all that helps Jessica match imperfect dance choreography to a drug addict's treacherous motives. Sometimes Jessica doesn't even solve the murder, forcing confessions out of suspects who think they've been caught only for Jessica to reveal, nope, she didn't have proof, it was all an assumption.
The Fletcher Faces
Maybe it's Lansbury's theater background, maybe it's being true to how an older character might react to grisly murders and heinous behavior, but Lansbury is the living embodiment of the facial moods chart. In a surprise to no one, her self-aware elasticity is forever preserved in Tumblr form, but even this sublime, goofy moment, Jessica creeping out of a cave to recreate the act of murder in season four's "Indian Giver," demands to be seen for Lansbury's, er, elegant motion.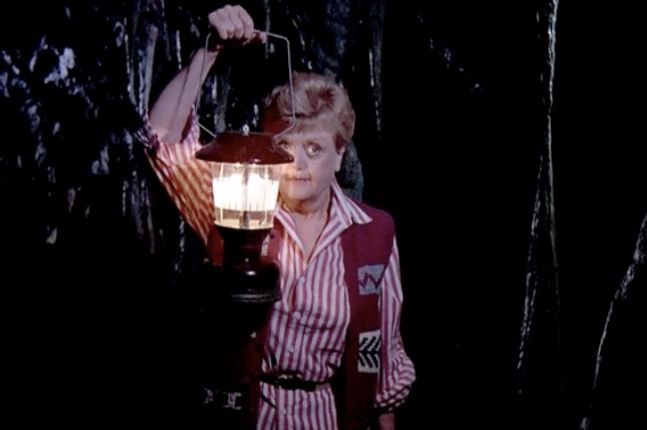 A Panoply of Plots
Murder, She Wrote couldn't say no to a remotely plausible setup. How many places can a sexagenarian author go to encounter a murder? Of course Jessica Fletcher has 18 nieces and nephews and of course she'd visit them for every wedding/birthday party/life-changing business meeting/previously committed murder/Broadway show opening/land dispute/comet discovery. In "Birds of a Feather," the fourth episode of the series, Jessica proves the innocence of her niece's fiancé, whom they discover to be a drag queen at a New York City cabaret. The fourth episode.
The Murder, She Wrote writing staff found scheming businessfolk and vengeful siblings to plant everywhere from Hollywood movie studios to the coal mines of West Virginia to a Moscow palace ("From Russia … With Blood"), where Soviet agents suspect the author of espionage. (If Fletcher didn't have nieces or nephews in a specific locale, she had long-lost friends, former students, or a book conference in need of a photo op.)
Cavalcade of Stars
What Law & Order is to the New York acting scene, Murder, She Wrote is to Los Angeles. There were famous faces who segued cameos into television roles — Ernest Borgnine, Janet Leigh, Leslie Nielsen, Buddy Hackett, and James Coburn — and then there were the rising stars. Recognize any of these names? George Clooney ("No Laughing Murder"), Julianna Marguiles ("Murder at a Discount"), Neil Patrick Harris ("Lone Witness"), Bryan Cranston ("Menace, Anyone?" "Good-bye Charlie," "Something Foul in Flappieville"), Joaquin Phoenix ("We're Off to Kill the Wizard"), Megan Mullally ("Coal Miner's Slaughter"), and Kate Mulgrew ("The Corpse Flew First Class," "A Killing in Vegas," "Ever After," "The Dying Game") all did time on the show.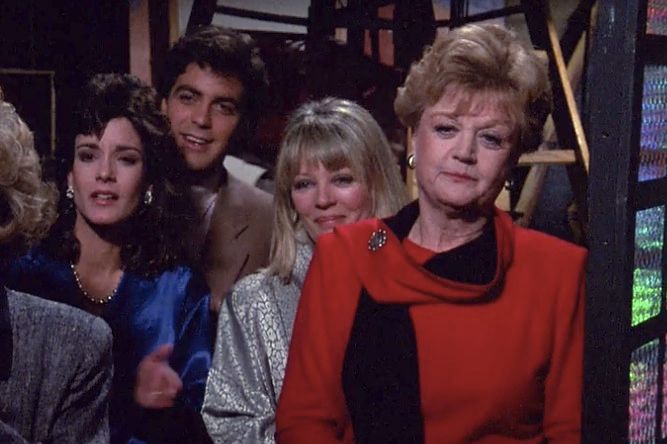 The Absurdity of Cabot Cove
In the season-five closer "Mirror, Mirror, on the Wall," Sheriff Metzger (Ron Masak), a no-mercy. ex-NYPD cop, laments Cabot Cove's murder problem to Jessica: "On a per capita basis, this place makes the south Bronx look like Sunnybrook Farm!" A few times each season, Murder, She Wrote would return to Jessica's hometown to see what the regulars were up to. (Murder. Always murder.) Early in the show's lifespan, the creators embraced the silliness. And if the show fell into a slog, they'd get the hell out of Dodge and throw a radical curveball ….

… Like Transplanting the Show to New York City!
In season eight, future Babylon 5 creator and prolific comic-book writer J. Michael Straczynski joined Murder, She Wrote as co-producer. His task: Kick the show in the ass. Coming off a ratings slump — to loosen Lansbury's time commitment, seasons six and seven were heavy on the "Bookend" episodes, where Jessica wound tell stories about other detectives, easily the most boring deviations the show took — Straczynski decided to punt Jessica from Cabot Cove to the Big Apple, getting her a job as a criminology professor (a job for which she is in no way qualified). The change of scenery adjusted logic and upped the threats. If Mad Men is such a good show, why is Murder, She Wrote better able to proficiently fake New York exteriors? Straczynski took Jessica all over town.

… or Sequelizing a '40s Film Noir!
Murder, She Wrote had a truly innovative moment with season three's "The Days Dwindle Down." What starts as a simple "cold case" amounts to an unofficial sequel to RKO's 1949 drama Strange Bargain. Stars Harry Morgan, Martha Scott and Jeffrey Lynn all reprised their roles for the episode, which intercuts "flashbacks" to the original film with present-day footage of Jessica re-solving the mystery.
The Freeze-Laugh
Why can't all TV shows end this way?