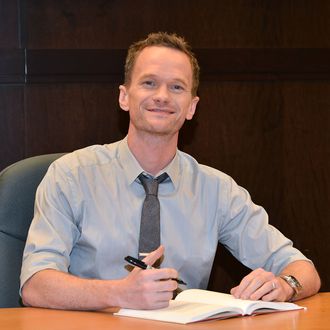 The Neil Patrick Harris variety show for which Americans have hoped and prayed is finally happening. Vulture has learned NBC has landed the actor/author/all-around host with the most to headline a U.S. version of Saturday Night Takeaway, the long-running U.K. variety show format produced by U.K.-based production company ITV. We hear multiple broadcast networks actively bid for the rights to land the Harris-hosted series, with ITV asking networks to agree to an on-the air, ten-episode order for the project. In addition, two sources tell us ITV was asking for a price tag north of $2.5 million for each hourlong episode (and that's before the substantial marketing and promotion such a project demands). The Harris show (which will not be called Saturday Night Takeaway or air on Saturdays) is also expected to originate from New York, logical given the actor's roots in the city. "As I watched the show, I couldn't stop smiling. Now that I've seen many seasons, my face hurts. It's a game changer," said Harris. "Nothing like this has been done before, and it's unique structure fits right into my random skill set. I can't wait to roll up my sleeves and have some fun!"
Harris, currently starring in Gone Girl and just tapped to host next year's Oscars, has been very open about his desire to one day host a variety show. Just a few months ago, he told Howard Stern that he'd been talking to CBS about such a gig. "I think if it's weekly, and people really want to see it, and you trust that there's a lot of really great shit on there, then you're gonna get the guests to want to come on there," Harris told Stern in May. A weekly thing, you'd have more time to prep for stuff, you could pretape stuff that would be really exciting, you could flesh it out more." And three years ago, Harris told CBS's retiring Craig Ferguson that he'd like to do a talent showcase-style variety hour. "I want to do an Ed Sullivan–y kind of show, with all the variety acts," he said. It looks like Harris (and America) will finally get his wish.
UPDATE: NBC and ITV execs have confirmed the Harris news. Peacock alternative TV head Paul Telegdy told Vulture that he's been looking to get a variety series on the network for a long time, and that Harris has always been at the top of his list of potential hosts. "We have a natural affinity for this type of show. It's in our DNA," the exec said of NBC, which is currently home to varietylike shows such as The Voice, Saturday Night Live, America's Got Talent, and The Tonight Show With Jimmy Fallon. Under current entertainment chief Bob Greenblatt, Telegdy noted, NBC has also added big live events such as last year's Sound of Music and the upcoming Peter Pan. "There's a natural progression with this," he said. "This is something we felt was undeniably an NBC proposition."
Telegdy wasn't ready to say when exactly the new take on Takeaway would premiere, though Orly Adelson, the president of ITV Studios America and an executive producer of the show, told us it will bow "in 2015." Harris obviously has to first worry about getting ready for the Oscars; after that, "We're not going to rush this," Teledgy said. "We'll take our time and make a great show." He also confirmed that the show will not air on Saturdays (a dead zone for U.S. broadcasters) and that a final title has yet to be determined. Telegdy also said it's possible future seasons of the show could be more than 10 episodes, but probably only a couple more and only once per year. "I don't envision this being much more," Teledgy said. "It's a very physically demanding show." Telegdy declined to comment on the cost of the show, though TV industry insiders Monday were already questioning how the network will be able to make any sort of profit on a show with such a high cost and with no back-end value to the network.
Variety shows, which were omnipresent during the 1960s and especially the 1970s, have been something of a holy grail for American broadcast networks in recent years. They're seen as event programming which can cut through the clutter of so much programming and get viewers to watch live. But while the genre's appeal is obvious, "The problem is always…who has the versatility to pull it all off,"  Adelson said. NBC has tried efforts with Rosie O'Donnell and, this spring, Maya Rudolph. Now, Harris will try, and execs at NBC and ITV are convinced the former How I Met Your Mother star has the chops to pull off the format. "We knew he could pull off a show like this unlike anybody else," Paul Buccieri, the chairman of ITV Studios U.S. Group, told Vulture. He says the Takeaway format will be "a real blend between comedy, game and musical variety. And it has this fast pace and irreverence to it." Putting Harris on a format that's already been proven to work in other countries represents "the combination of the right format with the right host." Adelson, meanwhile, is convinced not only that Harris will succeed with his new show, but that he'll inspire a slew of copycats. "It's the beginning of a trend," she said.
*This post has been updated throughout.