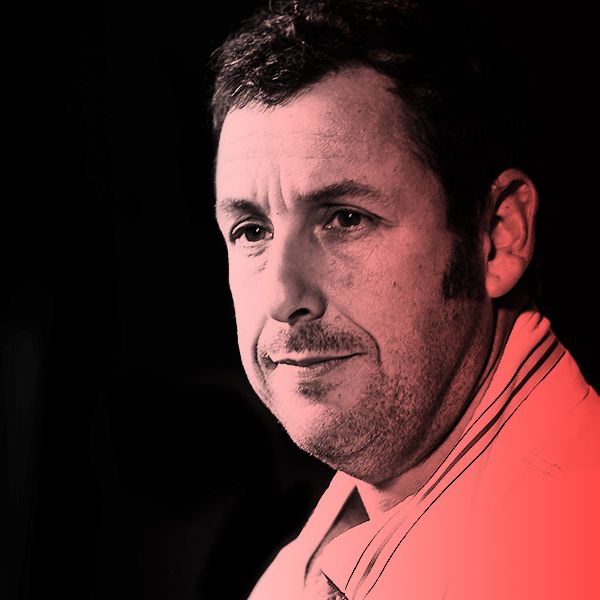 Photo: Photo by Getty Images
Give Netflix credit: If nothing else, it knows how to make a splash. This morning's out-of-left-field news that it had signed Adam Sandler to an exclusive four-movie deal immediately set the internet abuzz about yet another revolutionary play by the streaming giant. Having previously disrupted the entrenched linear TV model with "binge-able," Emmy-caliber content, the Sandler agreement had entertainment industry writers scrambling for new ways to sum up how Netflix was now about change the film business —  particularly since it came so close to the announcement of a deal to distribute a sequel to Crouching Tiger, Hidden Dragon. But just as interesting as how this will (or won't) change movies is what it all says about Netflix, and how it continues to evolve well beyond a place audiences go to stream old movies. Is this another example of the company smartly shaking up the old media order? Or, by expanding beyond TV series, is Netflix messing with a model that's so far worked spectacularly? Let's take a look at some of the questions raised by the Sandler deal:
1. Series are working so well for Netflix. Why do one-off feature films?
HBO gets most its buzz these days from its roster of series, but original movies have been a part of the network's programming mix since from the early 1990s (when it began producing titles such as The Josephine Baker Story) to today (The Normal Heart). It's thus not at all surprising that as it continues to expand,  Netflix, too, would look to complement House of Cards and Bojack Horseman with its own stable of movie titles. Like HBO (or Showtime, or Starz), Netflix wants to build a broad portfolio of programming so that customers feel they're getting real value from their monthly fee. This is why Netflix produced last year's Oscar-nominated * documentary The Square, is investing in a sequel to Crouching Tiger, Hidden Dragon, and is spending money on a series of stand-up comedy specials. Sandler's movies will almost certainly cost a whole lot more, but the fundamental logic is the same across all of the investments.
2. So is the Netflix deal actually breaking any new ground?
In some ways, yes. HBO's decades-old movie game plan has mostly (though not exclusively) revolved around making films which can win Emmys, betting the prestige from those awards — the halo effect— will resonant with upscale audiences and keep them hooked on the network. Signing Sandler seems a more direct attempt to woo or satisfy a certain segment of viewers who love Sandler and his antics. Younger and middle-aged males are obviously a big part of Sandler's base, and they're among the toughest viewers to grab (blame video games and live sports.) But as Netflix chief Ted Sarandos noted in a release announcing the deal, Sandler movies are the kinds his fans watch "again and again"— and repeatability is key for an on-demand service such as Netflix. It's also easy to see Netflix marketing its Sandler films to families as a great value proposition: Instead of paying $60 taking the kids to see Grown Ups 2 at the local multiplex, you can just call up the latest wacky Sandler movie on the Netflix as part of your subscription fee. (And the kids can then watch people getting hit in the balls or puking on each other again and again, whenever they want.)
Another distinction from HBO: Netflix is calling the Sandler movies "feature films" rather than "made-for-TV" or "made-for-Netflix" movies. In part, that's because the movies will have feature-level budgets and because there's at least a chance they could end up in theaters, too (either in the U.S., or more likely, overseas.)  But using that phrase plays into another Netlix strategy, which is to always appear innovative and groundbreaking and thus cool. If you're going to be the next HBO, you better be cool. (That said, we're still dubious about calling these movies features, if only because they're being targeted for at-home viewers. And that's not a slam— not in an age in which Steven Soderbergh makes "TV movies" starring Michael Douglas and Matt Damon.)
3. Won't Netflix be spending lots of money for a relatively small amount of content?
Probably! We don't know yet (and may never know) exactly how much each Sandler movie will cost to produce. People familiar with the deal tell Vulture the movies will have budgets on par with past Sandler movies, though that's a big range— from $80 million for recent titles such as Grown Ups to under $30 million for some of his early "classics." It's reasonable to assume, however, that on a cost-per-hour basis, the films will represent Netflix's biggest expenditure yet. The network's first big series, House of Cards, required an upfront investment of more than $100 million for 26 episodes, or about $4.5 million per hour, according to industry estimates. A similar investment for a two-hour movie would be $9 million, well below the cost of most studio features. HBO's biggest movies are usually budgeted at somewhere between $15 million and $25 million. But unlike shows such as House of Cards, Netflix will own all the rights to its Sandler movies, which means it can find ways to recoup its investment beyond simply running them on the service. It could sell the titles to FX or TBS two or three years after they debut. It could release them on DVD (just like Netflix's original series.) And with movie studios forever threatening to pull the plug on their output deals with Netlfix (there's a reason your favorite movies suddenly disappear from your queue), there's value in Netflix in producing content it knows will always be there. Movies were what originally put Netflix on the map; the Sandler deal just lets the company control its destiny with a key form of content.
4. How often will the Sandler films be released? And when will we see the first one?
Sarandos wasn't available for an interview today, but he told the Wall Street Journal he'd like to see one movie released per year. Industry insiders suggest the first could be released by the end of 2015, though no firm timetables have been established.
5. Will Sandler's movies be seen in theaters?
Maybe. While Netflix says the movies will premiere "exclusive" on its service, that doesn't mean they couldn't also have a run in theaters— if not in the U.S., perhaps in other countries. It might be tough for Netflix to book them in theaters, however: Big movie chains are adamantly against sharing release windows with TV. (Several have said they won't book the Crouching Tiger sequel for just this reason.)
* An earlier version of this story said "The Square" had won an Oscar, when, in fact, it was only nominated.