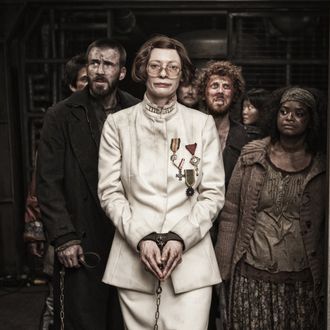 At the beginning of (and throughout) every month, Netflix Streaming adds new movies and TV shows to its library. Here is a quick list of several that you might be interested in. Some of these may also have previously been on Netflix, only to have been removed and then added back. Feel free to note anything we've left out in the comments below.
Total Recall (1990)
No, not the Colin Farrell one — this is the original Ah-nuld version. Paul Verhoeven's very loose adaptation of a Philip K. Dick story takes the future governor of Calfornia to Mars, where he encounters a secret conspiracy and a underground resistance movement. The film's groundbreaking special effects made it one of the most expensive films of its day, and enabled Verhoeven to build his perfect woman.
Snowpiercer (2013) (Available November 22)
Thanks to an innovative release strategy, Bong Joon-ho's first English-language film was one of the summer's biggest sleeper hits. Now it's hitting streaming just in time for Thanksgiving. Set aboard a train that's carrying the last remnants of the human race (just go with it), Snowpiercer's brilliantly designed dystopia offers both the best action scenes of the year and all the Marxist social critique your uncle can handle. Plus, its title is a lot of fun to sing to the tune of "Goldfinger."
The One I Love (2014) (Available November 29)
Indulge all your Peggy Olsen–Pete Eckhart fantasies with this mumblecore sci-fi. Elisabeth Moss and Mark Duplass star as a couple who takes a romantic retreat, only to find themselves greeted by another couple who look and act exactly like them — only slightly better. The result, as our own David Edelstein says, is a "dark comedy of jealousy and emasculation."
The Rocketeer (1991)
The failure of this comic-book adaptation likely delayed the cinematic superhero deluge at least a decade. We owe it all an apology.
New Seasons of TV:
Bali (Season 1)
Bomb Girls (Season 3) (Available 11/26)
Doc Martin (Season 6) (Available 11/15)
Helix (Season 1) (Available 11/10)
It's Always Sunny in Philadelphia (Season 9)
Lilyhammer (Season 3) (Available 11/21)
Nikita (Season 4) (Available 11/22)
Portlandia (Season 4)
Woldblood (Season 2) (Available 11/15)
Other Movies Available :
About Cherry (2012) (Available 11/30)
Altman (2014) (Available 11/4)
Artifact (2012)
Babes in Toyland (1961)
La Bare (2014) (Available 11/12)
Beyond the Edge (2013) (Available 11/25)
Bill Cosby 77 (2012) (Available 11/27)
Chelsea Peretti: One of the Greats (2014) (Available 11/14)
Doug Benson: Doug Dynasty (2014) (Available 11/6)
Dream House (2011) (Available 11/16)
Fading Gigolo (2014) (Available 11/5)
The Grand Seduction (2013) (Available 11/30)
Happy Christmas (2014) (Available 11/23)
Hell Is for Heroes (1962)
Ida (2014) (Available 11/22)
Kingpin (1996)
Louder Than Words (2014) (Available 11/8)
Nebraska (2013) (Available 11/8)
Not Yet Begun the Flight (2012) (Available 11/11)
The Princess Diaries 2: Royal Engagement (2004) (Available 11/3)
Quartet (2012) (Available 11/11)
Running From Crazy (2013) (Available 11/25)
Sabotage (2014) (Available 11/19)
Sinbad: The Fifth Voyage (2014) (Available 11/15)
Small Town Santa (2013) (Available 11/13)
Spike (2008)
Trading Mom (1994)
Trailer Park Boys 3: Don't Legalize It (2014) (Available 11/29)
VeggieTales in the House (2014) (Available 11/26)
Virunga (2014) (Available 11/7)
War Story (2014) (Available 11/25)