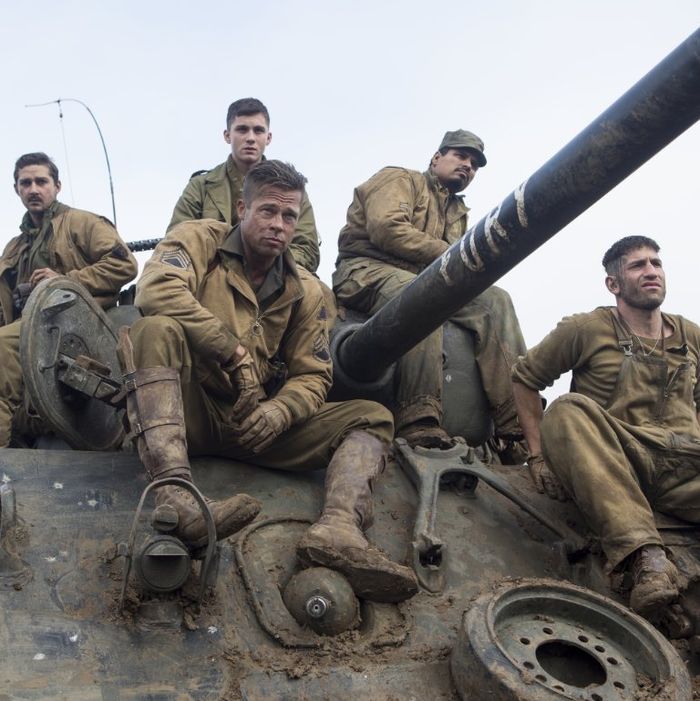 Every week between now and January 15, when the nominations are announced, Vulture will consult its crystal ball to determine the changing fortunes in this year's Oscar race. Check back every Friday for our Oscar Futures column, when we'll let you in on insider gossip, confer with other awards-season pundits, and track industry buzz to figure out who's up, who's down, and who's currently leading the race for a coveted Oscar nomination.
Best Picture

Fury
A July piece in the Times suggested that Brad Pitt's WWII film Fury could be an awards-season play, perking up pundit ears until this morning's critical embargo broke, and the dismal reviews (Variety called the film "bland" and "transparently silly") arrived like a full-frontal assault. Fury's far too familiar and violent to build an Oscar campaign around.

Inherent Vice
He's regarded as one of our premier auteurs, but Paul Thomas Anderson has only managed one Best Picture nominee, There Will Be Blood. After the mixed reaction his new movie Inherent Vice earned at the New York Film Festival (with even his boosters copping to the film's scatterbrained narrative), Anderson will likely be passed over in this category once more.
Current Predix
Birdman; Boyhood; Foxcatcher; The Imitation Game; Interstellar; Into the Woods; Selma; The Theory of Everything; Unbroken
Best Director

David Fincher, Gone Girl
Fincher's story of marital mayhem earned him the strongest opening weekend of his career, and it's all anyone can talk about. Whether or not his movie fits the classic Best Picture profile, he's got to be considered a threat for Best Director.

Damien Chazelle, Whiplash
Every so often, the directors' branch likes to recognize a wunderkind, and this year's strongest contender is the 29-year-old Chazelle, whose music drama Whiplash (out this weekend) has earned some of the best reviews of this year. Let's not forget, Chazelle's just as old as Spike Jonze and Benh Zeitlin were when they earned their first nominations …
Current Predix
Alejandro González Iñárritu (Birdman); Angelina Jolie (Unbroken); Richard Linklater (Boyhood); Christopher Nolan (Interstellar); Morten Tyldum (The Imitation Game)
Best Actor

Bill Murray, St. Vincent
In order to break into a crowded Best Actor lineup, Murray needed stellar reviews or a strong box-office haul. He didn't get the former — notices were only okay for St. Vincent — but the movie is a shameless crowd-pleaser, and a word-of-mouth end-run is possible if the Weinsteins can make it a hit.

Jeremy Renner, Kill the Messenger
Renner got better reviews for his star vehicle (where he plays unjustly pilloried journalist Gary Webb) than Murray did for his, but Kill the Messenger has an awfully low profile for a potential Oscar contender.
Current Predix
Steve Carell (Foxcatcher); Benedict Cumberbatch (The Imitation Game), Michael Keaton (Birdman); David Oyelowo (Selma); Eddie Redmayne (The Theory of Everything)
Best Actress

Rosamund Pike, Gone Girl
Pike's press tour went into overdrive this week, and the charming Brit has the playing field to herself for a while …

Rosamund Pike, Gone Girl
…because the next movie with a credible Best Actress contender, The Theory of Everything (with Felicity Jones), doesn't arrive until November 9.
Current Predix
Amy Adams (Big Eyes); Felicity Jones (The Theory of Everything); Julianne Moore (Still Alice); Rosamund Pike (Gone Girl); Reese Witherspoon (Wild)
Best Supporting Actor

J.K. Simmons, Whiplash
A well-liked character actor, Simmons has "seldom had the opportunity or screen time to create anything as fully realized as" his tyrannical Whiplash performance, notes the Wall Street Journal. It's one of the season's jawdroppers, and Simmons will be a name on the ballot that Academy voters know, appreciate, and want to vote for.

Logan Lerman, Fury
The Perks of Being a Wallflower star is picking up the strongest notices in Fury — and he's essentially playing the same sort of protege character that won Ethan Hawke a nod for Training Day, which Fury director David Ayer scripted — but the reviews for the movie as a whole will be tough to overcome.
Current Predix
Ethan Hawke (Boyhood); Miyavi (Unbroken); Edward Norton (Birdman); J.K. Simmons (Whiplash); Mark Ruffalo (Foxcatcher)
Best Supporting Actress
Kristen Stewart, Still Alice
Stewart has a clutch of indies out this fall, but her best shot at a nod comes from the Alzheimer's drama Still Alice: Her co-star Julianne Moore is the Best Actress frontrunner (which ensures sampling), Sony Pictures Classics has announced plans to campaign for Stewart, and the 24-year-old actress ends the movie with a significant, minutes-long monologue that makes quite an impression.

Reese Witherspoon, The Good Lie
Witherspoon's still guaranteed a Best Actress nod for Wild (and potentially a nomination for producing Gone Girl), but don't look for more opportunities in this category: Her Lost Boys of Sudan drama The Good Lie underperformed in semi-wide release this past week, and though she pops up in Inherent Vice, the role isn't sizable enough to score.
Current Predix
Patricia Arquette (Boyhood); Jessica Chastain (Interstellar); Keira Knightley (The Imitation Game); Emma Stone (Birdman); Meryl Streep (Into the Woods)