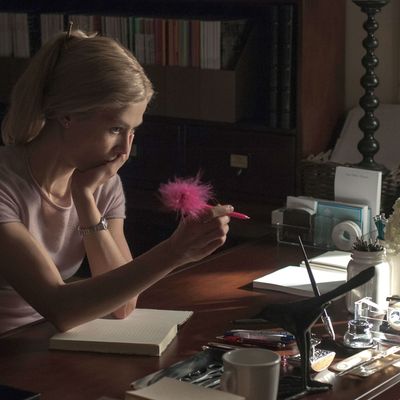 Photo: Photo: Merrick Morton/Twentieth Century Fox and Regency Enterprises
Every week between now and January 15, when the nominations are announced, Vulture will consult its crystal ball to determine the changing fortunes in this year's Oscar race. Check back every Friday for our Oscar Futures column, when we'll let you in on insider gossip, confer with other awards-season pundits, and track industry buzz to figure out who's up, who's down, and who's currently leading the race for a coveted Oscar nomination.
Best Picture

Gone Girl
This twisty picture — which shifts tones midway through, moving from detective thriller to pitch-black comedy — lack the sort of moral uplift that Oscar voters usually want from a Best Picture candidate. Still, reviews are sterling, and a surplus of talking points will keep it in the Oscar conversation all season.

Men, Women & Children
Jason Reitman was nominated for four Academy Awards before he even turned 35, but his new digital-panic drama has critics reaching for the sharpened knife emoji: It's polling under 40 percent at Rotten Tomatoes.
Current Predix
Birdman; Boyhood; Foxcatcher; The Imitation Game; Interstellar; Into the Woods; Selma; The Theory of Everything; Unbroken
Best Director

Christopher Nolan, Interstellar
The Academy has historically been resistant to rewarding sci-fi, but after Gravity got tantalizingly close to the big prize last year, could Interstellar go all the way? Certainly, the new trailer for Christopher Nolan's epic promises a marriage of special effects and emotion that could prove potent in an awards season that still has no clear frontrunner.

Paul Thomas Anderson, Inherent Vice
The amazing trailer for Anderson's zonked-out detective story promises high jinks and a lighter tone than Anderson has lately employed, but it doesn't immediately suggest an awards vehicle. We'll know more in the next few days when it debuts at the New York Film Festival.
Current Predix
Alejandro González Iñárritu (Birdman); Angelina Jolie (Unbroken), Richard Linklater (Boyhood); Christopher Nolan (Interstellar); Morten Tyldum (The Imitation Game)
Best Actor

Bradley Cooper, American Sniper
Could Bradley Cooper be a late entrant into this stacked Best Actor race? As the taut new trailer for American Sniper reminds us, he adopted an accent and put on 40 pounds to play a morally conflicted sniper in Clint Eastwood's December drama. Cooper has been nominated twice in two years now, and the third time could be the charm.

Christian Bale, Exodus: Gods and Kings
Cooper's American Hustle co-star Christian Bale cracked the Best Actor derby last year, but after Fox screened a half-hour of Bale's coming biblical epic Exodus for press this week, it seems clear that the film will be more of a box-office play than an awards candidate.
Current Predix
Steve Carell (Foxcatcher); Benedict Cumberbatch (The Imitation Game), Michael Keaton (Birdman); David Oyelowo (Selma); Eddie Redmayne (The Theory of Everything)
Best Actress

Rosamund Pike, Gone Girl
Oscar loves an ingenue, and though Rosamund Pike has been at this over a decade, Gone Girl is enough of a game-changer that it almost feels like her debut. Rooney Mara scored a Best Actress nod in David Fincher's last film, The Girl With the Dragon Tattoo; Pike, who has a tricky, showy role in that enigmatic vein, ought to follow suit.

Anne Hathaway, Interstellar
In her first major role since winning the Oscar for Les Miserables, Hathaway plays the female lead in one of the most anticipated movies this season … but the previews all suggest a restrained, downbeat performance from her.
Current Predix
Amy Adams (Big Eyes); Felicity Jones (The Theory of Everything); Julianne Moore (Still Alice); Hilary Swank (The Homesman); Reese Witherspoon (Wild)
Best Supporting Actor

Josh Brolin, Inherent Vice
Brolin has a centerpiece comic moment in the film's first trailer, and we continue to hear buzz that the 46-year-old (nominated in this category once before for Milk) reps Inherent Vice's best awards play.

Tyler Perry, Gone Girl
Yes, Perry is incredibly appealing in Gone Girl, and he can boast the film's biggest laugh line, to boot. Still, without an arc of his own or any scenes that scream "Oscar clip," he's not likely to pose a major threat to this category's more certain candidates.
Current Predix
Ethan Hawke (Boyhood); Miyavi (Unbroken); Edward Norton (Birdman); J.K. Simmons (Whiplash); Mark Ruffalo (Foxcatcher)
Best Supporting Actress

Julianne Moore, Maps to the Stars
It was touch and go there for a minute, but David Cronenberg assured us that Maps to the Stars would get an Oscar-qualifying run after all, giving Julianne Moore two shots at the gold this year (in addition to her acclaimed Alzheimer's drama Still Alice)

Sienna Miller, American Sniper
The new trailer suggests that Miller will have plenty to do as Bradley Cooper's anguished wife — a nice surprise, since she's got awfully little to do as Mark Ruffalo's anguished wife in another awards vehicle, Foxcatcher.
Current Predix
Patricia Arquette (Boyhood); Jessica Chastain (Interstellar); Keira Knightley (The Imitation Game); Emma Stone (Birdman); Meryl Streep (Into the Woods)