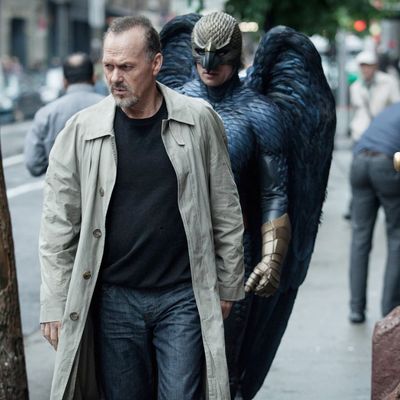 Every week between now and January 15, when the nominations are announced, Vulture will consult its crystal ball to determine the changing fortunes in this year's Oscar race. Check back every Friday for our Oscar Futures column, when we'll let you in on insider gossip, confer with other awards-season pundits, and track industry buzz to figure out who's up, who's down, and who's currently leading the race for a coveted Oscar nomination.
Best Picture

Birdman
A critic is excoriated in one of Birdman's most memorable scenes, but that hasn't stopped film writers from flipping for the eccentric backstage comedy: The film has brought in sterling reviews, will likely have one of the highest per-screen averages of the year after debuting in limited release this weekend, and looks to be a critics' group favorite this awards season. It may prove too eccentric to ultimately take home Best Picture, but the film's got undeniable potential in nearly every major category.

The Imitation Game
This World War II drama just picked up another audience award at the Hamptons Film Festival, further establishing that it will be the default Best Picture choice for many voters unless a major contender emerges from the scant few year-end films yet to screen.
Current Predix
Birdman; Boyhood; Foxcatcher; Gone Girl; The Imitation Game; Interstellar; Into the Woods; Selma; The Theory of Everything; Unbroken
Best Director

Alejandro González Iñárritu, Birdman
A former contender in this category (for Babel) and an Academy favorite whose past four films all earned at least one Oscar nomination, Iñárritu has got to be considered one of the Best Director frontrunners for Birdman, which Times critic Manohla Dargis hailed as a "funny, frenetic, buoyant and rambunctiously showboating entertainment in which Mr. Iñárritu himself rises high and then higher still."

David Fincher, Gone Girl
This week, as the cultural conversation continued to be dominated by Gone Girl (and one of the film's actors was announced as the Oscar host), I finally added it to my list of probable Best Picture nominees. If the drumbeat keeps up, Fincher could crash this category, too.
Current Predix
Alejandro González Iñárritu (Birdman); Angelina Jolie (Unbroken); Richard Linklater (Boyhood); Christopher Nolan (Interstellar); Morten Tyldum (The Imitation Game)
Best Actor

Michael Keaton, Birdman
Keaton's Birdman character draws heavily on the actor's own backstory — he's playing a faded movie star still best known for his superhero role — and he's now getting the critical raves that his character so desperately desires. Oscar loves a comeback, and Keaton is almost assured of a Best Actor perch.

Brad Pitt, Fury
With Fury more of a box-office play than an awards contender, Pitt's best shot at Oscar will come later this year with Selma, the Martin Luther King biopic he produced.
Current Predix
Steve Carell (Foxcatcher); Benedict Cumberbatch (The Imitation Game), Michael Keaton (Birdman); David Oyelowo (Selma); Eddie Redmayne (The Theory of Everything)
Best Actress

Rosamund Pike, Gone Girl
Another Oscar pundit I talked to this week laid out her theory that Rosamund Pike could win, and while I think Pike will eventually fall to the upcoming Julianne Moore juggernaut …

Rosamund Pike, Gone Girl
… I can't argue with the fact that Pike is literally the only legitimate Best Actress candidate from any film out this month, which allows her to continue accruing strength without a single challenger. Get used to seeing Pike's face in this column, because nearly all of Pike's competitors are clustered in December releases.
Current Predix
Amy Adams (Big Eyes); Felicity Jones (The Theory of Everything); Julianne Moore (Still Alice); Rosamund Pike (Gone Girl); Reese Witherspoon (Wild)
Best Supporting Actor

Edward Norton, Birdman
While Birdman will rightly be heralded as Michael Keaton's comeback vehicle, it's also a homecoming for Norton, who does hilarious work as a vainglorious actor. Norton's career has been in the weeds for a bit, owing in part to his prickly reputation; by satirizing his own self-importance in Birdman, it could appear that he's ready to make amends.

Robert Duvall, The Judge
Despite a big promotional blitz from Iron Man himself, Duvall's latest effort, The Judge, opened to a weak $13 million this past weekend, barely more than was made by this fall's similar, quickly dismissed family dramedy This Is Where I Leave You.
Current Predix
Ethan Hawke (Boyhood); Miyavi (Unbroken); Edward Norton (Birdman); J.K. Simmons (Whiplash); Mark Ruffalo (Foxcatcher)
Best Supporting Actress

Emma Stone, Birdman
Stone is earning some of Birdman's strong notices, and she's been a delightful, self-deprecating presence on the promo trail, too. She'll slide easily into the Oscars' "charming young ingenue" seat, kept warm these past few years by Jennifer Lawrence.

Naomi Watts, Birdman
The last time Watts teamed up with Iñárritu, she earned an Oscar nomination for 21 Grams. It's a pleasure to see her in Birdman, but the movie has a whole lot of Best Supporting Actress contenders, and Stone and Amy Ryan (as Keaton's sympathetic ex-wife) are likely to get the most attention of the female ensemble.
Current Predix
Patricia Arquette (Boyhood); Jessica Chastain (Interstellar); Keira Knightley (The Imitation Game); Emma Stone (Birdman); Meryl Streep (Into the Woods)