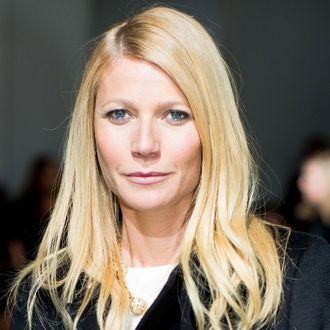 Photo: Jesse Lirola/BFAnyc.com/BFA NYC
Gwyneth Paltrow hosted a fund-raiser for President Obama at her Brentwood, California, home on Thursday night, and she seemed more than a little star-struck to have the POTUS himself gracing Goop HQ: "I'm one of your biggest fans, if not the biggest," gushed Paltrow in front of an audience that included celeb donors like Julia Roberts and Bradley Whitford. "The life that you brought to this country and the passion will historically be the most looked at and scrutinized presidencies of all time," she continued, adding as she turned over the microphone: "You're so handsome that I can't speak properly." (We're guessing that's the part where her brain consciously uncoupled from her mouth?) To his credit, Obama was pretty cool about it: "I'm taking her to the next event," he joked.
Here's a photo of Paltrow staring adoringly at the president:
Apple looks kind of bored, but, to be fair, she is 10.