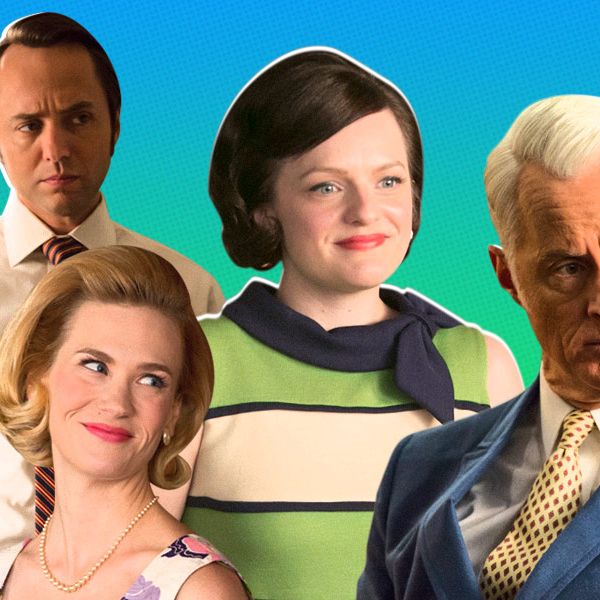 As Mad Men's final season (well, half-season) draws nearer, the idea that the show will be over-over — totally over, done forever — is becoming more distressing. AMC spun off Breaking Bad into the upcoming Better Call Saul, and The Walking Dead has a spinoff in the works, too. Could Mad Men get the same treatment? So far, AMC and Matthew Weiner have said no. But that's just because they haven't heard our pitches yet.
The Peggy story: Second Wave
Peggy's the most obvious character to spin off because she's had the most to do; plus, her character's development is a microcosm for the many aspects of the women's movement. The challenge would be giving Peggy a new world to exist in, otherwise it would just be Mad Men without Don — given what we know about her, she'd continue to work with Ken and maybe Pete, unless something major happened. Like, maybe … Don dies? It's not out of the question that that's how Mad Men could end, and one can imagine Peggy taking it pretty hard. Hard enough that she'd pick up and move to San Francisco, where she continues to bump into counterculture and has to decide where she wants to fit into a changing society. Time-jump to the Nixon resignation, and let things unravel for Peggy from there.
The Roger prequel: USS Pensacola
Specifically, one about Roger's time in the Navy in World War II. We know Roger's upbringing was pretty fancy, and not that anyone is ever necessarily prepared for naval warfare, but maybe he was even less prepared than others. The show itself could contain flashbacks to Roger's childhood, where we know Bert Cooper's sister Alice was his occasional babysitter. Name the show after whatever vessel Roger was stationed on, flesh out the world with some buddies (some of whom will obviously be killed over the course of the show), and throw in some serious carousing when the guys are on leave.
The Bert prequel: The Double Dream of Spring
Another flashback (for … obvious reasons.) Even though Bert's exit was a musical number seen only through Don's eyes, this spinoff could end every episode with a little soft-shoe from Bert. If it's good enough for American Horror Story, can't weekly musical numbers be good enough for everyone? Set the show before the founding of Sterling-Cooper (which, according to the show, was in 1923), and instead follow Bert's younger life in the 1910s. Where did his interest in art come from? What about his refined decorative taste? Surely he ran around with some interesting people. We know he had some kind of botched testicular surgery at some point, too. The title comes from the 1915 painting by Giorgio de Chirico, because Bert likes art and that's a very melodious title for something.
Sally, the college years: Mount Holyoke
Sally could absolutely support her own spinoff, particularly, as with Peggy, if Don died; you can picture Sally deciding not to talk to Betty for years, but it's harder to imagine Don tolerating that level of estrangement. Give Kiernan Shipka a little while to continue to age, and then let's see Sally at college. She'd be either class of '75 or '76, so there's plenty to cover in terms of sex, drugs, rock and roll, and discourse, plus Glen could still be around once in a while. Mount Holyoke, the show about Sally Draper doing a lot of drugs, but also figuring some things out.
The Megan in Hollywood saga: Sides
Megan's an actress in L.A. trying to grapple with how unfair it is that she's rich! Whatever, Megan! Sides finds Megan slogging through auditions and trying to find her spot in the volatile entertainment industry.
The Can Joan Have It All? drama: Fortune 500
This one should get Degrassi-ed, with the spinoff actually centering on Joan's son Kevin Harris. It's 1987. Kevin is 21. Joan is 56. He's entering the corporate world and is tired of taking advice from his mom — even if she's usually right about how all things business-y operate. Joan left advertising years ago to work for NBC, but even without the baggage at SCDP, she found herself pushing against the glass ceiling an awful lot. Maybe in Fortune 500, Joan and Kevin can both advance.
The adventures of Dawn: St. Nicholas Avenue
A Dawn spinoff could start the day after whatever happens on the finale of Mad Men. She's personnel director at SC&P, so she could maybe move to another agency, preferably one where she'd have to deal with less racism. St. Nicholas Avenue would include Dawn's professional and personal endeavors, and her smug-married friend could reemerge.
The Nerdy Ken show: Science Planet
Abandon advertising, Ken, and go run a sci-fi magazine that publishes short stories. Magazines like that could survive in the '70s, right?
The Rachel Menken office drama with heart: Housewares
Set the show within Menken's department store, and start the story back in 1963, just after Rachel and Don's affair. You get to keep so much of the Mad Men style, but with a whole new set of people and ideas. Housewares could follow Rachel and her slightly dweeby husband, as well as any of the other intriguing employees at the store that's, you guessed it, more like home.
You may have noticed a few missing characters. This is why their spinoffs won't work:
Pete: Pete's whole purpose is to be Not Don. Pete is perhaps the one character who cannot be spun off.
Betty: Betty will never be far out of Don's orbit, and even if Don dies, Betty's relationship with Henry Francis doesn't seem substantive enough for a whole other series.
Ted: Ted is not complex enough to have a whole show.
Never say never to that spinoff, AMC. See you in 2016!