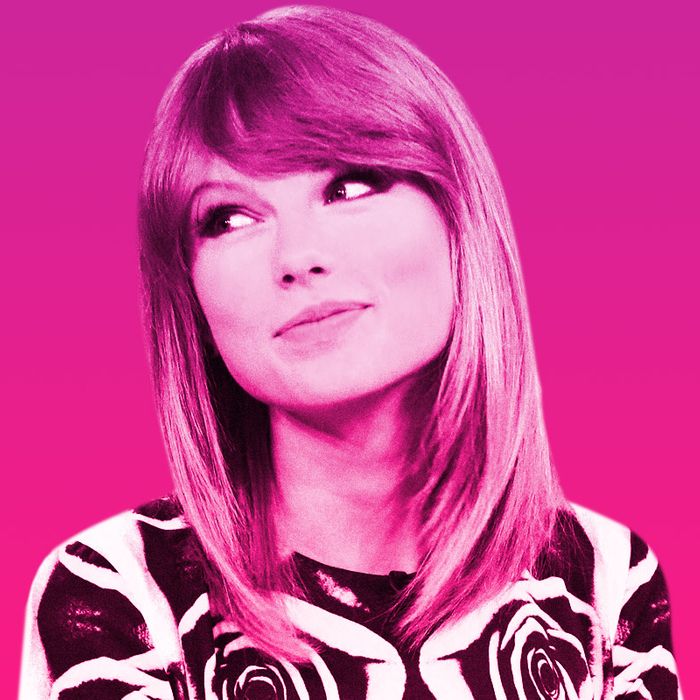 Photo: Kelly Chiello and Photo by NBC
No artist in today's music industry has done as good a job at cultivating her own personal legend as Taylor Swift. (That's one reason she's the reigning queen of pop.) Listening to a Swift album — or reading a thousand Swift reviews and essays — is like unpacking an entire history: ex-boyfriends, best friends, lucky numbers, and private jokes. Here are the phrases, jokes, and people you should be familiar with before the release of 1989.
13
13 is Taylor Swift's lucky number. So much so that she used to paint "13" onto her hand before every concert (before she started waking up with a backwards "13" on her face). But if you were born on the 13th, turned 13 years old on a Friday the 13th, and your first album happened to go platinum in 13 weeks — wouldn't you go hard on the 13 thing, too?
27-Second Phone Call
The length and method of Taylor's dumping by Joe Jonas. (See also: Joe Jonas.)
1989
The year Taylor Swift was born, also the title of her new album. 
Abigail Anderson
Taylor's best friend since before she was famous. They still hang out, so she apparently did not mind that Taylor wrote a song about Abigail losing her virginity.
Adam Young
Owl City's Adam Young found himself the subject of "Enchanted," a song from Speak Now about a chance romantic meeting. How do we know? Well, the song's liner-note clue was "Adam," and he admitted that they did email (but not date) for a few months. (See also: Liner Notes.)
American Greeting Cards
What a weirdly wonderful collaboration. Taylor's created a greeting-card line that included things like "Love, love love" and "In the spirit of Speak Now–ness … So happy we're friends."
Bob Lefsetz
A music critic who wrote unkind things about Taylor Swift's performance with Stevie Nicks. He got the song "Mean" for his trouble, which did not make him reevaluate his anti-Swift stance. "If ['Mean'] is really about me," he wrote, "I wish it were better."
Camilla Belle
The girl Joe Jonas dated after Taylor, which prompted this nasty kiss-off in "Better Than Revenge": "She's an actress / But she's better known by the things she does on the mattress." This line is a mandatory requirement in every thinkpiece about Taylor Swift and feminism. (See also: Katy Perry.)
Diet Coke
A soft drink for which Taylor is currently the spokesperson.
Drew Hardwick
In "Teardrops on My Guitar," Taylor sings: "Drew looks at me, I fake a smile so he won't see / That I want and I'm needing everything that we should be." That "Drew" is her her high-school crush, Drew Hardwick. So much for pseudonyms!
Ed Sheeran
Taylor's duet partner on "Everything Has Changed" and subsequent platonic best friend. He swears he doesn't have a crush on her; no one on Earth believes this.
Ethel Kennedy
Taylor Swift's celebrity crush and the inspiration for Red's Kennedy fan-fiction, "Starlight." (First verse: "I met Bobby on the boardwalk, summer of '45.") Unable to date Ethel, Taylor settled for the next-best thing: Ethel's grandson, Conor Kennedy. Their relationship consisted mainly of going sailing with Ethel.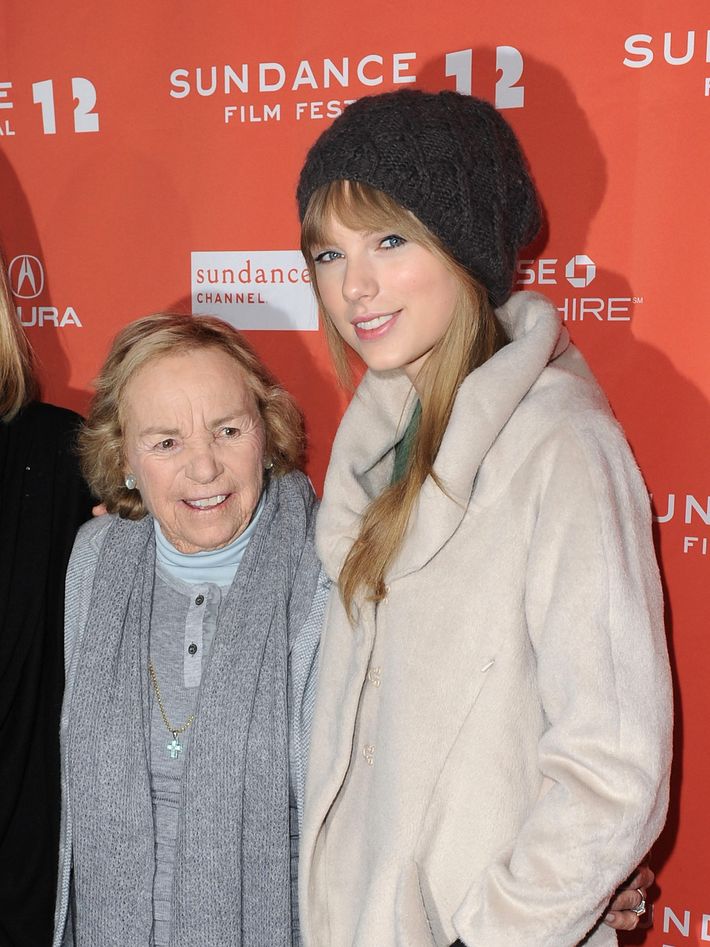 Harry Styles
The most prominently coiffed member of One Direction, and reportedly the inspiration for "I Knew You Were Trouble," which came out months before he and Taylor officially dated, and the more recent "Out of the Woods." The Styles breakup led to the famous photo of sad Taylor sitting on a boat.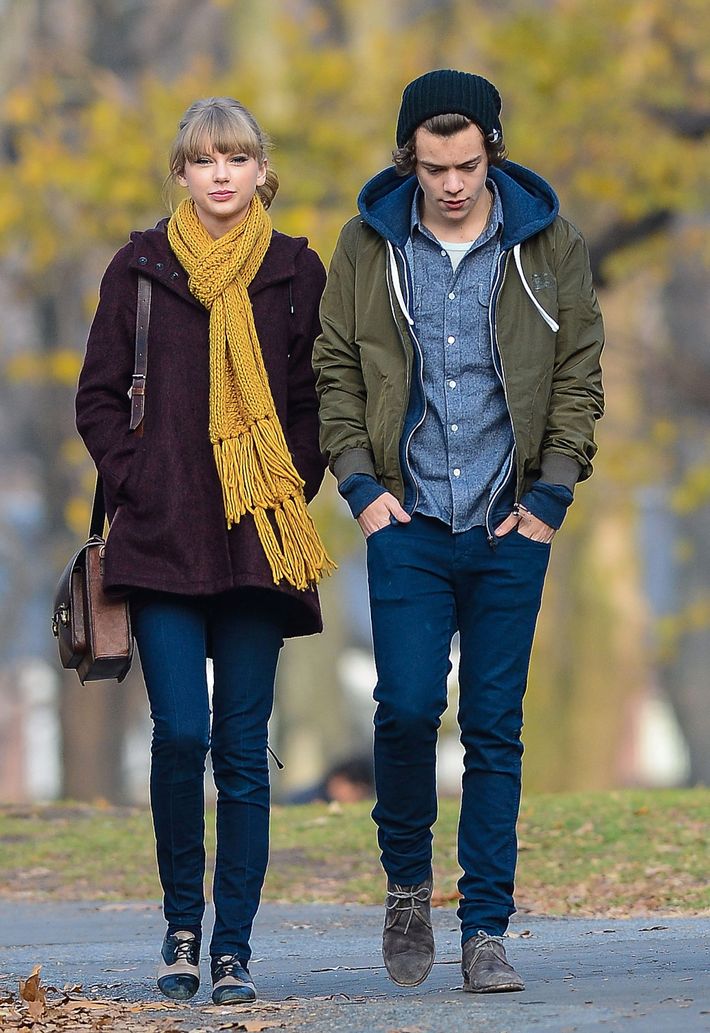 Heart Hands
"The heart-hand symbol means something between 'I love you' and 'thank you' … It's just a sweet, simple message that you can deliver without saying a word," Taylor told the New York Times in 2011, after it declared heart hands to be "flashed by young stars galore."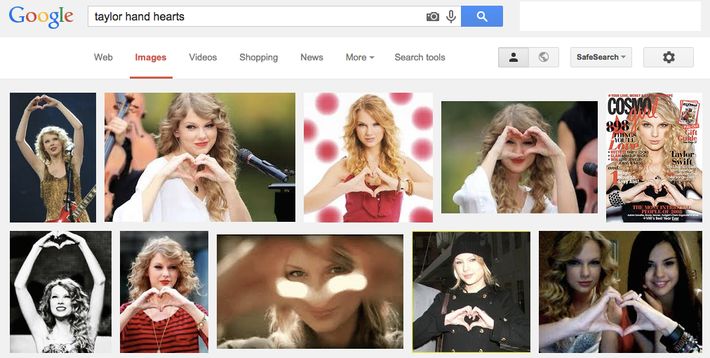 "I Wear Heels Now"
The secret message "hidden" in Track 16 on Red, a.k.a. "Begin Again" — a song assumedly about then-new love Conor Kennedy, who was definitely taller than Taylor's previous boyfriend, Jake Gyllenhaal. (See also: Liner Notes; Ethel.)
Ina Garten
Taylor Swift loves to bake: cookies, cakes, and even Pavlova. That last one (a meringue-based dessert) she whipped up alongside her cooking idol, the Barefoot Contessa, Ina Garten, whose cookbooks Taylor happens to collect. 
Jake Gyllenhaal
Despite dating Taylor for basically a week, his flaws were apparently numerous enough to be lovingly detailed in half the songs on Red. (See also: Maple Lattes; Plaid Shirt Days; "I Wear Heels Now.") Of special note: the scarf, a pivotal piece of clothing in the metanarrative of the Taylor-Jake relationship. If "All Too Well" is to be believed, Taylor left her scarf at Maggie's house, and Jake never returned it. In the song, it's because "it reminds you of innocence and it smells like me," but who knows the real reason. Maybe he just lost it.
James Taylor
In fifth grade, Taylor told her mom that the only song she wanted to sing in choir class was James Taylor's "Fire and Rain." "That's funny," her mom responded, "because you're named after him."
Joe Jonas
You could argue that no Taylor Swift ex-boyfriend got it worse than Joe Jonas. After a bad breakup, Tay based quite a few not-so-subtle songs on the Jonas Brother: "Forever and Always," "Last Kiss," and the vicious "Better Than Revenge," which not only steamrolled Jonas, but totally unfairly slut-shamed his "new girlfriend," Camilla Belle. (See also: Camilla Belle; 27-Second Phone Call.)
John Mayer
Dated Taylor in 2010 and is widely regarded as the inspiration for the song "Dear John." (Sample lyrics: "Don't you think I was too young to be messed with / The girl in the dress cried the whole way home.") Mayer later called the song "humiliating," which prompted Taylor to say it was "so presumptuous" for him to assume she was talking about him in the first place. It's our personal opinion that she set him up.
The Kanye Moment
On September 13, 2009, Taylor Swift went from "respected up-and-coming country singer" to "literal embodiment of purity and innocence." All it took was one rapper and one very large bottle of Hennessy. 
Karlie Kloss
A Victoria's Secret model who has a dedicated guest-room in Taylor's Beverly Hills mansion. At times, the two are nearly indistinguishable.
Katy Perry
Not a friend of Taylor's anymore, apparently. A song on 1989 called "Bad Blood" is reportedly written about Perry, who subtweeted Taylor soon after with a not-so-nice Mean Girls reference. Why the hard feelings? Supposedly, a bunch of dancers on Taylor's tour left for Katy's. (They also share John Mayer as an ex-boyfriend.)

Lena Dunham
Another Taylor pal. Their "thing" is getting together and dressing up in old nightgowns: "We wear them during the day and look like pioneer women, fresh off the Oregon Trail."
Liner Notes
If you're a Swiftie (or just the rare breed of person who still reads liner notes), you'd know that Taylor Swift uses hers to hide messages. Mostly to identify their subjects. Some of her greatest hits: "Maple Lattes" and "I Wear Heels Now."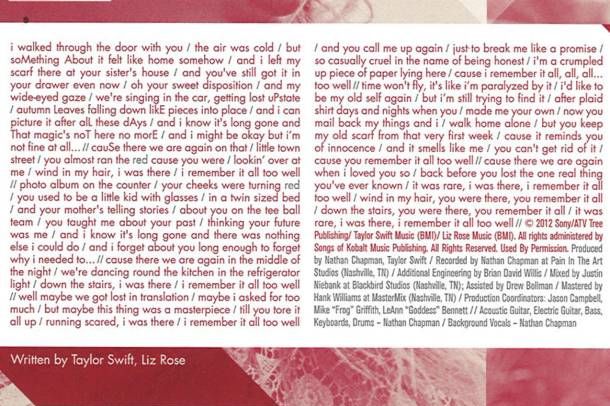 "Maple Lattes"
The secret message in the liner notes to Red's "All Too Well" is thought to be a reference to the drinks Taylor and Jake Gyllenhaal were holding during their much-photographed Thanksgiving walk through Park Slope. (See also: Plaid Shirt Days; The Jake Gyllenhaal Scarf.)
Nashville Predators
A Nashville-based NHL ice-hockey team for which Taylor was once the spokesperson. (See also: Diet Coke.)
"No It's Becky"
A years-old Tumblr meme about the dangers of marijuana that Taylor turned into a shirt days after joining the social network. (She must have had a pretty … swift tailor.)
Olivia Benson and Meredith
Taylor's two cats. She holds them weirdly.
Paper-Airplane Necklace 
In case it was at all unclear that Taylor Swift's "Out of the Woods" is about her ex, One Direction's Harry Styles, here's some convincing evidence: Tay sings, "Your necklace hanging from my neck … Two paper airplanes flying, flying." That necklace? Real. (See also: Harry Styles.)
Pegicorn
Taylor made up a Unicorn and Pegasus combo, which she called the "Pegicorn," while shooting the music video for "White Horse." The Swifties went nuts. Taylor never forgets. 
Peter Jackson
The former owner of Taylor's Tribeca loft. The director's former walk-in closet is now her "greeting-card-writing room." 
Plaid Shirt Days
Not one for subtlety (or for shying away from seasonal festivities), Taylor's nod to "plaid shirt days and nights when you made me your own," in the Song About Jake Gyllenhaal, a.k.a. "All Too Well," also had Taylor in full Brooklyn mode years before she'd move to Tribeca. She doesn't wear plaid anymore. (See also: Maple lattes.)
Ronan Thompson
A 3-year-old who died from cancer in 2011. Taylor wrote "Ronan" after reading his mother Maya's blog, and all the proceeds from the song's iTunes sales go to charity.
Sailor Twips
1989's code name. (See also: 1989.)
Selena Gomez
The most prominent of the "second wave" of Taylor friends. (Other members: Ashley Greene, Dianna Agron.) There are always rumors that Selena's off-and-on thing with Justin Bieber has created a rift in their friendship, and it's fun to read between the lines of interviews to see if that's actually true. Here's the latest, from Selena: "She just kind of looked at me and was like, 'Selena, if you're the smartest person in the room, I think you're … in the wrong room." Yep.
Special Place in Hell
A paraphrase of the Madeleine Albright quote that Taylor used to launch a spite-war against Tina Fey and Amy Poehler. She did not win.

Surprised Face
Taylor's first meme. She's toned it down a bit since.
Taylor Lautner
A sentient collective of ab muscles who dated Taylor after they starred in Valentine's Day together. She did not treat him well, and she later apologized in the song "Back to December."
Watch Hill, Rhode Island
The small village in which Taylor owns a beachside estate. It's where she's been known to host an awesome July 4th party, but also to unrepentantly piss off her neighbors.
Wedding Crashing
Taylor Swift's wedding-crasher encouragements aren't limited to her songs ("Speak Now": "Don't say yes, run away now / I'll meet you when you're out of the church at the back door"). When she was dating Conor Kennedy, they decided to crash his cousin Kyle's wedding to Liam Kerry completely uninvited. She was asked to leave but decided not to, according to wedding guest Kathie Lee Gifford, whose grandson was the groom: "They asked her to leave twice. I thought she did …. I'm not sure she didn't know that she wasn't invited." Taylor also occasionally shows up on network television to break up ficitonal weddings. (See below.)