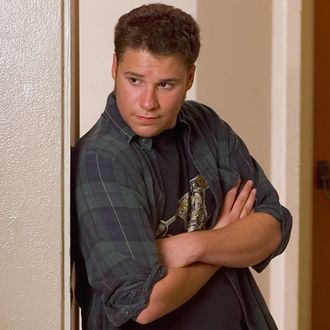 A lot of people were rightfully pissed when Freaks and Geeks was canceled nearly 15 years ago. Maybe the most pissed were members of the cast. It is within this climate that Seth Rogen tweeted this on Sunday:
During an interview with HuffPost Live, Rogen went into further detail about the altercation, saying it all went down at the taping of this weekend's Saturday Night Live. It started when he heard the guy's name, saying, "I know his name, obviously, because we've talked about how stupid he is for the last 15 years." Backed up by Paul Rudd, he went up to the guy. According to Rogen, the executive surprisingly tried to defend himself. "He was like, 'You know, Judd [Apatow] wouldn't listen to my notes." Too which Rogen replied, "The notes probably were stupid."
Rogen wouldn't name the executive, but it appears the executive didn't mind naming himself. Garth Ancier has been working in television since the '70s, serving as programmer for Fox, the WB, and, of course, NBC, where he eventually canceled Freaks and Geeks. Ancier took to his Facebook page to respond to Rogen's claim, saying he remembers the situation quite differently. Here is what he wrote:
I thought we had a very nice chat about "Freaks & Geeks" on Saturday night. As I said, my only note to Judd Apatow over the entire series was that either the Freaks and/or the Geeks should win the occasional victory over the cooler kids - especially since Judd Apatow has taken that note in every hit movie since. I absolutely hated canceling this particular show. It was clear from the very beginning that F&G had great writing from Judd and Paul Feig, and a tremendous cast. This was an awful decision that has haunted me forever…but the show was consistently NBC's least viewed. For what it is worth, I have watched all of the episodes over and over again on Netflix, and asked myself what I could have done better to save it. 
Will the freaks and the geeks ever get along?