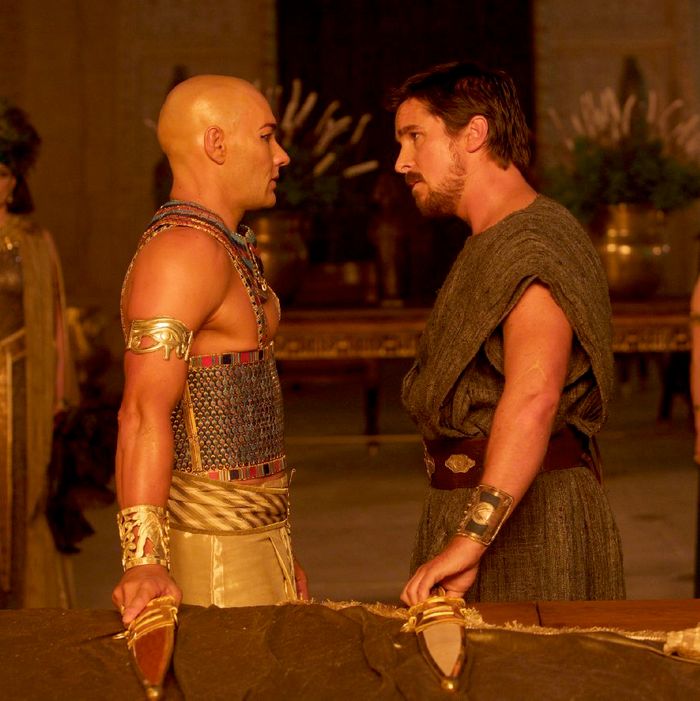 Photo: Twentieth Century Fox
After Ridley Scott offered Christian Bale the part of Moses in his forthcoming Biblical epic Exodus: Gods and Kings, the famously prepared actor indulged in a bit of inventional research. "Whilst I was still trying to get my head wrapped around it, I went and rented The Life of Brian, which is a real favorite film of mine," Bale told journalists in Los Angeles yesterday, after screening nearly 30 minutes of footage from Exodus. "Beautifully made film! Wonderful film … It was sort of a guiding light for me, and I must confess that 'Always Look On the Bright Side of Life' was sort of always humming through my head on set."
After watching Monty Python's absurdist religious satire, Bale moved on to more of the same: Mel Brooks's History of the World, Part 1. "You have to get that out of your system," he explained. "You have to understand, what is it that we could unintentionally make funny? And we have to have humor with something that is as earnest and heavyweight as this. You have to have an element of comedy in your everyday life while filming, because otherwise, it just becomes too exhausting."
Bale was much funnier yesterday than he's usually known for — he told a riotous story about going in to meet Scott while still in his bloated, balding American Hustle phase, when Scott "really tried to not show a look of absolute horror at who he had cast" — but a light comic touch isn't anything that Exodus has much use for. This is straightforward, earnest stuff, with lots of bellowing, CGI-enhanced vistas, and battle scenes, most of which you can check out in the film's new trailer, released today.
"From a production standpoint, this movie was kind of a nightmare," Fox's Jenno Topping admitted. "We had a ridiculously tight schedule, and I'm gonna get in trouble for saying that." But despite some as yet unfinished effects, Exodus remains Fox's great winter hope, a mass-market blockbuster that could also tap into a potent faith-based demographic when it opens this December.
There's bound to be some controversy along the way, though, as Darren Aronofsky discovered earlier this year when his Biblical epic Noah surfed rough waters thanks to its revisionist take on the famous story. Exodus is more conventional on that front, but it's been hammered online for casting white actors in the most pivotal roles (Bale's co-star Joel Edgerton, a pale Australian in his off-hours, was painted bronze to play Egyptian here), while exiling dark-skinned actors to slave and servant parts. In the expanded footage we saw yesterday, there were some actors of color in notable supporting roles — most prominent, Ben Kingsley as Nun and Maria Valverde as Bale's love interest — but several scenes did include silent, black-skinned servants as part of the production design, standing still as statues, heads bowed, while holding spears, plates, and even a vivisected bird. There was one dark-skinned woman shown, but she was an exotic harem girl in a bikini top and sarong.
I noticed, too, that the more eyeliner a character wore, the more fey and villainous they were telegraphed to be. It's set in Egypt, and everyone is dressed pretty eccentrically — "These are people who lived as gods, and therefore there is a reputation to uphold and a beauty to convey," said Bale — but Edgerton's glittery go-go god is a coward in battle, and Ben Mendelsohn's venal character, clad in the most eye makeup out of anyone, comes onto Bale the first chance he gets. "Have I displeased you?" he minces. "And if so, is there any way I could please you?" Cue the downward glance.
It's a shame, because Bale seems to be bursting for a fun part to play, and if they'd just put some makeup on him and let him cut loose a bit, his Moses could have come off as something other than Bale's latest variation on the gruff, shouting reluctant leader. Moses may be the one wearing the least mascara, but Bale has no qualms about queering up his look, the Velvet Goldmine actor reminded us with a smile: "I've done a glam-rock film before, so I'm quite good at putting my own eyeliner on."