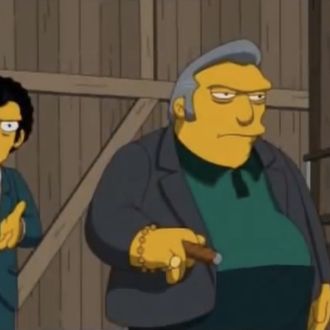 Actor Frank Sivero has filed a $250 million lawsuit against Fox Television, arguing that Simpsons character Mafia Louie (a member of Fat Tony's crew) was based on his likeness and personality and was specifically inspired by the character Frankie Carbone, whom he played in 1990's Goodfellas.
According to Deadline, Sivero — who also played a mobster in The Godfather Part II — claims he lived next to Simpsons writers in an apartment complex back in 1989, and they knowingly ripped off the character he was developing at the time. The suit goes on to allege that James L. Brooks was "highly aware of who Sivero was, the fact that he created the role of Frankie Carbone, and that The Simpsons character Louie would be based on this character," and notes that "Louie's appearance and mannerisms are strongly evocative of character actor Frank Sivero."
While it might seem strange to file a suit now over a character that debuted more than 20 years ago, it appears Carbone has a flair for litigiousness these days: In July, he sued a California sandwich shop for using his likeness to sell a "Frankie Carbone" sub.