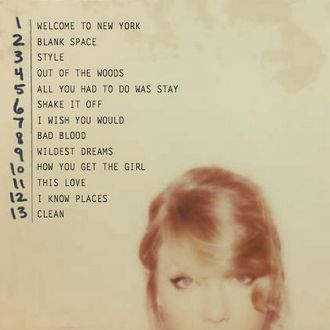 Photo: Taylor Swift/Instagram
Taylor Swift is calling 1989 her first official pop album, and like all pop albums do (except for one), it's leaked ahead of its official release. Here's a quick rundown of what you can look forward to. Good news: What you haven't heard just yet is sounding a lot better than what you have.
"Welcome to New York"
In context, this is not actually the worst song of Swift's career. It's just a lightweight intro (and so much more fun if you pretend it's about Ebola).
"Blank Space"
Think Rosamund Pike at the end of Gone Girl — "Darling, I'm a nightmare, dressed like a daydream." Actually, on second thought, how did they not cross-promo this?
"Style"
Good news: It's not actually eight seconds of white noise. It's more like Miami Vice, or maybe Drive: "You got that James Dean daydream look in your eye / And I got the red-lip classic thing that you like."
"Out of the Woods"
Final count: 40 "out of the woods"s, 36 "in the clear"s. This is the jam.
"All You Had to Do Was Stay"
Lyrically, this is a Red throwback — some lousy ex wants to get back together, and Taylor's having none of it. There's a shrieking falsetto "Stay!" that is just begging to be replaced with animal noises.
"Shake It Off"
This one's grown on us, probably from sheer repetition. Shame-shame-shame about the spoken-word part, though.
"I Wish You Would"
Taylor's apology songs never have as much bite as the rest of her breakup songs, and this one's no different. Has "beige" been completely supplanted by "basic"? This song is very beige.
"Bad Blood"
Here's your hit piece, a song as mean (and catchy!) as promised. Just in case you weren't sure it was Katy Perry, there's a telling reference to Perry's song "Ghost" (off this year's Prism).
"Wildest Dreams"
If you've read the reviews so far, you'll recall critics mentioning a track that sounds like a spot-on Lana Del Rey impression. Turns out, that is exactly right: "Wildest Dreams" is the dreamy song that proves that Taylor definitely bought Ultraviolence.

"How You Get the Girl"
Oh, damn, Taylor's a PUA now? For all you friend-zoned dudes ("Remind me how it used to be / Pictures in frames of kisses on cheeks"), here's how you get the girl: "Say it's been a long six months / And you were too afraid to tell her what you want, want." And that's how it works! That's how you get the girl! (Seriously, though, this isn't awful advice. Be honest, guys.) 
"This Love"
A ballad! "This Love" is an ode to letting your man go and letting him to back to you. Right? Sometimes that works, I guess.

"I Know Places"
Did Lorde decide not to pick her BFF Taylor's "I Know Places" for her carefully curated Mockingjay soundtrack? Because this one sounds more Hunger Games than ever. 
"Clean"
"Let the rain fall down and wake my dreams. Let it wash away my sanity." Just kidding, those are lyrics to Hilary Duff's "Come Clean," a song that sounds nothing like "Clean," which sounds more like Imogen Heap (and just happens to also have her backing vocals).