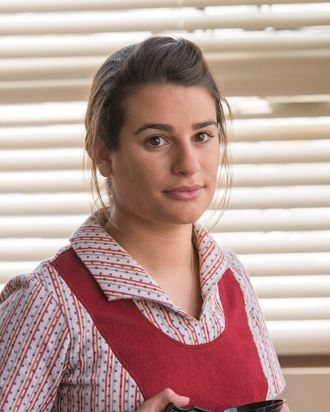 Lea Michele sounds positively Glee-ful (sorry!) about her role on this week's Sons of Anarchy as Gertie, a truck-stop waitress who shares a smoke and some sob stories with Katey Sagal's Gemma. "Any break I get on Glee, I watch Sons of Anarchy DVDs in my trailer," Michele tells Vulture. "What they've done over the past seven seasons is so incredible. For me to get to be on the final season is really awesome." See, we told you she was … well, you know.
Executive producer Paris Barclay told Vulture that Sons creator Kurt Sutter thought of you for the role of Gertie and asked him to approach you since you worked together on Glee. Do you know why Kurt envisioned you in this part?
I know they wanted this character of Gertie to mirror a young Gemma. Katey and Kurt had me in mind for it, and I'm such a huge fan of the show — as he knows. I'm so glad that it all worked out. I found out when I was on vacation in Italy, and I was literally more excited about being on Sons of Anarchy than being on a gorgeous vacation.
What do you hope this role will do for your career?
I was so excited to get to play a character who was so different than what I do every day. I focused on her mannerisms and the way she held herself and spoke. Since I've played one character on Glee for the past six and a half years, I wanted to make sure I played this character completely differently.
How was shooting with Katey?
Amazing. She's also been on Glee, so it was fun to get to do her show. But I had to keep reminding myself that she wasn't her character. I'm literally so terrified of Gemma. I couldn't believe I was sitting next to her. I was like, Lea, remember, you're on a TV show, too. The character is so iconic. She's a really fucking scary character, but Katey is so wonderful, and she made me feel so welcome and a part of the cast. Coming into a show that's been running for such a long time, people have their processes and routines — and we're like that at Glee — so it was really nice that she made me feel so comfortable there.
Is there any chance we'll see Gertie again after this episode?
I know Paris said they were trying to find a way to make that happen, so we'll see.
Why does Gemma open up to Gertie? Does she view her as a younger version of herself, or is she just losing it and talking to anyone she sees in front of her?
I do think Gemma sees herself in Gertie — very young and vulnerable. And Gemma is unraveling emotionally, and it so happens this girl is in front of her at that moment.
Katey's an accomplished singer in her own right. Did you do any harmonizing between takes?
No, we did not. I much appreciated taking a break from the singing and dancing.
How did it feel to be on the set near the end of the run? Was there a similar vibe as on the Glee set, since you're also shooting that show's final season?
I'm sure the way that we feel about our show coming to an end is the way they feel. We still have a job to do, we still have a long road ahead of us, so the end doesn't feel as present as everybody thinks it does. But there is a general attitude of wanting to make sure that everything we do is great, to go out super-strong. I can totally feel that on the set of Sons. Everybody wants to tell this final story the best way possible.
What can you reveal about the final season of Glee? Are you sworn to secrecy?
If I knew, I would tell you! Ryan [Murphy] has kept a very, very tight lip about this final season. Right now we are in the middle of episodes four and five, so we still have a few more to go. So far, it's been really lovely. It's been great to be back in Ohio. I'm now the teacher of the Glee Club, which is an interesting role to play. It very much reminds me of season one. I really feel like we're going to go out with a very heartfelt final season. To get to come full circle and teach these new kids in the Glee Club is really nice. It's going to be a very hard month of February, saying good-bye.