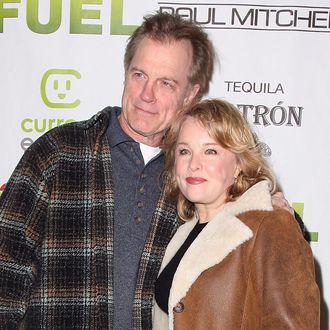 Photo: Valerie Macon/Getty Images
When TMZ released an audiotape of 7th Heaven's Stephen Collins reportedly admitting to molesting and exposing himself to children during a couple's therapy session, it seemed likely that Collins's estranged wife Faye Grant was the source. Not so, says Grant, telling Us Weekly that she turned the tape over to the police two years ago. She also denied, as Collins's lawyer has claimed, that she attempted to use the recording to obtain a more favorable divorce settlement.
As Collins's career continues to crater, more details about the accusations have odd echoes in the actor's past work. The New York Daily News reports that one of Collins's alleged victims was a babysitter who worked for him in the '90s, which mirrors Collins's role in the 1996 TV movie The Babysitter's Seduction. And Gawker has pointed out passages in a pair of erotic thrillers Collins wrote that bear an unmistakable similarity to the exposure charges against the actor. Those novels, TMZ says, proved to be his undoing — the main victim in the case reportedly informed Grant about the abuse after reading the books.