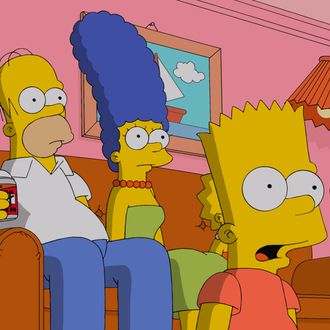 Commence cow-having: Simpsons World, the app/website/legal drug offering access to every episode of The Simpsons, will finally launch Tuesday. It'll be available via website (SimpsonsWorld.com), the FXNow iOS and Android apps, Xbox, Apple TV, and Samsung Smart TVs. (If you need a guide as to which episodes to watch, we've compiled the 100 best for you right here.) And in addition to letting you watch any episode you want (with commercials, FYI), FX promises these features at launch, per a release announcing the unveiling:
"Everything Simpsons," a dynamic newsfeed showcasing the latest Simpsons news, social media updates, "Did You Know" fun facts, featured episode playlists, and clips.
"The Simpsons Heartbeat," which organizes the complete catalogue of episodes by popularity.
A premium video player that will provide recommendations to other clips and episodes users would enjoy as well as the ability for users to share content on their social networks.
A simple, intuitive way to browse through the catalogue by season, playlist, most popular episodes, and exclusive video content.
A responsive search function allowing users to find video of their favorite characters and guest stars in the entire catalogue or any of the nearly 3,000 clips.
Coming next year: a fact-filled, interactive episode guide, scripts from all episodes, and a search function allowing users to explore every line of dialogue in the show's history.