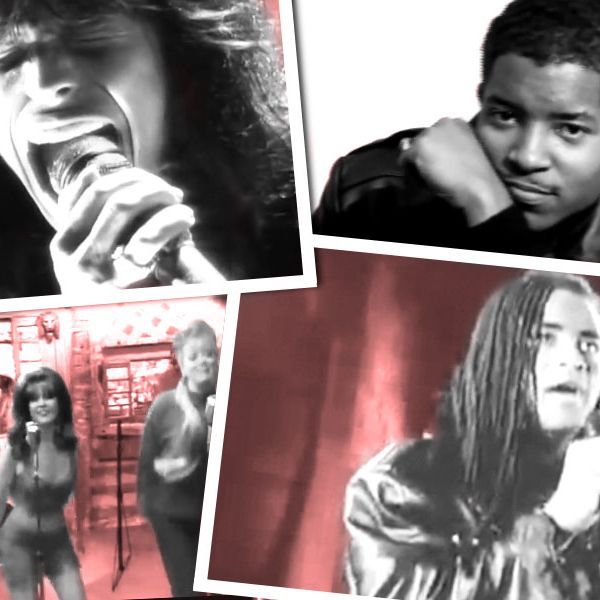 Are you mainlining 1989 today? I sure am. It is, as you are all more than aware, named for the year of Taylor's birth, so let's hop in my DeLorean GIF and zip on back to the week our little pop princess was born. Here's the Billboard Top 40 from the week of December 13, 1989. Fair warning: It's a lot less bubbly and youthful than the album, and somehow, much whiter.
40. "Janie's Got a Gun," Aerosmith
Though Taylor called the album 1989, its songs are grandiose, synthy, and Swedish in a way pop music really wasn't that year. In the actual 1989, the Top 40 was made up of old white men on their victory lap and young black artists planting seeds for the far-more-Afro-centric '90s. But I guess 1986 would have been a tricky title to sell, and "My Songs, Except Filtered Through the Miami Vice Soundtrack Instead of Nashville" was too long.
39. "Fool for Your Loving," Whitesnake
From the album Slip of the Tongue. Whitesnake were masters of the single entendre.
38. "Me So Horny," 2 Live Crew
Remember when defending free speech meant standing up for these guys? I just sat through this slapdash misogynist nightmare, and I am about to send written apology notes to every female I have ever met.
37. "I'll Be Good to You," Quincy Jones featuring Ray Charles and Chaka Khan
This comes from Quincy Jones's Back on the Block, which won Album of the Year at the 1990 Grammys because that's how the Grammys worked back then, and we watched them anyway. It also featured Big Daddy Kane, Herbie Hancock, and Al B. Sure!, went double-platinum, and introduced the world to Tevin Campbell via the single "Tomorrow." What I'm saying is that it's at least as good as those Santana albums everyone snapped up in the '90s, and it's worthy of revisiting. And yes, that is a young Djimon Hounsou in the video.
36. "The Arms of Orion," Prince and Sheena Easton
This song, however, is garbage. May I direct your attention to Prince's 1982 performance of "Why You Wanna Treat Me So Bad" from the Capitol Theater in Passaic, New Jersey, in which he jams forever and pouts deliciously? Am I wrong to want this week's SNL to be one "Inside SoCal" sketch and 86 minutes of Prince?
35. "Don't Shut Me Out," Kevin Paige
One aggro, dance-pop single, and then nothing else. Kevin Paige was the Kevin Rudolf of 1989!
34. "I Remember You," Skid Row
In December 1989, I was at the end of my first semester at Holy Cross, a small Catholic college in Worcester, Massachusetts. The campus was situated on the side of a hill in such a way that the underclassmen dorms faced away from civilization and could only receive the signal for either our campus radio station and Worcester's hair-metal megastation WAAF. As the student body tended to be a conservative, risk-averse bunch, my early college memories are mostly scored to Warrant, Kix, and Skid Row, plus Salty Dog's delightfully God-awful single "Come Along," which begins, "Sweet little baby, she's my hot-dog bun," and only gets worse from there. Treat yourself:
33. "Bust a Move," Young M.C.
So, wait: aAe you going to be the best man in Harry's wedding, and we're only bringing up Larry in service of a rhyme? Or have Larry's prenuptial antics so alienated his own family and friends that he has no better best-man option, barely more than one hundred hours from the most important day of his life, than you, his brother's closest friend? This is an emotionally volatile bunch of people you're choosing to associate with. No wonder you react the way you do when the food is served; you're stone-cold munchin' your feelings.
32. "Poison," Alice Cooper
Alice Cooper kicked off the 1980s by going New Wave. Then he recorded the theme to a Friday the 13th sequel. Then he got into pro wrestling. Somewhere in here, he started doing crack cocaine. Then he wrapped up the decade by going hair metal, and now he's a born-again Christian and avid golfer. Alice Cooper's biopic is going to be bananas.
31. "I Live by the Groove," Paul Carrack
Listen: I love the shit out of Paul Carrack, but this is the clunkiest whiteness I have experienced since … well, since the spoken-word "sick beat" bridge of "Shake It Off." (I will forgive Taylor's "players gonna play / haters gonna hate," because, honestly: Did it sound any less like a laundry list of shopworn slang terms when 3LW sang it?)
30. "Downtown Train," Rod Stewart
Kids, it's true: In the 1980s, Rod Stewart could cover a Tom Waits song and get teenagers to buy it.
29. "Don't Make Me Over," Sybil
On cloudy days when there was just enough precipitation in the air to carry a radio signal a tiny bit further, my freshman dorm could pick up Boston's Top 40 station Kiss 108, which, at the time, was way ahead of the R&B crossover curve. (Again, for the youth: This was at a time in history when individual commercial-radio stations made their own playlists.) When I hear this song, I am 18 years old, it is gross outside, and I am skipping Psych 101 to play Tetris.
28. "Two to Make It Right," Seduction
Seduction! Featuring future MTV VJ Idalis! And unrecognizable future RuPaul sidekick Michelle Visage! And some other lady! And they're all dressed like the leads in a nighttime soap on Cinemax After Dark!
27. "Oh Father," Madonna
Do you think Taylor Swift will ever record an angry, too-personal song about her parents? I mean, you know there's one in there.
26. "Rock and a Hard Place," Rolling Stones
This very week, The Simpsons premiered with the Christmas special "Simpsons Roasting on an Open Fire." I would like to watch it with all the bells and whistles the SimpsonsWorld.com website promises, but full episodes cannot be accessed by DirecTV subscribers. Score one for suboptimal Rob Lowe.
25. "When the Night Comes," Joe Cocker
This song became popular for playing under the trailers and TV commercials for the Tom Selleck movie An Innocent Man. I would attempt to explain that one to the kids, but I simply don't have the time.
24. "When I See You Smile," Bad English
Bad English was a Damn Yankees–style supergroup featuring Neil Schon and Jonathan Cain from Journey, and led by John Waite styled as some sort of dolled-up Margot Kidder in an earthquake.
23. "Free Fallin'," Tom Petty
Not familiar with this one.
22. "The Last Worthless Evening," Don Henley
This video is difficult to find on YouTube, which is fine because I'd rather not look at Ponytail Don Henley right now. But if we're on the subject of worthless evenings, let us examine The Bradys, CBS's ill-fated 1989 reboot and thirtysomething-ification of The Brady Bunch. In it, Bobby is a paraplegic after a stock-car racing accident, Jan is infertile, Peter has an abusive girlfriend, and Marcia battles alcoholism and is played by a whole new person because Maureen McCormack wisely stayed home. Also, Martha Quinn is involved for some reason. Here's a full episode. Please get past the wonderfully shoddy credits sequence so that you can see Florence Henderson's hairdo, which somehow makes her look like both Shari Lewis and Lamb Chop.
21. "Just Between You and Me," Lou Gramm
This is some pretty majestic late-'80s rock hair. Wisely, like nearly all the old rock guys in this chart, he did the video in black-and-white.
20. "Love Song," Tesla
Here's the deal: As '80s cheese metal goes, Tesla were kind of the jam. "The Way It Is"? "What You Give"? "Little Suzi"? These are classics, people. That they're also ridiculous only adds to their appeal. Recognize.
19. "Swing the Mood," Jive Bunny and the Mastermixers
And then there's this one, where a bunch of big-band songs are set to a cheap dance beat by a poorly animated rabbit.
18. "Leave a Light On," Belinda Carlisle
When punk made it to Los Angeles in the late '70s, all the kids followed the Sex Pistols' lead and gave themselves tough-sounding pseudonyms that in retrospect are absolutely adorable: Darby Crash, Charlie Trash, Billy Bones, Chuck Wagon. But none were more delicious than the name a young Belinda Carlisle chose for herself in her brief stint as the drummer of the Germs: Dottie Danger. Don't you just want to hug the shit out of Dottie Danger?
17. "Love Shack," the B-52's
That's the young RuPaul, shimmying for his life at 2:04 of this video. We are one preteen Santino Rice away from a full judging table on RuPaul's Drag Race Babies.
16. "How Am I Supposed to Live Without You," Michael Bolton
Fun fact: If you face a mirror in a darkened room and say "Michael Bolton" three times, you will immediately be in a pantsuit, wearing a sensible heel, and your name will be "Joyce."
15. "Everything," Jody Watley
So far, this is the only 1989 song that would remotely fit into 1989, but does Taylor Swift have the confidence to pull off Jody Watley's eyebrows? I fear that she does not.
14. "Angelia," Richard Marx
Sometime in 1986, Richard Marx plopped himself into a chair at a Fantastic Sam's and said: "Give me the Melissa Manchester."
13. "This One's for the Children," New Kids on the Block
"This is a very serious message," Jordan urges us in this song's intro, "so all of you, please listen." And then the New Kids make all of you listen to a very serious rewrite of "Do They Know It's Christmas" that rhymes world with throne. Though I did not know this in December 1989, just down the hall from me in my radio-signal-deprived, very conservative freshman dorm, in an Irish Catholic closet of his very own, was Brian Gallivan, who would go on to create the CBS sitcom The McCarthys, which premieres this Thursday and stars former New Kid Joey McIntyre. This is a very serious message: The world is crazy small.
12. "(It's Just) The Way That You Love Me," Paula Abdul
As the fish-eye lens was to the hip-hop videos of 1998, dancing against a seamless white background with the camera at a slight Dutch angle was to the R&B-inflected pop videos of 1989. It was like a sexy Cosby Show credits sequence everywhere you looked.
11. "Don't Close Your Eyes," Kix
Kix's guitarist — then and now — has the stage name "Brian Damage," which makes me wish he'd have played with the Germs in the Dottie Danger years, but their lead singer has the most hilariously descriptive name of all: Steve Whiteman.
10. "Just Like Jesse James," Cher
Do you guys ever read Parade magazine in your Sunday paper? (Kids, ask your parents.) Parade is eight glossy pages of everything you didn't know you needed: dip recipes; life advice from world's smartest woman Marilyn vos Savant; time-wasting puzzles; in-depth interviews with the likes of Marg Helgenberger; and, on page two, Walter Scott's Personality Parade, in which regular Americans ask very strange questions to a guy who died 13 years ago. Roy G. from Yuma, Arizona, will ask: "When might I expect to see Joyce DeWitt on my TV screen again?" Pam R. from Brookline, Massachusetts, will unload something like: "I say Ted Knight was in another sitcom after The Mary Tyler Moore show, but my hubby says I'm all wet. A month's dishwashing duty rides on your answer. Who's right?" Seriously, I am not kidding when I say that seven years ago, someone named M.K. from Washington, D.C., wondered: "What would it take to capture Osama bin Laden?" (Again, M.K. is from Washington, D.C., so certainly there were better and closer people to ask, unless — as I have come to suspect — he or she was a high-ranking official at the Defense Department leaving no stone unturned.) Anyway, it's the best, and it's how I recently learned that "Just Like Jesse James" is Cher's least favorite of her own songs.
9. "Living in Sin," Bon Jovi
At the time, this video was too hot for daytime MTV. We were adorable in 1989.
8. "Rhythm Nation," Janet Jackson
Greatest dance video of all time? It's in the conversation, for sure.
7. "Pump Up the Jam," Technotronic Featuring Felly
"Featuring Felly" means "featuring Felly on the cover and in the video and nothing else, because she's a model and the vocals were actually performed by the less-photogenic Ya Kid K," which Technotronic admitted and corrected for the rest of their singles with zero controversy, unlike …
6. "Blame It on the Rain," Milli Vanilli
… Milli Vanilli, who pronounced their own name "Milli Wanilli," yet their diction was perfect in all of their songs. We believed what we wanted to believe.
5. "With Every Beat of My Heart," Taylor Dayne
If you have not heard Tig Notaro's Taylor Dayne story, clear the next 16 minutes of your life. I'm not kidding:
4. "Back to Life," Soul II Soul featuring Caron Wheeler
Perfectly fine, but my mind is currently blown from learning that's Caron Wheeler in Elvis Costello's "Everyday I Write the Book" video.
3. "Don't Know Much," Linda Ronstadt and Aaron Neville
These next two are pretty much "Listen at Work Station" classics …
2. "Another Day in Paradise," Phil Collins
… songs you don't even hear in airports anymore, because even Muzak has gotten hipper. 1989 was a rough time to be a teenage Top 40 follower.
1. "We Didn't Start the Fire," Billy Joel
Never more so than this week, when Billy Joel's grim skim of late-20th-century news hit No. 1 and Taylor Swift was born. I am glad she took on his habit of writing songs about exes, and may she never cover this one. What else do I have to say?