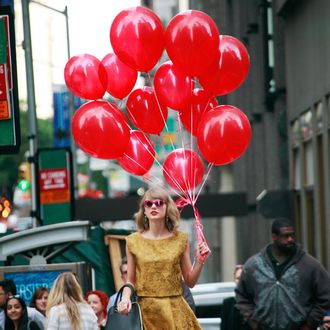 Photo: Tim Grant/Splashnews
Watch out, New York City: The Taylor Swift promo train has officially arrived in Grand Central, and for the next few months, she'll be everywhere (including this website!). But also at the New Your Tourism board, which has nominated her to the prestigious office of "Global Welcome Ambassador." She explains why: "I'm still learning, but I'm so enthusiastic about this city that when I love something, I'm very vocal about it … It's affected my life in ways I'm not even aware of fully." Maybe it's the almost-too-easy tie-in with the NYC Tourism Board?
Speaking of NYC, she'll have a very easy time commuting home from her gig headlining Dick Clark's New Year's Rockin' Eve With Ryan Seacrest on New Year's Eve this year. Will "Welcome to New York" inspire a new generation of wide-eyed NYU freshmen? Welcome!