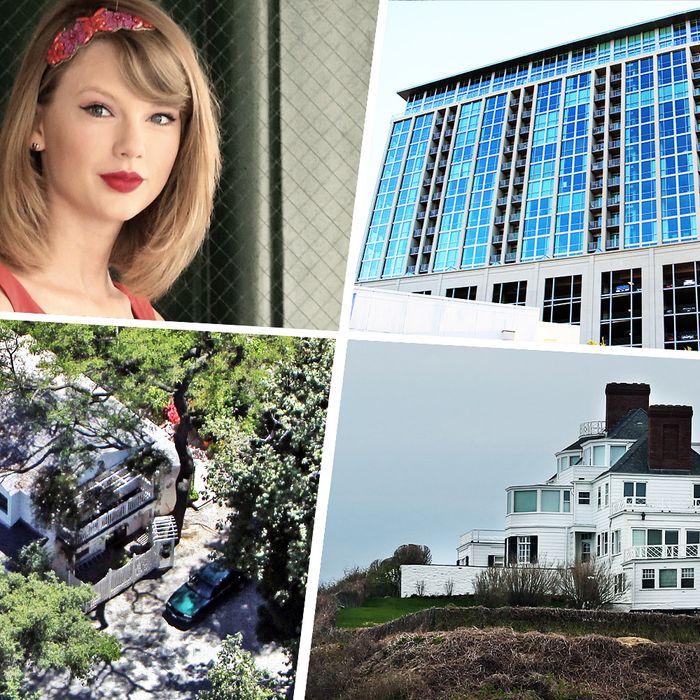 Over the past few weeks, Taylor Swift has been hosting some not-so-secret "Secret Sessions," inviting superfans to her many different houses and penthouse apartments, baking them cookies and letting them get an early listen to her new album, 1989. The music stuff is exciting and all, but imagine being able to hang out inside one of Tay's spots? Imagine the views, the scenery, the decor. From what we know, which is Taylor's best residence? Let's just say, if you had to choose. (Just for the record, we would hang out at any of them.)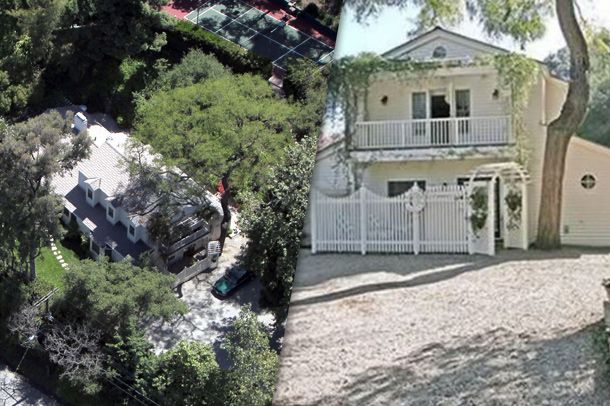 4. Beverly Hills, Los Angeles
Taylor's $3.5 million, three-bedroom, three-and-a-half-bath Beverly Hills home (plus an estate with a guest house!) is very cute and very country, but it's also … very boring. Sure, it's got bright-white picket fences and a romantic, vine-covered patio — but aside from its location, there's really nothing L.A. about it. The lamest of all the Swift properties, but if it keeps her away from the seedy halls of the Chateau Marmont, it'll all be worth it.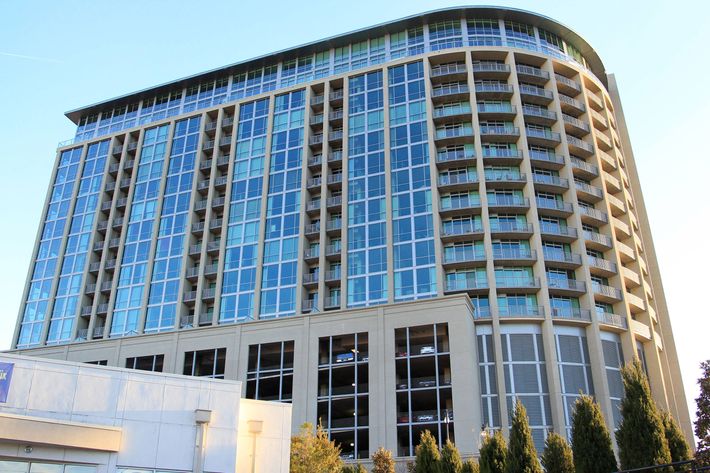 3. Nashville, Tennessee
Even though her songs might be moving into the pop-o-sphere, Taylor will never leave behind her country roots — or, at least, her country penthouse apartment. It also helps that said apartment is described in a New York Magazine profile as "whimsically girlie, dreamy, appointed in a style you might call Shabby-Chic Alice in Wonderland." Specifically?
"There are cabinets cluttered with books and tchotchkes; there's a kitchen backsplash in the shape of a giant heart. In a corner near a window, there's a topiary rabbit, as tall as an NBA shooting guard, wearing a marching-band hat. On the wall of her ­living room, I noticed a photograph in a gilded frame: the famous image of Kanye West, stage-crashing Swift's acceptance speech at the 2009 MTV Video Music Awards. Underneath the picture is a caption, handwritten by Swift: Life is full of little interruptions."
When asked if she'd ever ditch the Southern city, she told Time, "Sorry, not sorry, I just love it here." And if we have any hope of a long-awaited sequel to "Tim McGraw" or Taylor picking up her banjo ever again, we have to pray that she'll never change her mind.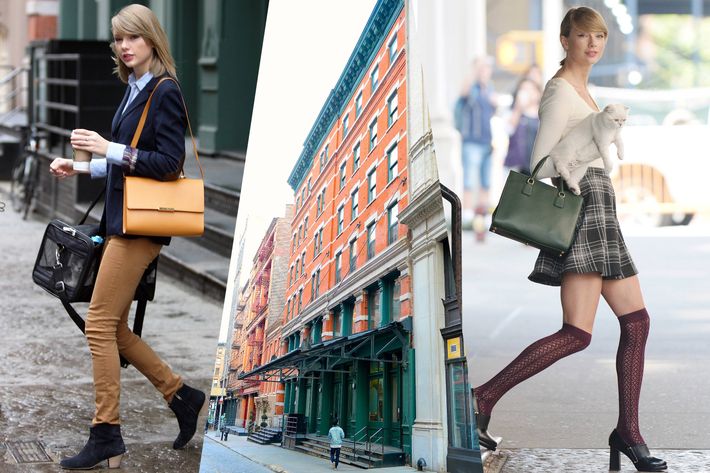 2. Tribeca, New York City
No one leaves an apartment like Taylor Swift leaves her $19.9 million Tribeca penthouse apartment. From the outfits, the haircuts, and the times she's clutched her cat Meredith as an accessory, almost every day brings a new streetside fashion show starring Swift. (It seems she's learning from her new BFF, model Karlie Kloss.) Trips to and from the gym give Tay multiple opportunities to smirk at the paparazzi and join the rest in waiting for Tribeca's other mega-celebs to emerge from their nearby pied-à-terre: Jay Z and Beyoncé.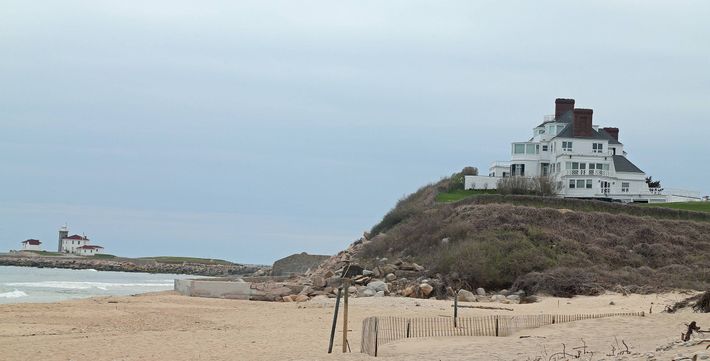 1. Watch Hill, Rhode Island
Why is Rhode Island Taylor's No. 1 hangout? For one, just look at it. She also seems to have a lot of fun there: Her BFF-filled celeb-fest-slash–Independence Day–bash involved a Slip'N Slide. And a boat! It's where she took a cooking class with Lorde! But it wouldn't be a Taylor Swift house without a Taylor Swift backlash. After building a particular type of "sea wall" along her house's border, neighbors were unhappy because it blocked off access to the beach. But haters gonna hate, hate, hate, etc., as Taylor always says. She told Rolling Stone: "There will always be people who grumble about this … But it was a problem, so I fixed it. Nothing has changed about anyone's beach experience, except that now my house won't fall on them. So, you know. Sorry not sorry."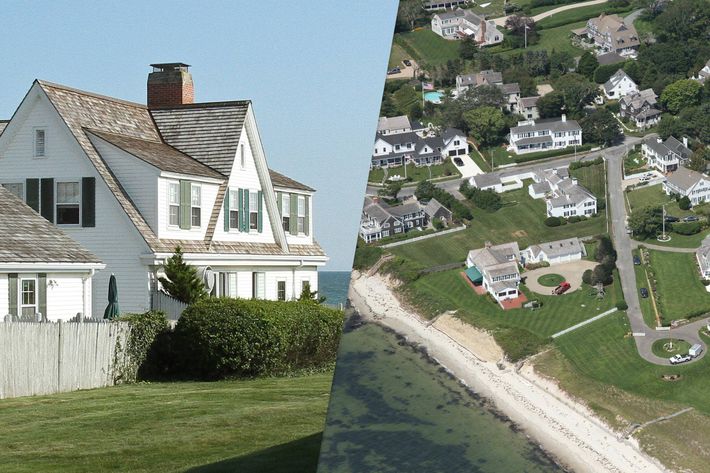 Honorable Mention: Cape Cod, Massachusetts
Remember when Taylor bought a house right next door to her then-boyfriend, Robert F. Kennedy grandson Conor Kennedy? She got to hang out with his grandmother Ethel Kennedy, who inspired Red's "Starlight" ("I met Bobby on the boardwalk/ Summer of '45.") and it's also rumored that "Begin Again" was about her short (but sweet?) relationship with Conor himself ("You said you never met one girl who/ Had as many James Taylor records as you/ But I do.") It sadly did not last: "People say that about me, that I apparently buy houses near every boy I like," she joked to Vanity Fair in March. "If I like you I will apparently buy up the real estate market just to freak you out so you leave me." Well, whatever the case may be, after she and Conor split in 2012, she would eventually flip the $4.8 million Hyannis Port property for $5.7 million. And that's just good business sense.