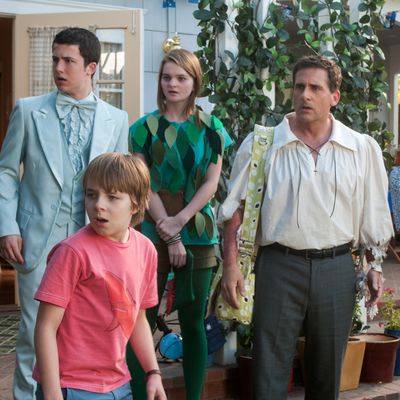 Photo: Dale Robinette/Disney Enterprises
Judith Viorst's beloved children's story Alexander and the Terrible, Horrible, No Good, Very Bad Day, written in 1972, is a one-act wonder — an irreverent cavalcade of horrors, misunderstandings, and missteps that befall one particularly unlucky and pessimistic child. There's probably no way to adapt it for the screen without undoing its wonderfully one-note premise. The new film, directed by Miguel Arteta and written by Rob Lieber, pays heed to the broad strokes of the original work while updating and expanding it for big-studio entertainment. Such attempts usually collapse in a smarm-cloud of competing demographic interests, cheap gags, and bloat; see pretty much every feature-length Dr. Seuss adaptation for examples. This minor miracle, amazingly, doesn't. It's funny, fast, and charming.
"My parents say there's no such thing as a bad day, that it's all just how you look at it," young Alexander (Ed Oxenbould) tells us in the film's opening voice-over as we watch his defeated family driving home in a busted-up, doorless station wagon. Dad (Steve Carell) wears a half-burned pirate shirt; Alexander's sister Emily (Kerris Dorsey) is vomitously ill; baby Trevor is covered in green paint; and brother Anthony (Dylan Minnette) and Mom (Jennifer Garner) both sport thousand-yard stares. They walk into the house, are startled by a monstrous, mysterious roar, and the film flashes back to the previous morning — to when it was just Alexander having his bad day.
Some of these early injustices are familiar from Viorst's story, but most of them have been updated, both for the digital era and for Alexander's slightly older age. He wakes up with gum in his hair; he gets a dismissive response from his precocious carpool crush Becky (Sidney Fullmer); the school prankster takes a picture of him, Photoshops his head on bikini models, and texts the images around the school; and his birthday party the next day is about to be overshadowed by a far more elaborate one thrown by his rival Philip Parker, "a really cool kid with a hot tub and ADHD." Then, however, at midnight on his birthday, Alexander blows out a candle on a cake and makes a wish that the rest of his family "all knew what it felt like to have a terrible, horrible, no good, very bad day." And lo, Liar Liar–like, he gets his wish. (And, also as in Liar Liar, this hint of the supernatural is never explained — which is very much a good thing.)
This turns out to be a rather unfortunate day for everything to go breathtakingly wrong. Dad, who's been unemployed for a few months, has a crucial job interview lined up. Mom, who works at a publishing company, needs to oversee an important launch and reading planned for a hot new children's book. Anthony is set to take his girlfriend Celia (Bella Thorne) to the prom, and she has it on good authority that they will be crowned Duke and Duchess there — provided the world doesn't spin out of control. Emily is playing Peter Pan in the school play. Director Arteta keeps the chaos building and moving, with generous doses of slapstick, (mild) humiliation comedy, and (mostly inoffensive) potty humor. (There is one off-color moment mixed in there, however, involving the word penis — a rare and bizarre misstep in a movie that's otherwise quite sure-footed.)
Little details of execution make a big difference: I enjoyed the stupid way that Mom's book launch got derailed; the film savvily keeps the big reveal of exactly what's gone wrong until just the right moment, when it can have maximum impact. Also notable is how the family becomes closer as the catastrophes mount, similar to the characters in Little Miss Sunshine. That seems like a no-brainer — an obvious theme for a kids' movie — but you'd be amazed how often this gets screwed up. Late in the film, Dad's work travails and Anthony's prom date both converge on a Japanese hibachi restaurant, and the rest of the family tags along to keep watch over them and lend support from a distance; their unity is touching and never overdone. Even as you enjoy the wildly spinning madness, you find yourself rooting for this family, and for this slight, sleek, fun, and warm-hearted film.