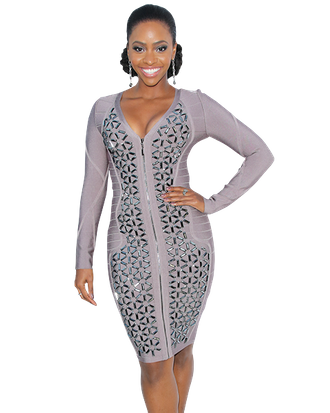 Survivor's Remorse's Teyonah Parris.
Mad Men fans who miss their beloved Dawn — formerly secretary to Don Draper and Lou Avery, currently head of personnel at Sterling Cooper & Pryce — can now get their fix of actress Teyonah Parris, who plays the ever-patient ad-firm foot soldier, in a most unlikely milieu: inside the swanky Atlanta bachelor pad of fictitious NBA superstar Cam Calloway. Parris is co-starring on the new Starz comedy Survivor's Remorse, which offers an Entourage-style peek inside the filthy-rich world of pro basketball. Parris plays Missy, the wife of Cam's cousin/manager, with the same kind of insta-warmth that made Mad Men fans fall in love with her. Parris also stars in the Sundance hit Dear White People, which comes out October 17. In the midst of all this, Parris found a few minutes to talk to Vulture about LeBron James, Mad Men's costume department, and which member of the Survivor's Remorse cast is the real clown.
In the last interview you did with us at Vulture several months ago, you admitted you really don't watch or know basketball. I'm wondering if that's changed at all now that you've shot Survivor's Remorse.
Ah, no, not really. I still don't watch basketball. But luckily, what Survivor's Remorse deals with is life off of the court. You're surrounded by fame and so, so, so much money, so much money, and how do you live? How do you make it? How do you make sure you never go broke again when every part of you wants to help everybody from your past neighborhood? So I don't have to know all there is to know about actually being on the court.
I've watched the first four episodes of the first season, and other than a game of H-O-R-S-E, there's actually no basketball at all. Are there going to be any hoop scenes?
The option is always there. It's possible, it's very possible, but that's not really the topic we're trying to tackle.
I'm curious, based on what you just said, whether the personal dynamics with the people you're close to has changed now that you're becoming more and more established as an actor. Do you have stories like that yourself? Are people starting to knock on your door?
[Laughs.] No, not really, not — I mean, you know, you want to help if your grandma needs some money or your mom wants some extra money. But my family has been very respectful, and honestly, they know that I haven't made that much money. [Laughs.] So they don't come knocking, and it hasn't been an issue, no.
As a basketball fan, this is a very important question for me: Have you met King James?
I absolutely have! He was so nice.
Really? Where was it? What did you talk about?
He actually came to our Los Angeles screening of the show, of the first two episodes. What was that, maybe last month, last week, maybe two weeks ago, I think? So, yeah, so we met there, and that was our first time meeting him, because while we were filming the show, he was involved with the playoffs. So we haven't actually had the chance to physically meet him until that screening. Yeah, he was really nice, he loves the show, he's proud of it and excited by it.
I'm really intrigued by the title of the show. I feel like Survivor's Remorse is a really provocative title for a show, especially a show that is more of a comedy. And LeBron James as a figure, as a celebrity, he's managed to keep his private life relatively private. Do you know if that title came from him?
Maverick [Carter], who is LeBron's business partner and manager, said that when he went with Tom Werner to pitch this story — it's a story about what it means to make it out of "the 'hood," so to speak, and to be living the life. Not of extravagance, but you're able to buy things that the average people can't buy, and you're spending money on this fancy dinner when such-and-such person you know is asking for money for rent, their rent. And not that it's not the 13th time this month that they've asked you for money, but still. So Maverick and Tom Werner, they were talking to [Starz exec] Chris Albrecht about it and they were like, "It's kind of this remorse you have, survivor's remorse, and that you feel like you're responsible for what has not happened for those people." And at that moment, Chris was like, "Survivor's Remorse, that's your title!" And Maverick was like, "I'm not sure if that's what we want the title to be, but okay, Chris." It wasn't his intention ever for that to be the title, but that's the word he used to describe it, and apparently it stuck.
I have this fantasy from watching the first few episodes that Mike Epps is your on-set cutup. Am I right? 
Oh, um, no, I would actually say Erica Ash.
Really?
Absolutely. She is always teasing people, making fun of them, and she can go back and forth and stand on her own and put those boys blushing under a table. Just watching her I get all blush-y because I can't believe she's saying this or did this or whatever. But she's hilarious and very raw.
So she's not that far from her character?
I believe she can draw from herself.
You're also in Dear White People. I'm kind of fascinated by this movie because it feels like the plot of the movie has been kept close to the vest, despite the buzz surrounding it. Like, I really don't know much about what happens in the movie.
Ha-ha, yeah!
What can you tell us?
I can tell you that the story follows four young students of color who are at this predominantly white university … an African-American-themed party happens on campus, and they're all brought face-to-face with what they truly believe and who they are. The race, [it's] less about race and more about identity and what it means to be a person of color in a space where you're the only one. Who am I, and how do I fit in, and what are the things I need to do to fit in? What do I think I need to do to fit in? You really watch these four students grapple with that.
So, I have to fangirl over Dawn from Mad Men because I love her so much.
Oh, thank you!
I almost didn't recognize you in the first episode of Survivor's Remorse. I kind of had to ask myself over and over again, "That's her, right?" I think that speaks both to your ability as an actor and also the way Mad Men kind of styles its cast.
Yes, I get that a lot. And even if, even though you've seen both of those things, if you saw me in the world on a normal day, you probably wouldn't recognize me. My friends call me a Transformer because I can look so different. But I enjoy that part of it, of creating a character, so yeah. But yeah, Janie [Bryant, Mad Men's costume designer] did an amazing job over at Mad Men of telling Dawn's story through her clothing choices.
The thing that gets me, though, is that I'd never have a problem picking Christina Hendricks or Elisabeth Moss out of a lineup. But I never would have recognized you. Is there anything specific to how you approached playing Dawn that maybe contributed to how she looked?
Certainly. For Dawn, I made sure that — I don't know how to explain this — but that her limbs never got too far from her core, in the sense that she didn't take up too much space and she didn't draw too much attention to herself. So she was always pretty self-contained, and her hands were always in front of her or right by her side or something like that.
It's funny to me that Dawn would sort of be self-contained, because she also didn't cower around Don Draper. 
I don't think she was ever afraid of Don. He was the only one really going to bat for her when she first got there. He was always kind to her, very respectful, so I think she's comfortable enough to do the work she had to do, and their relationship just grew even more as the different seasons progressed. In the last season, or the beginning that we've already seen, she's running errands for him and coming to his house and making sure things are taken care of for him. But it did become — the roles did switch, essentially, the power, so to speak, while he was going through what he was going through.
I think a lot of people loved that scene where she comes over to his house and you see him straightening up before she gets there; you see that Don really cares about what Dawn thinks of him. In fact, a lot of people would probably say that she's their favorite of Don's secretaries.
I'd say that, too.