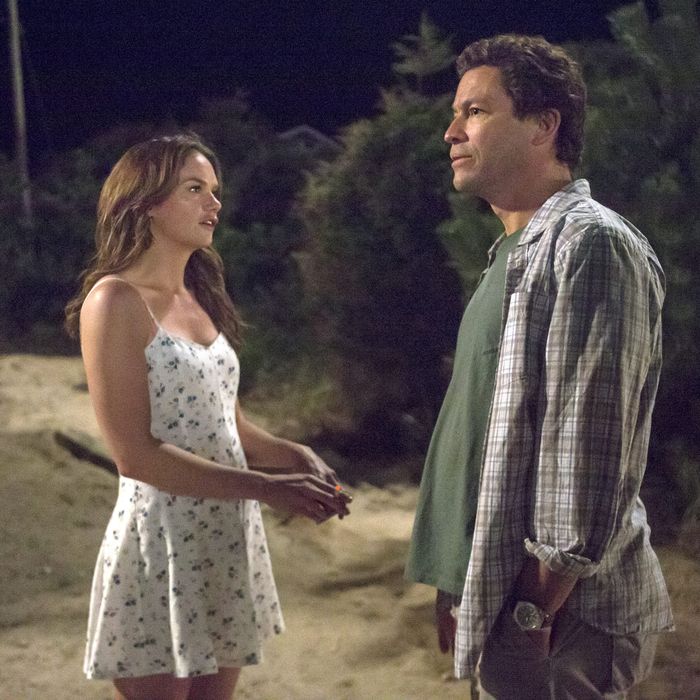 Photo: Craig Blankenhorn/Copyright, Showtime, LLC All rights reserved
The affair on The Affair had barely gotten started by the end of last night's premiere, but the show's stylistic conceit — each episode is told first from the POV of Noah (Dominic West), then Alison (Ruth Wilson) — was already in full swing. How differently did the pair of extramarital lovers recall their first interactions? In the words of co-creator Sarah Treem, "We remember ourselves as witnesses in our own lives, and … other people as actors." The proof, in GIFs, below.
Noah and Allison meet for the first time when she serves his family at a roadside diner in Montauk, but their meet-cute is interrupted when his youngest daughter starts choking on a marble. In Noah's memory, he's the unabashed hero of the story, singlehandedly saving his daughter's life. The second time around, both Noah and his wife are paralyzed with fear and it's only Alison's timely intervention that saves the day.
After lunch, Noah and Alison have their first conversation. But did he just happen to stumble upon her while looking for his son, or was he lurking outside the bathroom, waiting to offer her money?
That night, they run into each other at the beach. As Noah remembers it, he was out for an innocent stroll, but Alison recalls him wolfish, hungry for attention. Each thinks the other made the same dumb joke:
Then they share a cigarette. But who offered it to whom?
Similarly, each remembers the other leading them toward Alison's outdoor shower, where she stripped for him (in his memory) and he tried to kiss her (in hers).
As the episode concludes, Noah returns, only to see what looks like Alison's husband raping her in the driveway. But when we see the experience through her eyes, the sex is consensual — it's Noah who's the dangerous one.