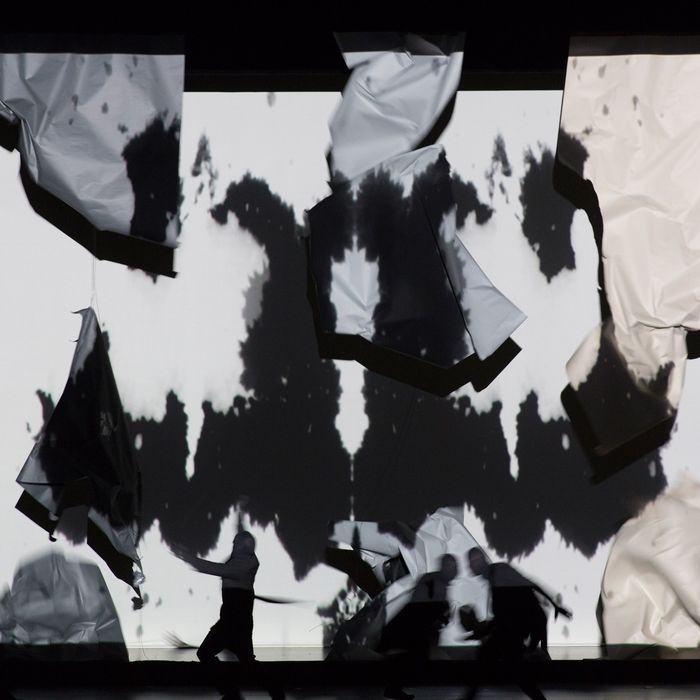 Basil Twist has been famous for stretching the boundaries of puppetry at least since his 1998 water-tank ballet of Berlioz's Symphonie Fantastique. For Twist, the aim of the boundary-stretching seems at first to be abstraction; Symphonie's leading roles were played by feathers, glitter, dyes, and bubbles. Likewise, in The Rite of Spring, a stunning three-part program set to Stravinsky, there are no goofy-faced sock people or mouthy marionettes. In the curtain-raiser, the four-minute Feu d'artifice (Fireworks), a large Futurist painting comes to life, with twirling disks and pyramidal prisms that unfold and shut like mouths or books. No characters, no tale.
As the short evening (part of Lincoln Center's White Light Festival) proceeds, both seem to creep in regardless. In the commedia dell'arte–inspired Pulcinella Suite, dark figures in tuxedos and net face masks manipulate white tubes of various lengths, at first purely in geometric patterns but then in little primordial clusters like sea anemones. Soon, these creatures have evolved into cantering horses. And when they finally reconfigure themselves as giant stick-figure humanoids whose gestures seem to reference the underlying courtship plot, it doesn't matter how abstract it is, the audience responds as if to an animated narrative. Indeed, we sigh on cue when one of these objects seems to bow to the other, which registers — somehow! — its (her?) loving acceptance in a courtly dance.
Stravinsky did not like to think of his music as serving the dances he wrote it for, or vice versa. "Let us speak, on the contrary, of the struggle between music and choreography." Twist, whose work falls somewhere in the uncharted territory between dance, music, and theater, does not in fact put up much of a struggle. Despite his abstract tendencies, he succumbs pretty willingly to illustration. Things happen on the beat. Objects seem to have expressions. And expression leads to implied stories. The evening's main course, set to the Rite — beautifully played by the Orchestra of St. Luke's — begins with curtains dropping from the flies like an endless silk waterfall. (You can see a clip of an exploratory workshop version here.) It's ravishing — but how can you be ravished without a recognizable ravisher? So you make one out of what you've got. Soon enough a Dance of the Primordial Trash Balls gives way to Nijinsky-style frog jumps by an actual dancer (Christopher Williams) and a "readable" program, different from but no less clear than the original's barbaric scenario. Which is not to say Twist is going soft. Narrative is inevitable; he holds it off and then embraces it. Even he turns out to love the Muppets.
The Rite of Spring is at the Rose Theater through October 18.