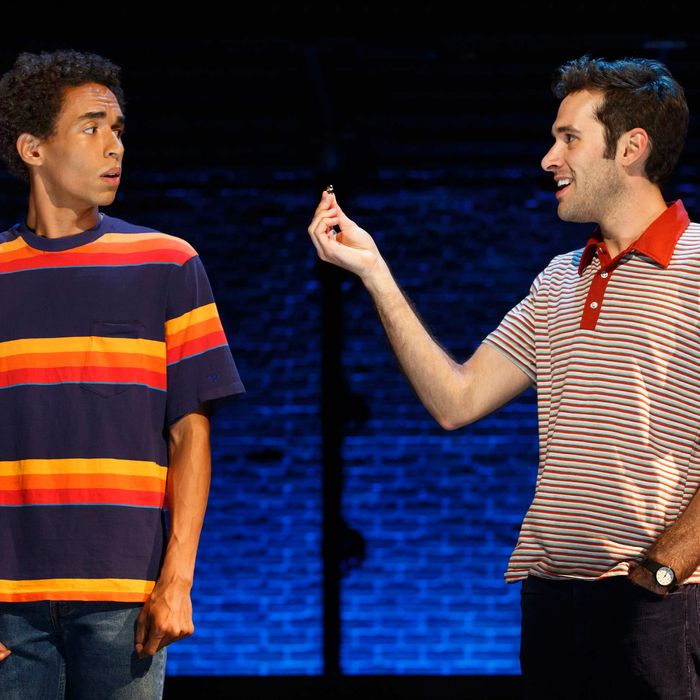 There's a moment three-quarters of the way through the first act of The Fortress of Solitude, a new musical based on the Jonathan Lethem novel, when all of the show's developing threads combine and resolve in a marvelous sequence called "Take Me to the Bridge." By this point we have met the major characters, especially Dylan Ebdus, a white boy living in what is now upscale Boerum Hill, Brooklyn, but was then, in 1975, just ramshackle Gowanus. His mother having abandoned him to find herself in California, Dylan exists in a kind of frozen sadness with his withdrawn father, an unsuccessful painter, and in a kind of terrified awe of his neighbors, most of whom are black and much cooler than he. 
One of them, Mingus Rude, becomes his protector and best friend, partly owing to their parallel situations: Mingus, too, has been abandoned by his mother to the care of a basically incompetent father. (Barrett Rude Jr., a once-promising soul singer, is now reduced to occasional funk backup gigs and rather more frequent cocaine use.) Starting at age 12, the two boys, one named for a great white musician and the other for a great black one, find in their shared love of pop music and superhero cartoons a world beyond the confusing tensions and petty brutalities of their neighborhood. "There's a song you sing together as one / When you know / How to finally be free," they sing, donning their flying capes and invoking the power of a magic ring. In this moment, as "Take Me to the Bridge" allows them (and the other local denizens who form the ensemble) to merge their musics in a kind of orgasmic uplift, The Fortress of Solitude does just what a musical should and uniquely can: It (literally) soars.
But the act isn't over; disaffection, drug deals, and a murder are yet to come. And there is still Act Two, which takes place some 20 years later, when Dylan has become a music journalist and Mingus definitely hasn't. Except for a very moving final confrontation between them, the more contemporary material exhausts the audience's patience; I even began to wonder if the show should have ended back at "Take Me to the Bridge." Smaller would at least have been more coherent. As a whole, though, The Fortress of Solitude suffers from the too-much-too-little conundrum that many new musicals face, in which the attempt to tell a big story perforce diminishes each element of it. It's moving, it's admirable, it's the kind of difficult and morally probing show we want the Public Theater to be doing. But it does not ultimately solve the problems that its adapters — the playwright Itamar Moses, the songwriter Michael Friedman, and the director Daniel Aukin, who also conceived the project — faced in attempting to cram Lethem's 511-page novel into two and a half hours, at least half of which is song.
Partly this is because Lethem's semiautobiographical tale is a grab-bag of big themes, and the musical doesn't want to let any of them go. Aside from music and race and superheroes, it's about parental neglect, gentrification, cultural property, white privilege, the prison system, the record business, and the cycle of abandonment. But these themes, lobbed over long stretches of woolly prose in the novel, seem pat and mechanical when forced into the much tighter grid of a musical, as if it were a sudoku puzzle. They not only are reduced to a few scraps of dialogue each but get distorted in the process. In the novel, for instance, Dylan is clearly the hero: Whatever the rightness of his choices, his life is the one we follow. Those who hurt him are left to suffer the reader's justice. 
But because of the pleasure of music itself, musicals offer absolution to all characters who sing. (Hence the "motivated" murders of Sweeney Todd or, for that matter, The Death of Klinghoffer.) Dylan's mother's unforgivable narcissism is gentled in song ("Everybody singin' / A different song / But if they all fit together / Then it can't be wrong") and even Dylan's bully, who grows up to be a full-fledged psychopath, gets a rap in the second act so we "understand" him: "Nobody handing me a microphone / Nobody telling me I deserve a song of my own." All of this is generous of the authors and reflects well on their values; it's only the drama that suffers. Dylan, who seems to sing less than the others, comes perversely to seem like the villain, or at least the problem. Constantly hectored to find his own voice ("Will you ever learn to sing / anything but other people's pain?") the musical suggests he's committed grand larceny in promoting the artistry of singers like Mingus's father, and betrayed Mingus himself by getting out of the hood. And while I'm not sure that a teenager's decision to go to Stuyvesant High School merits its treatment here as an actionable sin, at least that story is resolved. The other — the others, I should say — just knot up and stay lodged in the show's throat like hairballs.
Which is not to say it doesn't sing. Friedman, whose work I have often found dismayingly dittyish, here succeeds wonderfully in a variety of pastiche styles that also, as the mother's lyric commands, "fit together." Indeed, with its doo-wop quartets, choral anthems, street songs, radio tunes, and jump-rope jingles, The Fortress of Solitude might have made more sense as an oratorio. (Snippets of actual period music, from "Leaving on a Jet Plane" and "California Dreamin'" to, inevitably, "Play that Funky Music" are also tucked into the mix.) But Aukin and Moses's vision of the material is too ambitious for that; no surprise that the Public has mounted it in the theater that previously hosted Fun Home and Caroline, or Change, both of which it shares certain themes with. Also like those shows, it is modestly scaled, perhaps too much so for its scope, and very well-performed, especially by Adam Chanler-Berat and Kyle Beltran as Dylan and Mingus, and by a seething Kevin Mambo as Barrett Rude Jr. (André De Shields makes a stupendous entrance as Barrett Rude Sr., but the role is otherwise underwritten.) And while the technical elements are all up to the Public's high standard, Aukin's manipulation of them is sometimes clumsy and unclear. It seems that in conceiving the project he did not give himself enough leeway in directing it; perhaps one of him should have fired the other.
The Fortress of Solitude is at the Public Theater through November 2.