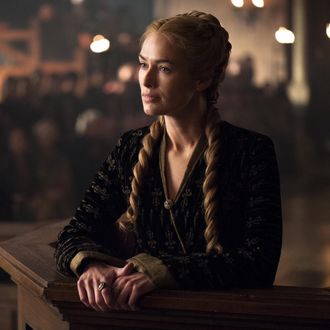 Despite the attempts of a Croatian archdiocese to "personally sabotage" a scene in the upcoming season of Game of Thrones, recent reports from Dubrovnik suggest the infamous sequence went into production with a minimum of changes from the way it went down in the book. That's about all we can say without giving anything away, so we're going to offer a major spoiler warning for anyone reading past this paragraph! (Anyone who shows up in the comments to complain will be sent straight to the Wall.)
The scene in question is Cersei's infamous naked walk of penance through King's Landing, which caps off her post–Storm of Swords arc and provides a particularly nasty example of the medieval sexism that Cersei had struggled against since the day she was born. Back in July, the scene seemed to be in jeopardy: Bishop Anthony IV refused to allow any nudity in Šibenik's Church of St. Nicolas, which plays the Sept of Baelor. Fortunately, the show's producers worked out a compromise, building a replica of the church's exterior without any prudish priests inside.
On Thursday, Watchers on the Wall reported that production had begun on the scene, as depicted in this (SFW) Instagram video from Dubrovnik:
Later shots seemed to confirm one minor change from the book: Instead of having her head shaved completely, show-Cersei will merely undergo a dramatic haircut. A leaked casting call in September also hinted that much of the onscreen nudity in the scene would be performed by a body double.
Earlier this year, Lena Headey said she'd vetoed previous Cersei nude scenes in order to make the eventual walk sequence more "shocking":
"I think, you know, it's interesting, that part for me. I've been very adamant about keeping her kind of clothed because I think that's part of her power. And she can still be sort of sexual and weird and female, but she doesn't have to be naked. And I think it makes for a more shocking disempowering moment when this happens. So, we'll see. I'm a little scared."