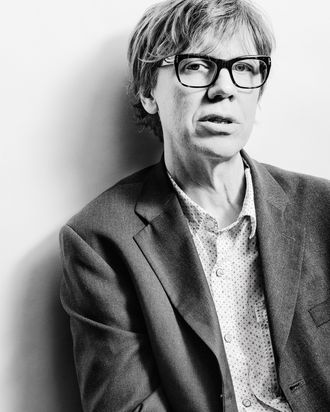 Photo: Christopher Anderson/Magnum Photos/New York Magazine
Photo: Christopher Anderson/Magnum Photos
Thurston Moore, still lanky and youthful at 56, with a little Siouxsie Sioux button pinned to his denim shirt, arrives at Mast Books on Avenue A, says a sidelong hello to me, and heads back to the poetry section. He moved to this neighborhood more than half his life ago—"It attracted me and defined me," he says—but sold his loft  a couple of years ago and now lives in London. On his visits here, he usually stops into this well-tended avant-garde garden, and the clerk, closer to Moore's age when he himself arrived around here, treats him with familiar deference, as a fellow enthusiast of the small-press and non-mainstream.
While Moore browses—selecting an old edition of Jean Genet's poems, as well as an interestingly bound volume that, he explains, is a letter to Charles Olson by the poet John Wieners—he leaves me to catch up with his girlfriend, the sprightly and discerning art-book editor Eva Prinz, who is in her mid-30s and has  on a big floppy sun hat. "I had worked with her over the years," he explains, "doing books at Rizzoli and Abrams," starting with one called Mix Tape: The Art of Cassette Culture, which came out in 2005, "and we became lovers at some point. Obviously." They collaborated on an art-book publishing venture called Ecstatic Peace Library (named for a Tom Wolfe phrase), and "we started making books while we were having our, our, uh, illicit"—he pauses here, stuttering a bit, as if distancing himself from this potboiler language—"a-a-affair. And when we got found out, we sort of put a stop to the press for a while." He pauses, thinks some more. "It's upended both of our lives to a very radical degree."
To say the least. The 2011 split of Moore and his wife and Sonic Youth bandmate, Kim Gordon, with whom he made gorgeously unbeautiful music for three decades, rocked the worldviews of a lot of people who might roll their eyes at gossip over, say, Mariah Carey and Nick Cannon. Fans, seeing the couple as role models for how to maintain a sensible yet rigorous cool into middle age, quickly convicted Moore in the court of internet opinion for being a jerky male disappointment. Gordon discovered the affair by seeing a text message, and described the breakup like this in Elle last year: "It ended in a kind of normal way—midlife crisis, starstruck woman." Prinz, for her part, was labeled an arty floozy, notably in Jezebel's 2013 investigation: "Is This the Woman Who Broke Up Kim Gordon and Thurston Moore?" (Prinz and I have a few friends in common—six or seven years ago I had a small, drunken Thanksgiving with her—but I haven't seen her much since she had a child, married a very nice furniture designer with Dutch royal blood in 2009, and subsequently moved to London.) Moore, out of self-defense plus gallantry, just ended up egging on his prosecutors when he labeled Jezebel's critique "gender fascism" and "imperialist blather" on his Facebook page.
Moore, holding his plastic bag of newly purchased old books, walks north with me on Avenue A, toward Tompkins Square Park. Prinz goes off to find him an iced green tea, saying, "I'll leave you two to talk" about his new album, The Best Day. Moore first came to a previous, filthy, druggy, and grimly unbrunchy version of this neighborhood from Connecticut, after dropping out of college, and lived on East 13th Street between Avenues A and B. "I couldn't think of any alternative. Or of anything else I wanted to do. That's it." His best friend in high school—like Moore a misfit, doubly so because he was gay—had been the one who first suggested It's Friday night—let's get in the car and drive to Max's Kansas City. That first night, in 1976, sipping Cokes, they saw the Cramps and Suicide and were hooked. Moore moved here the next year. "We did all this exploring in New York," he remembers, but the two eventually drifted apart. They had agreed on Patti Smith, Blondie, and Talking Heads, but "when I got into Lydia Lunch and James Chance and Teenage Jesus, he didn't dig that scene. They didn't have the glamour he loved, and he thought they were mean." He expels a quick ha. "It was mean, and I liked it because it was mean."
We walk by the Pyramid Club, one of the few holdouts from those days. "There was a nighttime collaboration between us and the drag queens who ruled that place," he remembers. "They thought we were perfectly absurd. They would introduce the bands—the Swans, Sonic Youth—and make fun of us." We pass Niagara ("That was 171A," he says, "where Henry Rollins tried out for Black Flag"), turn into Tompkins Square Park, and settle on a bench, and Moore remarks that Patti Smith befriended Robert Mapple­thorpe "basically right where we're sitting." These blocks are layered with memories of people, some living, some dead, whom he knew. The area was "far less populated then. It was just artists and freaks," and you could find your chosen tribe and maybe get famous. These days, thanks to the internet, "the necessity of the city for an artist—where you have the media eye outside your door—it's not there so much anymore. You can be in Iceland and make an impact."
I ask whether his daughter, Coco, who is 20 and in art school, has anything to rebel against. "I think she's possibly reactionary toward being anything in the public eye," he says. "When she was born, it was announced on MTV, you know. So that's slightly off-putting for her." He is quick to add: "Kim and I never had any involvement with any illicit behavior. Even on the tour buses she grew up on, we were watching John Candy movies and wearing our pajamas. When we were on Lollapalooza in '95, when she was just learning how to walk, there were all these completely insane bands around us: Courtney Love, Hole, the Jesus Lizard. But onstage, they play the most straight-ahead post-punk rock music. Then Sonic Youth would come out, and we play the most fucked-up music. We're squares; the most straight band is playing the most unstraight music. Maybe that's where we put our fucked-up-ness: in the art. Whereas the others were going at it in their lives and the music was their attempt to stabilize themselves."
Probably some of the anger directed at Moore comes from the fact that many fans idolize Gordon, and hoped that whatever the couple had was too groovy to fail. Online, Prinz became a target. "I'm so defensive about her and my relationship," Moore admits. "The character assassination of Eva—who I fell in love with—I felt very sore about." He becomes subdued. "Me, I get it"—he's a rock star and fair game. "But she is this beautiful feminist intellectual, and there are all these feminist intellectuals who are attacking this other woman, and I was like, Wait a minute. They have the wrong number on this." On The Best Day, he sings—I assume to or about Prinz—"Animals they sing and adore you / Intuitions flash before you … /That's why I love you for evermore."
"The record is just me at 56 years old having a change-of-life scenario, madly in love, trying to deal with my responsibilities as an adult," he says. "It's hard to be an adult playing rock and roll." The point seems to be that he's found something with her that he needed. "People keep saying how—" and he pauses. "When I say people, I mean my mother. She keeps saying, You're so happy and open in the last few years. And I am happy and open. That's all there is to it."
He looks around, shaking off this introspection. "I wish I had a camera right now. Did you see that guy with his protruding belly and his T-shirt that says IT'S NOT ­FITNESS—IT'S LIFE"? He laughs, and Prinz reappears, and they leave to go see a Justine Kurland show at a gallery in Chelsea.
*This article appears in the October 20, 2014 issue of New York Magazine.