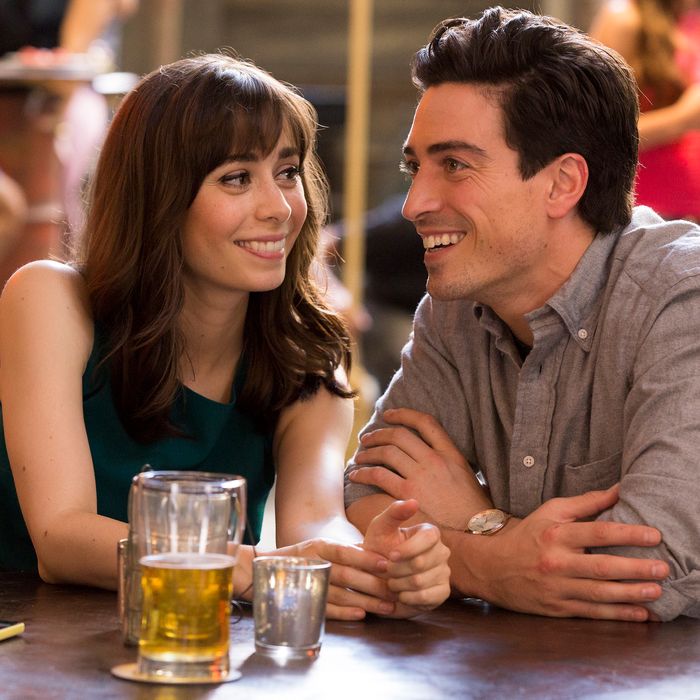 I have no idea whether A to Z can sustain the charm it displays in its first episode, but it is considerable. Formidable, even.
Of course that's a huge relief. When a sitcom is built around a central couple, they don't have to be the most exciting thing on the show — wacky supporting characters tend to supply the verve that milquetoast "relatable" leads lack — but if they're just sort of pleasantly okay, you can practically hear the air leaking out of the story. But if the leads are cleverly written and the two main actors are entertaining enough that you'd watch them solo but are even better when they're paired up, the show can seem to glide. A to Z glides, mainly because its stars, Mad Men's Ben Feldman and How I Met Your Mother's Cristin Milioti, are a flat-out great couple, with an understated screwball energy that Howard Hawks would've known what to do with.
The How I Met Your Mother–ish narration, read by Katey Sagal, goes overboard in selling Feldman's online dating company employee Andrew Lofland as a guy's guy and Milioti's lawyer Zelda Vasco as a girl's girl (both descriptions are mostly meaningless outside of rom-coms anyhow), and there's too much armchair psychoanalysis of both characters in the first few minutes. But the actors overcome these roadblocks, and soon enough they're talking over each other and trading deadpan, often slightly odd banter that may have been scripted down to the syllable and the comma but sounds as if it's tumbling out of them, as it would from two smart but nervous people whose mouths take dictation from racing minds. (When Zelda says she's a lawyer, Andrew inexplicably blurts, "What kind of law is it — is it, like, maritime?") They work in the same office building; Zelda visits Andrew's office for reasons that aren't entirely open and don't matter anyway; there are a few contrivances that stop them from getting immediately together that also don't matter. What matters is, they click.
The show around them is pretty good and very promising. Though A to Z leans perhaps too heavily on primordial rom-com tropes (the guy has a heavy-set, socially inept but overzealous best friend, played by Henry Zebrowski; the girl's best pal and roommate, played by Lenora Crichlow, is a daffy, high-strung Brit with no internal censor), the script, by series creator Ben Queen, is literate without sounding too obviously written, and there are many pleasing filmmaking touches by director Michael Patrick Jann, such as the way strobe lights at a party suddenly erupt as a beautiful woman turns to return a man's awestruck gaze (as if the room is applauding them for connecting). But Milioti and Feldman are still the best thing on it. I think I might already have a crush on Feldman and Milioti as a dramatic unit; when they share the same screen space, my heart flutters just a bit, and when they're off on their own, I want them to get back together again as soon as possible. Watching them look at each other is more exciting than most action series I can think of. This one's a winner.