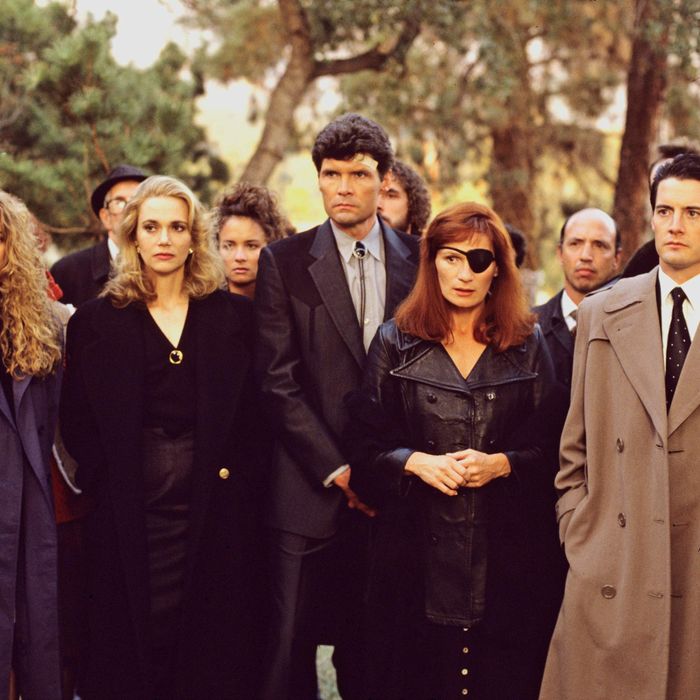 TWIN PEAKS - Episode Three - Season One - 4/26/1990 FBI Special Agent Dale Cooper (Kyle MacLaughlin, right) at former homecoming queen Laura Palmer's funeral with a lineup of mourners/suspects, from left: Shelly Johnson (Madchen Amick), Norma Jennings (Peggy Lipton), Ed Hurley (Everett McGill) and Nadine Hurley (Wendy Robie).
Photo: ABC
When co-creators David Lynch and Mark Frost announced they'd be bringing Twin Peaks back in 2016, fans went scrambling to rebrief on the show's massive ensemble, the characters' journeys, and the actors' careers before and after the series' 1991 conclusion. To make the eventual return to small-town Washington State and its mysterious forests a little easier, we've created a digest of information on 30 of Twin Peaks' most memorable faces.
What's more, Vulture spoke with some of the cast members (including Laura Palmer herself, Sheryl Lee) about where they were when they heard the show was coming back, how the series affected their lives, and together delved into some potential clues about who might be coming back to Twin Peaks.
Mädchen Amick
Role: Shelly Johnson
Post-Peaks: Amick has been among the busiest of Peaks' original cast. She currently stars on Lifetime's supernatural series Witches of East End and has shown up for story arcs on Gossip Girl, White Collar, Californication, Damages, Dawson's Creek, and ER, among others shows. Though her most notorious role of late was as Don Draper's choking victim in a buzzed-about Mad Men fever dream.
FYI: Amick, 43, turned down Baywatch for Twin Peaks.
Michael J. Anderson
Role: The Man From Another Place
Post-Peaks: Not to be confused with this Michael J. Anderson, Peaks' dancing, back-forward-talking Black Lodge resident has gotten stuck with the occasional token little-person part (Rumplestiltskin in an episode of Star Trek: Deep Space Nine, a leprechaun in Charmed, etc.). But he also starred as traveling-circus manager Samson in HBO's short-lived but well-loved Carnivale, reteamed with Lynch for Mulholland Drive, and, like Miguel Ferrer, has carved out a burgeoning side-career in voice work (Scooby-Doo! Mysteries Incorporated, Adventure Time).
FYI: Though he may change his mind given recent revelations, in a 2007 interview, Anderson opined that, "To go back to do Twin Peaks is just too redundant. [Lynch is] already telling us the same thing from a different angle with all of his new works."
Dana Ashbrook
Role: Bobby Briggs
Post-Peaks: Now 47, the artist formerly known as teen hunk Bobby Briggs grew up to star with the late Dennis Hopper in the TV adaptation of Crash, in addition to his roles on Dawson's Creek, Hostages, and Psych (the latter of which paid homage to Briggs and Peaks).
FYI: After moving to New York in 2007, it took a full month before someone recognized him as Briggs.
Richard Beymer
Role: Benjamin Horne
Post-Peaks: The former West Side Story star (he played Tony), 75, has mostly taken it easy since exiting Lynch's Pacific Northwest, though he did appear in an episode of The X-Files and alongside a young Angelina Jolie in 1996's Foxfire.
FYI: From 1987–96, Beymer appeared on Murder, She Wrote six times — as six different characters.
Lara Flynn Boyle
Role: Donna Hayward
Post-Peaks: Former teen star Flynn Boyle, now 44, has kept busy with a nimble range of roles, from playing stalker-girlfriend Stacy in Wayne's World and a sexually curious college student in cult drama Threesome to lonely fantasist Helen in Todd Solondz's Happiness and a longtime series role as assistant D.A. Helen Gamble on ABC courtroom drama The Practice.
FYI: Flynn Boyle dated then-60-something Jack Nicholson (she was in her mid-30s at the time) in 1999.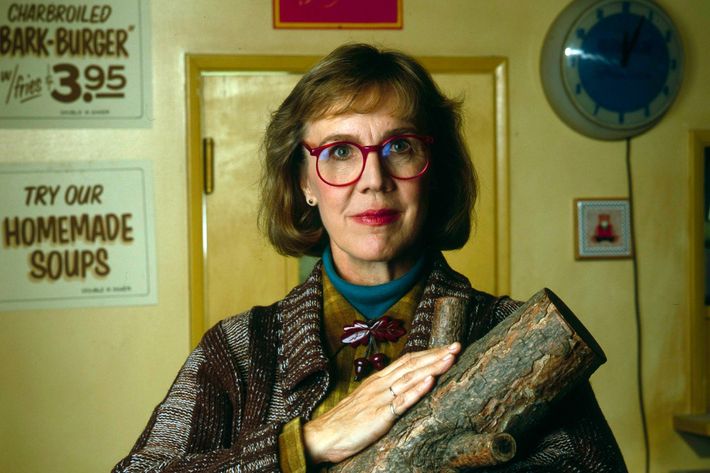 Catherine E. Coulson
Role: Margaret Lanterman, a.k.a. the Log Lady
Post-Peaks: Coulson, who collaborated with Lynch as early as his 1974 student film The Amputee, has spent most of the past two decades as part of the Oregon Shakespeare Festival's Acting Company. Apart from reprising her enigmatic Peaks persona for a Twin Peaks tribute episode on Psych, Coulson also did the Pacific Northwest proud on a 2013 episode of Portlandia.
FYI: "The phone rang, and it was David [Lynch], and he was calling from Paris on Skype," Coulson says about learning the show was returning. "He said, 'We wanna be working together with you, and we're gonna do Twin Peaks.' We chatted for a while about the Log Lady, how she had matured a little bit. Then I said, 'What can I tell people?' He said, 'Tell them it's too early to talk about in detail, and don't play in the street.'" As for Lanterman's namesake hunk of wood, Coulson says, "I have kept the log in a secure, undisclosed location. In case it was called upon to come back, I've been very carefully protecting it."
Eric DaRae
Role: Leo Johnson
Post-Peaks: After the show, DaRae nabbed a handful of blink-and-you'll-miss-'em credits in theatrical releases, notably Starship Troopers and Peaks alum David Duchovny's vehicle Playing God. But the 49-year-old has been absent from the spotlight since 2002, reemerging ten years later in a bizarre incident when he was falsely suspected of being a Hollywood arsonist.
FYI: DaRae's parents are David Lynch's frequent casting director Johanna Ray and the late We're No Angels star Aldo Ray.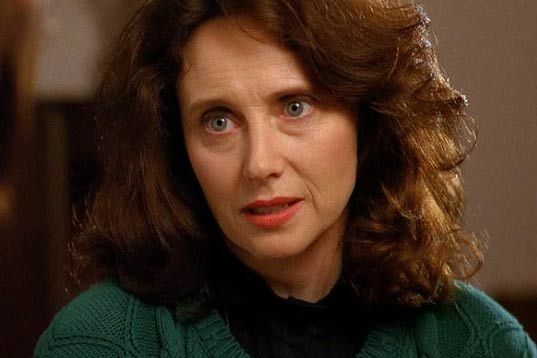 Mary Jo Deschanel
Role: Eileen Hayward
Post-Peaks: Deschanel has ceded the spotlight to her daughter Zooey over the past several years but did take on small roles in acclaimed films Breach and Ruby Sparks. She also holds the dubious distinction of guest-starring in the same House, M.D. episode as Meat Loaf.
FYI: Of her character's unexplained confinement to a wheelchair, Deschanel recalls that, "A couple of different times, I would ask [Lynch and Frost], 'Can I get some backstory? Why am in a wheelchair?' They'd just laugh and say, 'We have so many different scenarios of why.'"
David Duchovny
Role: DEA Agent Dennis/Denise Bryson
Post-Peaks: Not everyone loved Duchovny's rebel-author nymphomaniac Hank Moody on Californication, but we all hearted The X-Files' Fox Mulder. Give the D-Man credit: He's been on big and small screens alike since his one-two 1991 punch of Peaks and Don't Tell Mom the Babysitter's Dead. Now that Californication has wrapped, Duchovny is onto a starring role in NBC's upcoming period cop drama Aquarius, in which he hunts down the murderous Manson Family.
FYI: James Spader, the current face of gritty NBC drama on The Blacklist, was originally intended to play Agent Bryson.
Sherilyn Fenn
Role: Audrey Horne
Post-Peaks: Fenn, 49, arrived at Twin Peaks a teen-idol fixture. Since then, her fortunes have been varied. A controversial leading role in romantic drama-cum-torture-porn Boxing Helena (directed by David Lynch's daughter, Jennifer Chambers Lynch) might have hindered her leading-lady momentum. Her résumé is dotted with recurring roles on TV shows like Dawson's Creek, Boston Public, Gilmore Girls and Magic City, along with parts in a smattering of low-budget films. The Michigan native has experienced a comeback of sorts as swinging FBI wife Donna Cochran on Showtime's hit Ray Donovan.
FYI: After being offered the role of Madam Renee on Magic City, Fenn later blogged that it pulled her "out of the proverbial trash can this town put me in."
Miguel Ferrer
Role: FBI Agent Albert Rosenfield
Post-Peaks: If there's been a hospital or police drama on TV the past couple decades, odds are Ferrer's starred (NCIS: Los Angeles, Crossing Jordan) or popped in on it (Law & Order, CSI, Lie to Me). He's also no stranger to ensemble films (Traffic, Sunshine State). Ferrer has additionally kept busy with a surprising amount of voice work for DC Comics properties, including Superman's late-'90s reboot and Young Justice in addition to quirkier Cartoon Network and Adult Swim staples Adventure Time and Robot Chicken.
FYI: Ferrer helped his cousin George Clooney get his first movie part as an extra in 1982's And They're Off.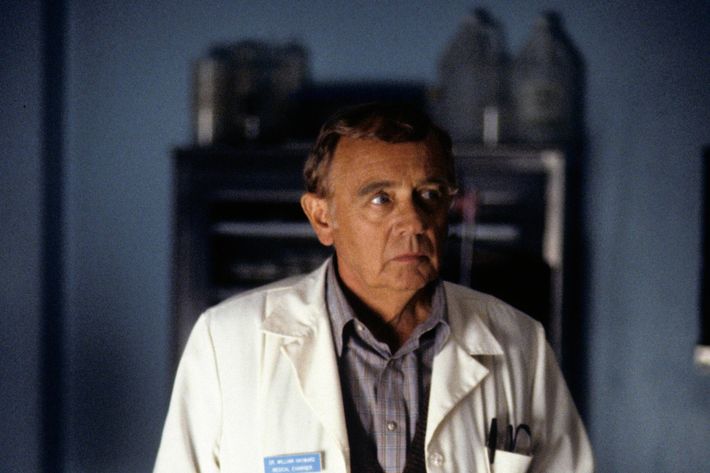 Warren Frost
Role: Dr. Will Hayward
Post-Peaks: Frost, whose son is in fact co-creator Mark, reunited with Peaks' Grace Zabriskie to play Susan's dysfunctional upper-crust parents on Seinfeldin a memorable slew of episodes. ("I loved him deeply! In a way you could never understand.") Warren, who's now retired and lives in Vermont, hasn't acted onscreen since.
FYI: "It was off the beat, so it's like doing Seinfeld," reminisces Frost of inhabiting the Twin Peaks world. And as for its endurance, he surmises, "Such a unique number of people have descended on [Peaks]. Does it come as a surprise over the years that it's, in one sense, never been forgotten? That's a surprise, considering the normal length of being cognizant of anything today. It's amazing."
Harry Goaz
Role: Deputy Andy
Post-Peaks: Lovable galoot Goaz followed up Twin Peaks with another cult favorite series, Eerie, Indiana (yet again playing a police officer), though he's appeared in only four small films and no television since. Although, according to the archived website for one of those features, he "spent the better part of five years developing a Morse Code language that relied on neuronic transmissions between his very body and the internal stimuli in free roaming animals."
FYI: Per the previously linked website, Goaz first met David Lynch en route to a memorial for Roy Orbison following his death.
Heather Graham
Role: Annie Blackburn
Post-Peaks: She stole our hearts and stomped on dudes' faces as porn starlet Rollergirl in Paul Thomas Anderson's Boogie Nights, orgied it up with Robert Downey Jr. and Natasha Gregson Wagner in Two Girls and a Guy, awakened Zach Braff's pulse in Scrubs, helped cure Ed Helms's Hangover, and, of late, betrayed her children in Flowers in the Attic while introducing fellow Peaks alum David Duchovny to his onscreen son in Californication.
FYI: David Lynch taught Graham how to meditate, which she still does to this day.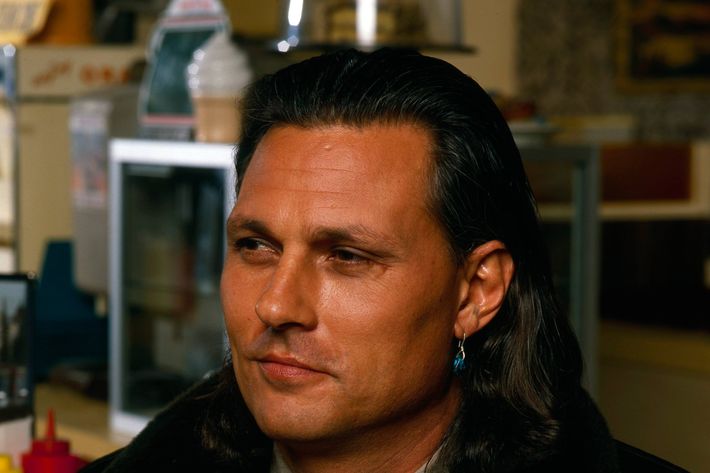 Michael Horse
Role: Deputy Hawk Hill
Post-Peaks: The California resident, jewelry maker, and painter has frequently answered the call to act over these past 20-plus years. This past summer, he shared scenes with Common in AMC's Hell on Wheels and has become a sought-after voice worker for Curious George, What's New, Scooby Doo?, and The Wild Thornberrys, to name a few.
FYI: "As a native actor, you don't get that much chance to work in art, especially television," says Horse. "[Hawk] did away with some stereotypes and held some mirrors up to others." Regarding TP's renaissance, he says, "I thought it would never come back. I thought it was just one of those great icons that just died, kind of the James Dean of its genre."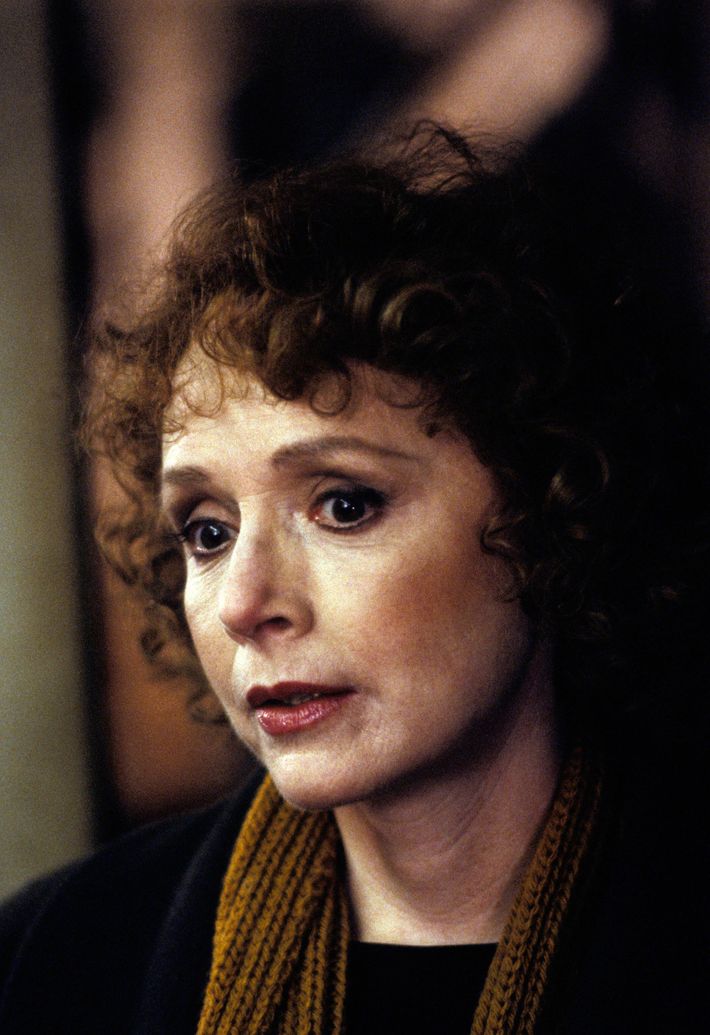 Piper Laurie
Role: Catherine Martell
Post-Peaks: The three-time Oscar nominee (for Carrie, Children of a Lesser God, and The Hustler) worked again with Peaks co-creator Mark Frost on his 1992 directorial effort, Storyville. She'd continue to accept parts in small but prestigious films, such as Sean Penn's The Crossing Guard, while acknowledging her horror fan base in Kevin Williamson and Robert Rodriguez's The Faculty. The 82-year-old's last significant big-screen role was opposite Joseph Gordon-Levitt, Natalie Portman, and Rainn Wilson in the 2010 indie Hesher.
FYI: "I'd been hearing [news of a Peaks' revival] for years and pooh-poohing it," she says. "Someone called me about a week ago and I said, 'No, no, no.' Then two or three other friends called me. Then someone said they read it somewhere, and it slowly began to seem real. One can never second-guess David Lynch. I have no idea if he'd like me back, but I would certainly say yes if he asked."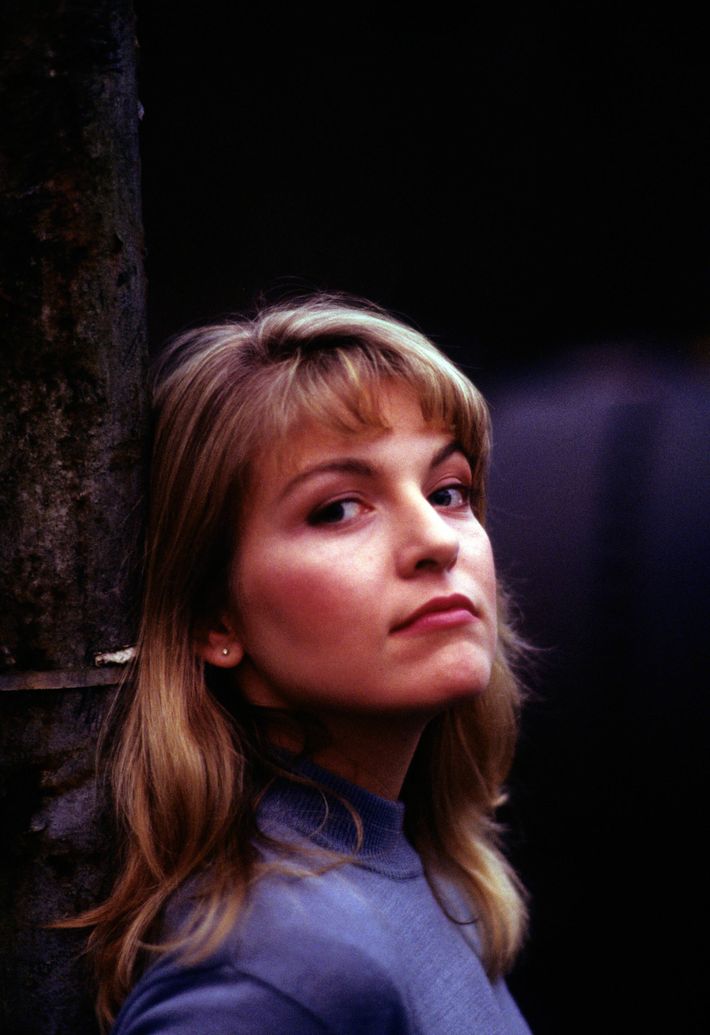 Sheryl Lee
Roles: Laura Palmer/Maddy Ferguson
Post-Peaks: Though it seems like Lee's operated under the radar, she continued acting after Twin Peaks. A memorable turn in John Carpenter's 1998 horror-thriller Vampires was followed by stints on One Tree Hill, Dirty Sexy Money, and a memorable bit part in the Oscar-nominated drama Winter's Bone. Up next, she appears this fall alongside her Twin Peaks mom Grace Zabriskie in the indie flick The Makings of You.
FYI: "I remember clear as day the scene of being on the beach wrapped in plastic, sometimes as if it was yesterday, because it was also my first experience on a set," Lee tells Vulture about her most vivid Peaks memory. "Because I was playing a corpse, I got to witness all these different departments at work and lay there quietly and soak it all up … And the cast, we don't get to see each other enough, but I feel so blessed to have worked with those people, and I hope to get to again."
Peggy Lipton
Role: Norma Jennings
Post-Peaks: Good news for those who like both the longtime Mod Squad star and Hollywood family reunions: Lipton and her ex-husband Quincy Jones are playing the onscreen parents of real-life daughter Rashida Jones in TBS's upcoming police-procedural satire Angie Tribeca (the pilot's written by Steve and Nancy Carell). Lipton's otherwise been fairly elusive in front of the camera since Peaks, save appearances in shows like Popular and Alias, the odd melodramatic made-for-TV film, and here-and-there theatrical parts in Kristen Bell bomb When in Rome and Kevin Costner's would-be epic The Postman.
FYI: Lipton was relieved when The Mod Squad came to an end. She thought it was too violent.
Kyle MacLachlan
Role: Special Agent Dale Cooper
Post-Peaks: Washington State native MacLachlan has maintained a sly and steady presence since breaking through as David Lynch's main man throughout the mid-1980s and early '90s. Film roles waned soon after the infamy of Showgirls, but he emerged as small-screen love interest du jour on Sex and the City and Desperate Housewives. Of late, he's found his comedic calling as Portlandia's ecofriendly Mayor while flexing villainous muscle on The Good Wife.
FYI: David Lynch tapped MacLachlan for Dune after seeing him at the Oregon Shakespeare Festival, where co-star Coulson currently performs.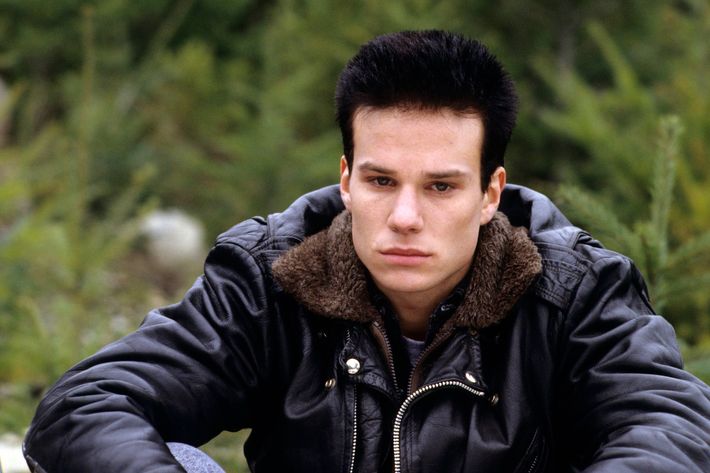 James Marshall
Role: James Hurley
Post-Peaks: Marshall appeared in the boxing drama Gladiator (not the Russell Crowe movie) and the star-studded A Few Good Men within a year of Twin Peaks' demise. Sadly, his momentum was derailed by illness and related legal entanglements with a prescription-drug manufacturer. However, Marshall is on the mend, working in independent films and focusing on playing guitar and songwriting.
FYI: "Even if my career had kept going on a tremendous upswing," says Marshall, "I'll genuinely tell you [Twin Peaks] would have been the high point." And should his alter ego of James Hurley not be revived, Marshall says, "I wouldn't take anything personally, because if I was appropriate for the situation, I'm sure they would say something. But if I'm not … I just let it go, because I'm just grateful to have been a part of it."
Jack Nance
Role: Peter Martell
Post-Peaks: The man whose indelible face and towering hair helped make Lynch's Eraserhead so iconic died tragically in 1996 following an alleged physical altercation with some men outside a California doughnut shop. Nance's last role before his passing was a tiny part in Lynch's acclaimed Lost Highway.
FYI: Nance was reputedly working on a screenplay and novel at the time of his death.
Michael Ontkean
Role: Sheriff Harry S. Truman
Post-Peaks: Twin Peaks' curly coiffed force for good has maintained a relatively low profile the past decade, which is why it surprised many ticket-buyers for Alexander Payne's The Descendants when Ontkean unmistakably, fleetingly appeared alongside George Clooney. Otherwise, the 68-year-old Canadian's work has mostly been in made-for-TV movies, like the inimitable ABC true-life tale, Whose Child Is This? The War for Baby Jessica.
FYI: In a 2011 interview, Ontkean cited Arrested Development, rather than Twin Peaks, as his favorite TV show.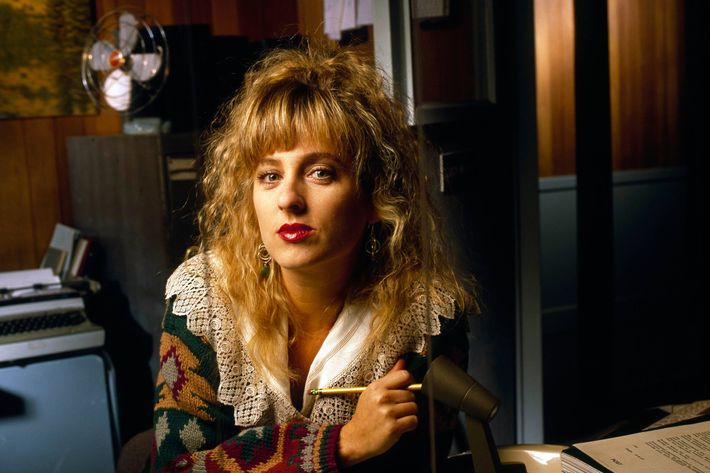 Kimmy Robertson
Role: Lucy Moran
Post-Peaks: Twin Peaks' earnest, squeaky-voiced PD dispatcher has settled comfortably into what she calls "interesting older-woman parts" on Legit, Psych, Southland, and others. Though diehards might single out her regular voicework on season three of Fox's animated favorite The Tick.
FYI: "I texted [Peaks production coordinator] Sabrina [S. Sutherland] and said, 'A little birdie told me something that I think I'm supposed to be excited about," remembers Robertson about when the news broke on October 6. "And she said, 'Oh, I couldn't tell you. I've known for some time, and I felt so bad I couldn't tell you.' And she said David Skyped her, and said, 'Tell her I can't call her now, but I want to see her in November and explain it all to her, but tell Kimmy' … Oh, I shouldn't be telling you this. Never mind. He said something. David said something."
Wendy Robie
Role: Nadine Hurley
Post-Peaks: Immediately following the series, Robie appeared in Wes Craven's cult classic The People Under the Stairs (a role which arguably rivals Nadine for fan appreciation). Since then, she has worked mostly in theater as an actor and director. Otherwise, her CV spans straight-to-video fare à la the 1998 Rose McGowan–starring sex thriller Devil in the Flesh to 2008's celebrated musical fantasy, Were the World Mine.
FYI: "When Twin Peaks happened the first time, I was a stage actor in Seattle," remembers Robie. "I was called in for an audition for this pilot, and at that time it was called Northwest Passage, and nobody knew anything. I thought, 'Oh, okay, Lewis and Clark.' And from that moment, I fell down the rabbit hole." Robie adds that "When David Lynch was directing an episode, your heart beat a little faster. You just knew something really exciting was going to happen."
Frank Silva
Role: BOB
Post-Peaks: Silva was not an actor by trade, and Twin Peaks and its prequel film, Fire Walk With Me, were his only forays in front of the camera. Previously, he'd been behind the scenes in the art department on a few movies, including Lynch's Wild at Heart. While working as a set dresser on the Peaks pilot, Lynch encouraged him to get into the shot, and as Silva said in a 1993 interview, "it just sort of snowballed from there." Sadly, Silva died, reportedly of a heart attack, in 1995.
FYI: Silva and co-star Michael J. Anderson both share a Halloween birthday.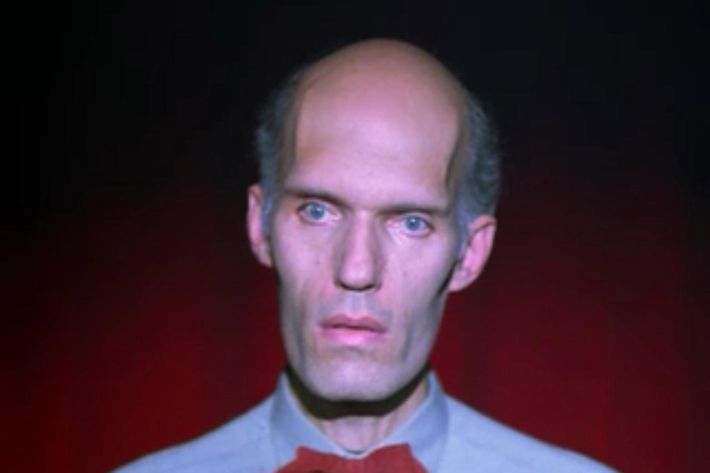 Carel Struycken
Role: The Giant
Post-Peaks: The seven-foot-tall Dutch actor and avid panoramic photographer may never again resonate with audiences the way he did as Agent Cooper's doomsayer (notwithstanding his overlapping stint as Lurch in the Addams Family movies). That said, he's rarely lacked for work, whether in single-episode duty on My Name Is Earl, as an alien in Men in Black, or with a regular gig on Dutch series De Erfenis. He can also be seen as a regular autograph signer on the Comic-Con circuit.
FYI: "I've always assumed that [the Giant is] some kind of alien entity," says Strucycken. "So I also assumed that I would have a long life. But I haven't heard anything [about Twin Peaks' return], so I have no idea what's in store."
Kenneth Welsh
Role: Windom Earle
Post-Peaks: Oddly enough, small children might recognize Welsh as Uncle Hendrick from 2008's popular kiddie flick Kit Kittredge: An American Girl. But he has mostly been seen in decidedly less child-focused material since sweeping Annie Blackburn into the Black Lodge. Welsh was among the cast in Martin Scorsese's The Aviator, U.S. Olympic hockey biopic Miracle, and sleeper horror hit The Exorcism of Emily Rose, to name a few.
FYI: Welsh's son Devon helms the popular indie-electro outfit Majical Cloudz.
Ray Wise
Role: Leland Palmer
Post-Peaks: Everyone's favorite possessed, murderous patriarch has roles in seven small films coming out this next year alone — not to mention having become a Young and the Restless regular, popping up as Robin's dad in How I Met Your Mother's final season, and portraying Ken Cosgrove's father-in-law on Mad Men. Or you may recall him as Veep Gardner in season five of 24. He hasn't been hard to find.
FYI: Ray refers to his roughly 8,000 Twitter followers as #TheLegionofWise.
Grace Zabriskie
Role: Sarah Palmer
Post-Peaks: Apart from her aforementioned Seinfeld recurrence, Zabriskie's face has been front and center on lauded HBO series such as Big Love (where she shone as Bill Paxton's adversarial mother Lois). She also stood out as a particularly seedy motel owner on the third season of AMC's The Killing and put another Lynch credit on her resume with Inland Empire. Up next for the 73-year-old is a co-starring credit with Sheryl Lee in indie romantic drama The Makings of You.
FYI: In addition to acting, Zabriskie sculpts and designs artistic lamps and keepsake boxes.