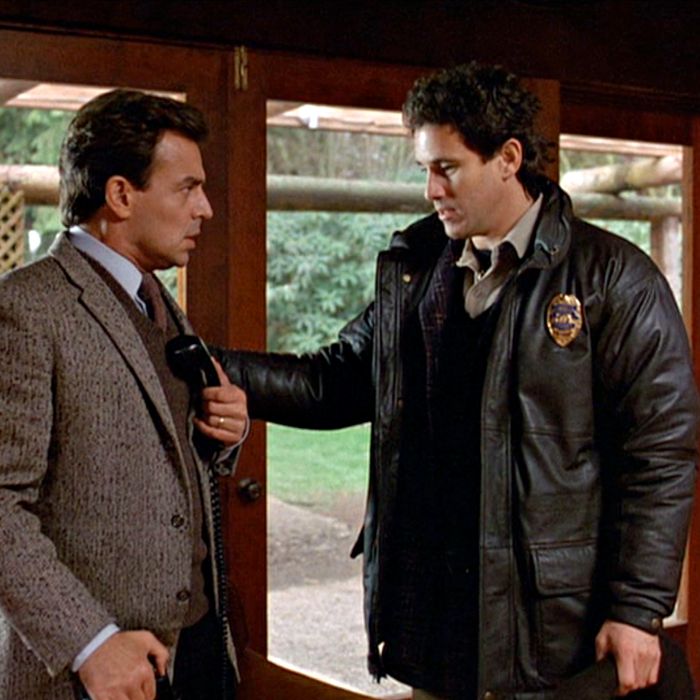 When Laura Palmer's ghost (played by Sheryl Lee) appeared to FBI Special Agent Dale Cooper (Kyle MacLachlan) in the mysterious Black Lodge and promised, "I'll see you again in 25 years," Twin Peaks fans didn't know until this week that she may have meant it literally. The news yesterday that Showtime will be bringing Twin Peaks back to television for a nine-episode run, with all episodes to be directed by David Lynch and written by Lynch and Peaks co-creator Mark Frost, qualified as a surprise, partly due to Lynch's long hiatus from filmmaking as well as Lynch's oft-quoted comment  ("It's as dead as a doornail") that certainly sounded like his last word on the subject. But in the wake of two successful box sets, including one just this past summer, and in the midst of many unexpected pop-culture comebacks (including, of course, HBO's The Comeback), the only shock may be that it took this long for it to happen.
While some have quibbled that the Peaks revival will be coming to a conventional pay-TV outlet and not the more binge-friendly Netflix, that's just a product of our seemingly unquenchable need to devour each and every new prestige-TV series right now. As one of the last great water-cooler shows of the pre-internet age, Twin Peaks is much more True Detective than House of Cards; sure, the Lynch-driven episodes had soap-opera elements, but the overall weirdness of the storytelling reveals more when rewatched slowly rather than in a mad dash to get to the end. There'll be plenty of time for all of us to rewatch the original series and its 1992 prequel film, Twin Peaks: Fire Walk With Me, before the series continues on Showtime in 2016 — just in time for the 25th anniversary of the series' final episode and Laura Palmer's prescient quote — but that also leaves way too long for questions about what to expect from season three to build up. Here are some very early thoughts about what may be in store for us.
When's it taking place?
The press release announcing the show's revival and a new interview with Frost suggest that the action will take place in present-day Twin Peaks, but there's time, and then there's David Lynch time. It seems inconceivable that they won't tie up the loose ends left over from Twin Peaks' abbreviated run on ABC and Fire Walk With Me. And it would be disappointing if Lynch didn't use flashbacks or dreams to update us on Leland Palmer (Ray Wise), who is likely still trapped in the Black Lodge and without a physical body in the real world. The red-curtained home of the backwards-dancing "Man From Another Place" is an excellent spot for a brief interlude, although it's not a place we'd want to spend a lot of time in, given how many times that card has been played. But speaking of Leland Palmer …
Who's coming back?
Assuming MacLachlan is in and they find a way to involve Wise's character regularly, we're left to speculate which other actors from the Twin Peaks universe Lynch and Frost will invite back. With the notable exception of late Lynch regular Jack Nance (Pete Martell), pretty much every core cast member is still with us. Will Sherilyn Fenn (Audrey Horne) and Lara Flynn Boyle (Donna Hayward), both of whom skipped Fire Walk With Me, find their way back into the fold? Or will Moira Kelly, who took over as Donna in Fire, be called on once again? And will Sheryl Lee be asked to play yet another identical cousin to the late Laura Palmer — or even Laura herself, via the Black Lodge, so that she can make good on her promise to Cooper? (And do characters in the Black Lodge age?) And what of Michael Ontkean (Harry S. Truman), who has been noticeably absent from almost every post-Peaks reunion project and new DVD special feature? My final casting question (which is one I never could have imagined caring about until watching the deleted Fire scenes from the Twin Peaks Blu-ray set): Will we see more of David Bowie and Chris Isaak in their roles as FBI agents (with Bowie, at least, also being a time traveler) investigating a case that led directly to Agent Cooper arriving in the town of Twin Peaks?
What's new?
Frost's interview suggests that there will, by necessity, be new characters and new mysteries in the Peaks revival. But beyond idle speculation about which actors might fit the Lynchian mold (e.g., this would be a great opportunity for Joseph Gordon-Levitt to return to series TV, wouldn't it?), the bigger question is: What will a Showtime-airing Twin Peaks look like? Many of the things that seemed edgy and groundbreaking in the original series are trumped weekly on today's network TV (a piece of paper deep under a corpse's fingernail seems like a kids' cartoon compared to what happens on Law & Order: Special Victims Unit), and crime-solving techniques like Cooper's have been far outstripped — for both weirdness and sheer implausibility — by both Matthew McConaughey's True Detective criminology and Benedict Cumberbatch's Sherlock-ian insights. Will Lynch go for more cursing, more viscera, and more, well, Lynch-iness to be seen as upping his game? Or will the director trust the machinery that, at least in the episodes he was actively involved with, worked well enough to become a sensation? We've got a two-year wait until we get the answer to that and other questions, but for Twin Peaks fans, that's a walk in the woods.