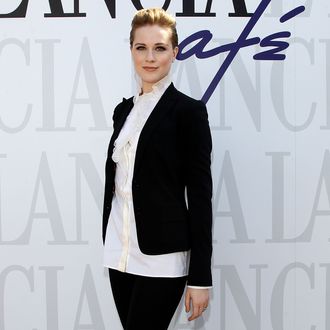 Photo: Tullio M. Puglia/2011 Getty Images
The photo shoot for Vanity Fair's 2003 Young Hollywood issue was not great for then-15-year-old actress Evan Rachel Wood. She was done with the critically beloved Once and Again and had just shot Thirteen with Holly Hunter when she appeared on the cover alongside Amanda Bynes, Mandy Moore, and others. Wood originally asked for pants and flats, but they put her in heels and a short, rose-colored dress. Wood tweeted, "I think when you are young and inexperienced and shy you can be bullied more. I learned to say no." The experience left her "almost in tears": "I felt like meat. Since then, I have found my voice. Never again." 
Wood was replying to this tweet:
She talked about her experience in a series of tweets that have been condensed here:
I was almost in tears after this shoot. They tried that dress on me, I wasnt comfortable but they told me there was no time cause everyone else took up too much time with their fittings. Then I was given a choice on whether I wanted to wear flats or heels. I chose flats and was immediately handed heels and told they looked better. Then we were all lined up, stared at and approved. I was 15 and felt for the first time my identity being erased and the pressure to shut up and do what you are told. I felt like meat. Since then, I have found my voice. Never again. #neverforget

To all the haters. I am not complaining about being on the cover of vanity fair. I understand I am very privileged and there are far worse thing to go through. My point was that things arent always what they seem. Especially in this industry. What may seem glamorous sometimes comes at a price. I only want to encourage other young girls to stay true to who they are. No matter what. Hold on to your self.
And for the record, she said her shoots for Vanity Fair afterward were "quite lovely."