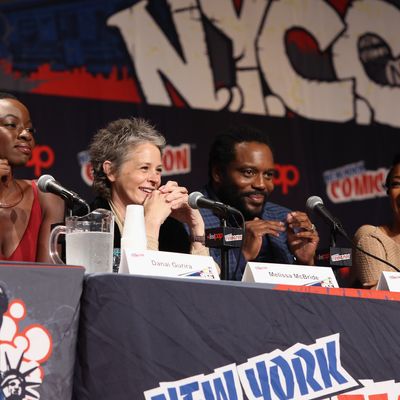 Photo: Robin Marchant/2014 Getty Images
Here are some words that were used over and over again by the cast and crew of The Walking Dead at New York Comic Con and PaleyFest this year: kick-ass, utterly relentless, and totally heartbreaking. Things are about to get more intense than ever for Rick and the gang as showrunner Scott Gimple and his fellow writers bring the show back with a bang tonight. New York ComicCon's Walking Dead panel moderator and Talking Dead host Chris Hardwick said the episode was "the most action-packed, most satisfying, most intense premiere to date."
When the premiere begins, no time has elapsed since the season-four finale. And the episode's director, Greg Nicotero, promised that "every emotion that you have felt in the last four years, you will feel in this one episode." So what else can we expect?
1. "There's something about The Walking Dead that very much exists in the present, and to that end, we're going to look at the recent past in very, very deep ways," Gimple said. He revealed that we would get a closer look at characters we may not have gotten to look at closely before and find out "why they are the way they are."
2. Robert Kirkman, executive producer of the show and the author of the subject material, revealed that there would be some big moments from the comic books that would be pulled into the show this season. "We're still going to be changing things up quite a bit, and I'm very excited about these changes. I love all the twists and turns that we have this season," Kirkman said. "But I think it's safe to say that this season will follow the comics closer than in previous seasons."
3. Get ready, fans, because this season will have some "really devastating" moments, according to both Gimple and Kirkman. Hardwick talked about being a therapist for a lot of fans as his "stupid face" follows deaths of characters we love. Kirkman told Hardwick he had a plan that would make his job even harder. "I think it's a goal where we get to a point after at least one episode where your little Talking Dead plug afterwards is just you crying," he said.
4. Would we see more of the intense, in-charge Rick in season five? "Yeah, about time. I was sick of farming. Done with those pigs," Lincoln said. "I mean he just bit a guys throat out, so … it's safe to say this season I've been listening to a lot of Prodigy and death metal."
When asked if Rick's intensity would be grounded and focused or crazy, Lincoln replied it would be a little bit of both. "I've loved playing him so far this season … I think that he's very uncompromising, incredibly driven, and brutal. And it's been such fun. I kill so many people!" Then Lincoln proceeded to bang his head against his microphone.
Clearly the brutality level won't be decreasing at all, but Lincoln defended it at the PaleyFest panel by saying it was possible to push the boundaries of brutality because they have the opposite and equal exchange of emotional moments.
5. As we witnessed between Glenn and Maggie's reunion, the show isn't completely hopeless. Steven Yeun spoke about Glenn being a constantly hopeful character. "For him it's like 'we can strive for hope, we can strive for humanity because it worked out for me,' even though they're in a really terrible situation at the end of last season."
6. Michael Cudlitz spoke about joining the cast as a newbie: "Everyone has been extremely welcoming. I feel at times like I've been here from the beginning. It's a fun environment, and it's a safe environment, which I think is important when we do the kind of work we do." But Cudlitz shouldn't count out any shenanigans the cast might play at him. At the PaleyFest panel, Norman Reedus told Vulture in the future he's sure he'll find a way to mess with Cudlitz.
7. And yes, the last line from season four's finale was also discussed. Either the line could have been screwing or a random break in the sentence with no word at all. But even the cast and crew knew it should have said the F-word. In fact, it was originally written that way. "I only gave one take of the actual screwing line because I refused, I just went 'no' because that's what it says in the script," Lincoln said. Nicotero mentioned the attempts the crew made to try and include the word somehow, "For a long time we experimented with how much could we dip the word and still say it. 'We could do a nine-frame dip fuck.'"
8. Beth is alive — but that's all we know. "In the trailer we saw that where she was doesn't look like too much fun," Gimple said.
As a final note about season five and Terminus, Gimple only revealed this foreboding information at PaleyFest: "These characters have crossed a threshold … Now it is the reckoning." He also suggested not to eat 90 minutes before each episode. Finish those dinners fast, and get those tissues out, guys. This season is going to be insane.