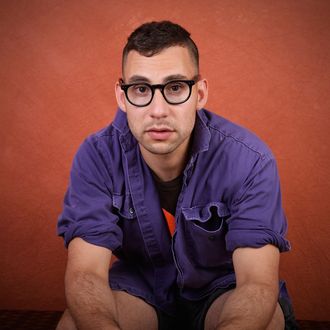 Photo: Paul Marotta/Getty
This past Sunday, Bleachers and fun. musician Jack Antonoff joined our very own Jada Yuan for a Comic-Con panel. (If you have not yet read Yuan's profile of Antonoff, you should do so! And then read these outtakes! Don't wait!) They talked music, touring, and "socially economic" stealing in a packed room. Here's what you missed.
On that next fun. album:
"We are just taking a moment and figuring out how to write the next album … you kind of have to keep going until it starts to pan out."
On Antonoff's remarkable Star Wars toy collection:
"Star Wars [toy] collecting is cool because a lot of the manufacturers — I don't know if they were fucking with people on purpose — but they would manufacture things with like four fingers or like a guy without a sword. So there were always really interesting variations. But I was so much more interested in collecting than the actual films."
On Bleachers being a point of contention with fun.
An audience member asked Jack if Bleachers has caused tension with fun. members. "We do our on work," said Antonoff. "I always have, Andrew has always scored films, and Nate's done his own work so it's always just been part of it, but it is interesting how in a situation like that it can kind of seem tumultuous. People are always looking for a weird band situation." The band is so ok with Bleachers that Andrew is even featured on the album doing harmonies.
On bad car experiences:
Jack and Jada both had a tough time getting to the Con, but Jack's cab ride was especially dark: "You know when you are in a cab, and death is pending, you think to yourself, It would be so weird to die now because I was too scared to say anything." Jada mentioned that this is kind of how she felt when Jack drove her around. Then Jack shared a secret touring technique called fear sleep: "This thing [that] happens … you get in the van and you are just so terrified, you go to bed."
On school terrors:
From Jack: "Did anybody have this experience at school … you got called up to the board … you would shake and not know and you'd stand there, and this was the '90s, so the teacher would be like, 'You piece of shit. You piece of shit. Jada, come up and show him how much of a piece of shit he is.' So I was really bad at school."
On touring:
The earlier, the better, says Jack (who started touring at age 14). "You have to have a million accidents, give your car keys to someone who claims they're valet and they're just a guy, drive onto a beach in Corpus Christi, and almost get taken away with the tide. There are just things that have to happen."
On being the "new" band in town:
"We Are Young" may be the song that made fun. famous, but it was not fun.'s first song. "Yeah, that's annoying," said Antonoff. "That is like the Best New Artist Grammy. It should be called the Most Recently Famous Artist Grammy."
On his "socially and economically conscious" teenage stealing spree:
"We would only steal from big corporations. We would steal something from Walgreens, the alarm would go off, and we would throw it as far as we could. The people would come out and be like, 'You stole it.'" But their pockets were empty, so they'd be let go. "Then we would go retrieve it in the woods later."