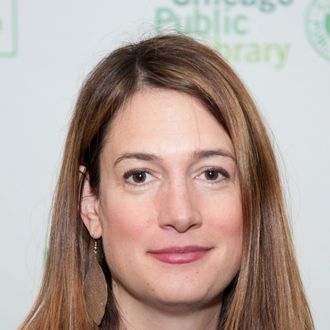 Photo: Daniel Boczarski/Getty Images
David Fincher's adaptation of Gillian Flynn's dark missing-wife thriller Gone Girl hit screens on Friday, and it had a pretty impressive opening weekend. While debate about the movie's shocking twist, its woman problem, and Ben Affleck's elusive dong are still fresh in our minds, its not too soon to start looking forward to the next twisted psychodrama that Flynn has in store for us. Here's what the author has on her plate:
A Sharp Objects TV series:
Gillian Flynn's 2006 debut novel is currently being developed as a one-hour serialized drama for Entertainment One, with Buffy the Vampire Slayer producer Marti Noxon serving as writer and showrunner. The book centers on Camille Preaker, a reporter recently released from a psych ward, who returns to the small town she grew up in to investigate the murder of two young girls. Flynn discussed the book in a Reddit AMA back in April before the deal was announced, saying, "I think of the three books, it would actually be the easiest to translate to film and could be wildly creepy."
A Dark Places movie:
The film adaptation of Flynn's second novel, Dark Places, is set to hit theaters sometime next year. "I think it's absolutely lovely. It's haunting and unnerving," she told Variety recently. Set in small-town Kansas, the novel follows a woman named Libby Day who is the only survivor of a massacre that killed her mother and sisters. Libby's 15-year-old brother was incarcerated for his involvement in the crime, which was believed to be part of a Satanic cult ritual. Twenty-five years later, a group of amateur investigators set out to exonerate Libby's brother, and Libby in turn starts to uncover the truth about her dark past. The movie stars Charlize Theron as Libby, along with a stacked supporting cast that includes Christina Hendricks, Nicholas Hoult, Corey Stoll, and Chloë Grace Moretz. Unlike Gone Girl, Flynn didn't write the screenplay, which was penned by director Gilles Paquet-Brenner (Sarah's Key).
Two book projects:
Flynn signed a two-book deal with Random House back in November 2012, and she elaborated on the projects on Reddit in April, explaining that one will be YA ("No vampires," she promises) and the other will be "a big, sprawling American folkloric tale of murder." Meanwhile, her first short story was published in George R.R. Martin's anthology Rogues, which came out this June.
HBO's Utopia:
A number of film reviewers pointed out that David Fincher's directing style and Gillian Flynn's dark source material seemed uniquely well-matched, and it looks like Flynn and Fincher seconded that assessment: The pair are reteaming for HBO's Utopia, a remake of the critically acclaimed British series about a group of strangers whose lives are thrust into turmoil when they find an unpublished manuscript for The Utopia Experiments, the sequel to a cult graphic novel that is believed to have predicted a series of major global catastrophes. It was recently announced that Flynn will write the entire season, with Fincher directing every episode, à la True Detective. As she tells BuzzFeed: "I'd pretty much signed off on Gone Girl, and I got the message from David — it was a text — 'Hey, got this TV thing. It'll take up the next year of your life. Are you in?" she explained. "I was like, of course I'm in. You don't even have to tell me what it is. I'm in." Reunited and it feels so good.