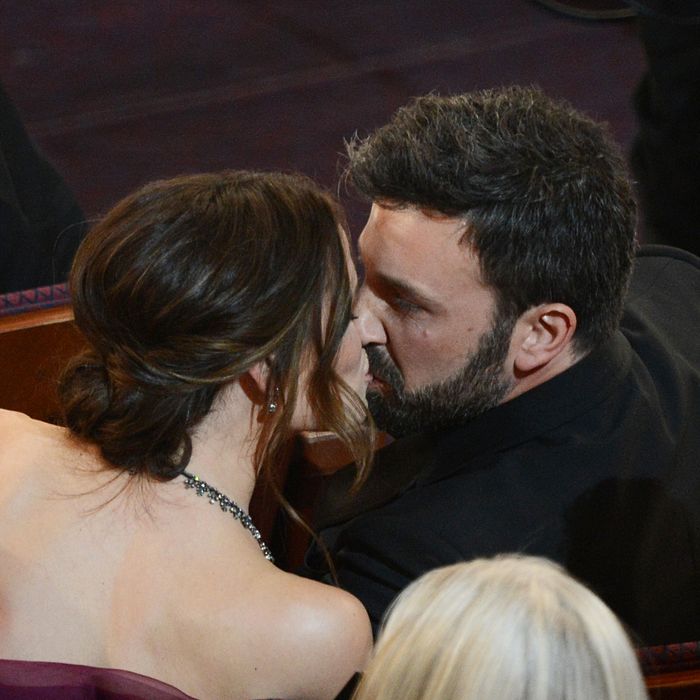 DV1424883
Photo: ROBYN BECK/2013 AFP
This post originally ran in October 2014. We are rerunning it because, as things end, it's good to remember where they started.
I remember the moment in April 2005 when I heard that Jennifer Garner and Ben Affleck were getting married. I was in college at the time and I didn't really follow gossip news, so I didn't even know they had started dating. But still, there, burned in my brain, is the memory of me seeing the news and thinking, Of course. See, I had seen the episode of Dinner for Five (Jon Favreau's short-lived IFC show where he had actors and directors eat dinner together) that they appeared on together, along with their Daredevil cast members, and I had observed Jennifer Garner fall madly in love with Ben Affleck.
The episode aired in January 2003, which means Ben was still dating Jennifer Lopez (Lopez and Affleck had gotten engaged only a couple months prior). Maybe Ben didn't allow himself to love Garner back, but that didn't stop her. (As a commenter points out, Garner was still married to Scott Foley. They announced their separation two months after this aired.) I will present you three moments, each better than the next. The whole episode is online, but a lot of it is Kevin Smith talking about stuff that has nothing to do with true love.
1. The first moment starts with Ben Affleck talking about how he has a big forehead, which causes Garner to slap her head to show that she also has a giant forehead. This elicits a big smile out of her that Affleck quickly discourages. The conversation continues and Kevin Smith starts making fun of Affleck, which causes Garner (at the 16:10 mark) to want to defend his honor. (Warning: Affleck comes off like kind of a douche. He comes off like kind of a douche throughout the entire episode.)
2. Here Garner talks about how she was cast for the role of Elektra, and thanks Affleck for not making her audition. Right at about 20:09, she gives him such a genuine look of gratitude and affection, it still makes me a bit uncomfortable to see it on television.
3. Still, that has nothing on this last look. Are you ready? Affleck is telling the story of going to the Oscars. He tells a joke about how out of place he and Matt Damon felt at the Writers Guild Awards, and BOOM. At the 21:02 mark! This is the exact moment she fell in love with him. This is the image I thought of two years later, when they finally got engaged.
Yep, there it is.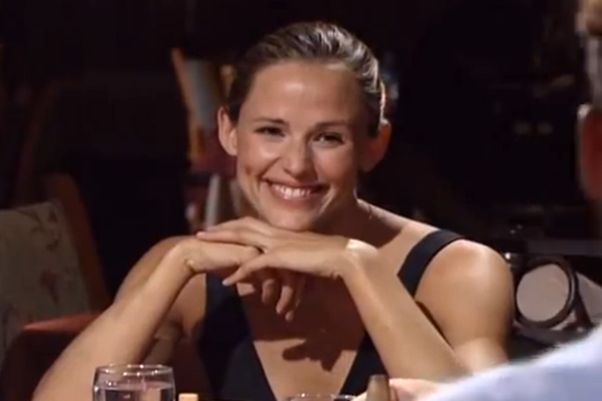 The rest is history and hard work.