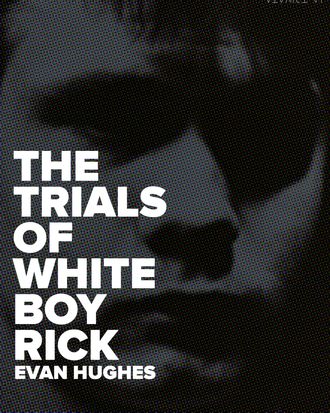 "It's certainly a nice thing," says the journalist Evan Hughes, whose Atavist-published story "The Trials of White Boy Rick" was optioned last week by Oblivion director Joseph Kosinski for six figures, according to a couple of sources — a sum larger than either Hughes or his three-year-old digital-only publisher had previously seen. "It makes the extreme amount of time I spent on this seem less ridiculous."
It's been about a year and a half since Hughes first heard of Detroit cocaine supplier Rick Wershe — convicted at 17 under a draconian drug law and still in jail 26 years later, despite that law being eventually rolled back — and began digging into claims that the local icon, whom Kid Rock name-checked in a song and Eminem reportedly wanted to play in a movie, was actually (spoiler alert!) a betrayed FBI informant. On his way to confirming that fact and much more, Hughes realized "The Trials of White Boy Rick" was neither fish nor fowl — too rich for a magazine feature well but too narrow for a book. "It's kind of a saga that would be really difficult to turn into a 4,000-word story," says Hughes, the author of Literary Brooklyn, who'd never published a crime story before. Nor was Wershe's odd tale representative enough to anchor a book-length treatment of, say, corruption or drug sentencing or '80s Detroit. "So it felt good at this length — almost 19,000 words," he says.
The Atavist, among other digital publishers (including Amazon's Kindle Singles program), was created exactly to fill this long-form gap. For writers, though, it has its drawbacks; its typically mid-four-figure advance comes to about a quarter of a good magazine word-rate, and its reader base is even smaller. On the flip side, all revenues are split evenly (unlike book royalties counted against an advance), including movie rights.
That last perk was, for a long time, largely notional. Through last spring, the Atavist, which publishes monthly, had only gotten two pieces optioned for film. Then, in June, Brett Ratner and Ed Norton picked up Jon Mooallem's bizarre true story "American Hippopotamus," about two enemy spies teaming up to try to turn the eponymous beast into a dinnertime staple. Two months later, Hangover team Todd Phillips and Bradley Cooper acquired Adam Higginbotham's "A Thousand Pounds of Dynamite," a feature revolving around an odd extortion plot and America's largest improvised explosive device.
Working with CAA and the development company Circle of Confusion, Atavist founder Evan Ratliff has become more active in courting movie producers. It seems a good strategy, because the Atavist's stories hit Hollywood's nonfiction sweet spot — offbeat, fast-paced narratives told at roughly the length of a screenplay, requiring neither the radical slicing-and-dicing of book adaptations nor the wild padding of magazine-feature treatments. Studios have even started digging into the Atavist's archives. A third, unreported deal was made last month for a 2012 story, James Nestor's "Half-Safe," about a journey around the world in an awkward amphibious vehicle.
Narrative journalism has long been fertile ground for the movies, and in the past couple of years — as the former becomes generally less lucrative — ventures like Epic and Page 1 have been founded with the specific aim of developing adaptable nonfiction stories for Hollywood. Just as they're getting off the ground, the Atavist, whose main revenue comes from building software for digital storytelling, has begun turning development into a steady sideline. Not only is director Joseph Kosinski's option the latest in a string of deals, it's the biggest, says Ratliff, by a factor of almost three.
Recent windfall aside, Ratliff believes that basing his business on movie options would be foolhardy. "We've always viewed the film and TV aspect as kind of a bonus," he says. Where selling rights might make the biggest difference is for the writer — the one for whom the greatest professional reward, movie or not, is to be read. "My big hope," says Hughes, "is that this news about the movie will draw more readers."