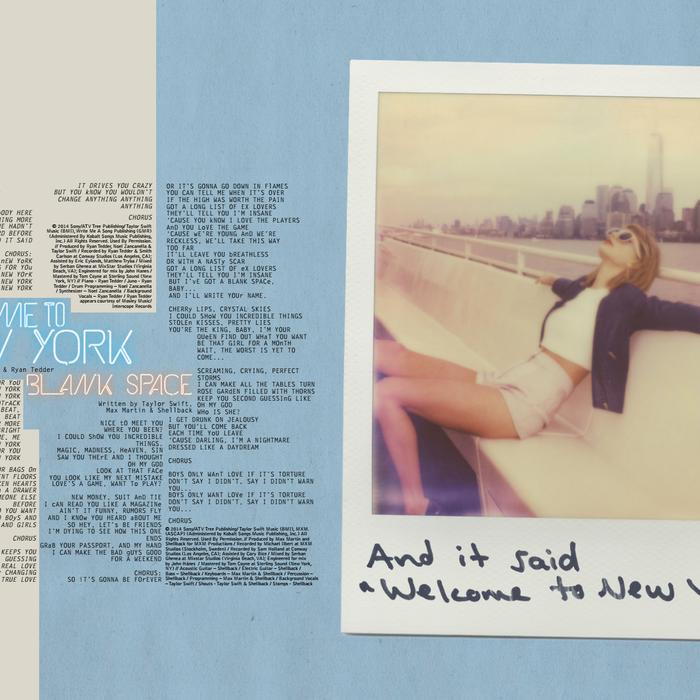 Photo: Courtesy of Big Machine Records
It's Taylor Swift Day in New York City (and also everywhere else). As is standard practice any time Swift drops a new album, we've spent the mornings decoding the hidden messages in the liner notes of 1989 to figure out who (or what) each song is about this time. The big surprise: For the first time, Taylor's hidden clues are complete sentences, and taken in order, they tell one single story (mostly) about one single dude. As Taylor explains in the forward to the liner notes, "I've told you my stories for years now. Some have been about coming of age. Some have been about coming undone. This is a story about coming into your own. And as a result … coming alive." What does that mean? Join us below to find out!
1. "Welcome to New York"
Hidden Message: WE BEGIN OUR STORY IN NEW YORK
Using our remarkable powers of intuition, we have determined that this song is about New York City.
2. "Blank Space"
Hidden Message: THERE ONCE WAS A GIRL KNOWN BY EVERYONE AND NO ONE
This is apparently a plight-of-fame song like Britney Spears's "Lucky," but instead of committing suicide, she's embracing the ridiculousness of her "man-eating, jet-setting serial dater" public image. Much more fun.
3. "Style"
Hidden Message: HER HEART BELONGED TO SOMEONE WHO COULDN'T STAY
Based on the timeline, the references to busy schedules, and the fact that his last name is Styles, we think we can safely assume that "Style" is about Harry Styles.
4. "Out of the Woods"
Hidden Message: THEY LOVED EACH OTHER RECKLESSLY
A second straight song for Styles. (The lyrics about snowmobiles and paper-airplane necklaces give it away.) Does that mean that every song on this album is about Harry Styles? They dated for like a month. Our months-long relationships can barely inspire a single tweet, but that's probably why we're not international pop stars.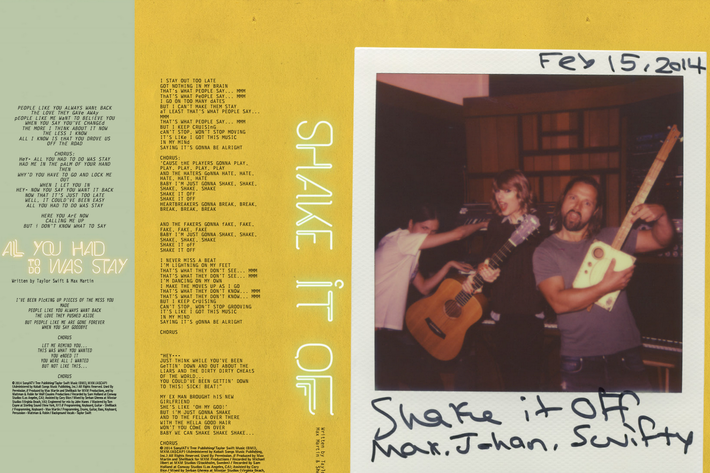 5. "All You Had to Do Was Stay"
Hidden Message: THEY PAID THE PRICE
All Harry Styles had to do was stay on that boat, but he didn't.
6. "Shake It Off"
Hidden Message: SHE DANCED TO FORGET HIM
Solo dancing is a solid post-breakup strategy, as anyone who's watched an awards show in the past two years could tell you.
7. "I Wish You Would"
Hidden Message: HE DROVE PAST HER STREET EACH NIGHT
This is where we start to suspect that the guy in these liner notes is more of an archetypal boyfriend rather than one specific dude. Because: Are we really meant to believe that Harry Styles has been driving around Tribeca pining for Taylor? Is Harry Styles even allowed to drive in the U.S.? "Oi, I'm on the wrong side of the road, innit."
8. "Bad Blood"
Hidden Message: SHE MADE FRIENDS AND ENEMIES
We'll table that discussion for a second to get to the Katy Perry dis track. For the sake of plausible deniability, it was probably smart of Taylor to stay away from specifics, but we would have greatly enjoyed a "MAPLE LATTES"–style liner-notes subtweet here.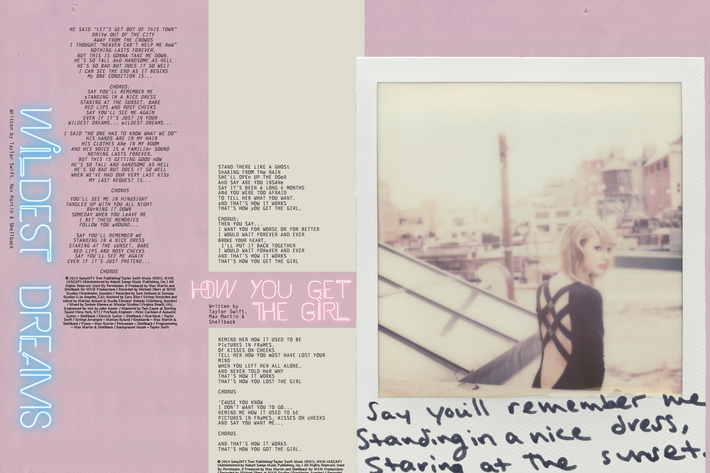 9. "Wildest Dreams"
Hidden Message: HE ONLY SAW HER IN HIS DREAMS
Back to the Styles debate! There's no way of knowing exactly whether or not Harry Styles has dreamed of Taylor Swift, but lines like "He's so bad but he does it so well" make us want to throw this one in the Styles pile, too.
10. "How You Get the Girl"
Hidden Message: THEN ONE DAY HE CAME BACK
If we believe the official fan narrative of the Harry Styles–Taylor Swift relationship, they had a brief fling in spring 2012, broke up after he made out with some girl in New Zealand, then got back together at the end of the year. With lyrics about "a long six months," we're guessing this song is about that.
11. "This Love"
Hidden Message: TIMING IS A FUNNY THING
This is a pretty clear reference to the few months in late 2012 that Taylor and Harry had off between tours. It's also classic text-euphemism for "Hey, I know I kind of ditched you earlier, but now I'm sorry and want to make out with you again." Harry Styles has definitely sent a text like that.
12. "I Know Places"
Hidden Message: AND EVERYONE WAS WATCHING
Remember all those times Taylor was photographed sneaking into Harry's hotel late at night? This song is an ode to the paparazzi who gave us those images: "They are the hunters, we are the foxes." In case you needed more evidence, Taylor wore a fox sweater on that Central Park date.
13. "Clean"
Hidden Message: SHE LOST HIM BUT SHE FOUND HERSELF AND SOMEHOW THAT WAS EVERYTHING
This sounds suspiciously like the random breakup advice Taylor gave that fan over the summer. Was she using Instagram to workshop liner notes? Anyway, this one's about Styles, too, and if we take the references to being "ten months sober" at face value, it was likely written in late 2013, after the VMAs dis.