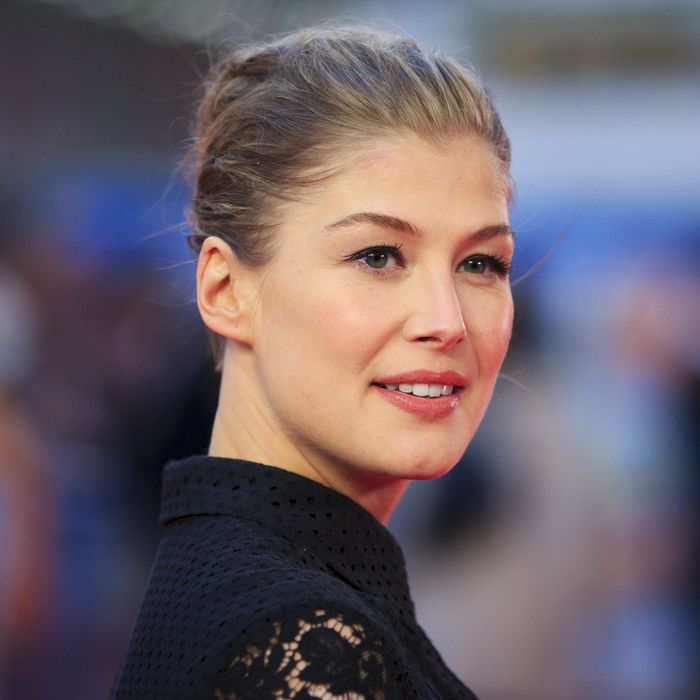 Photo: John Phillips/Getty Images
Based on 2012's outrageously successful best-seller, David Fincher's Gone Girl, out today, is already one of the most-talked-about movies of the year. Gillian Flynn maybe changed the ending! David Fincher nailed another book adaptation! Ben Affleck kind of, sort of went full-frontal! But what about the titular Girl? Of all the names people have been throwing around in anticipation of the film's premiere, Rosamund Pike's is the least recognizable. But that's about to change.
Why am I suddenly seeing her name everywhere?
I just told you: because she's the Girl in Gone Girl! And you've either read Gone Girl, read about Gone Girl, seen the trailer for Gone Girl, seen other people reading Gone Girl, or been told by your best friend/roommate/mother about the plot twists in Gone Girl. It's that popular of a book.
Okay. But if I don't know her by name, why does she look familiar?
Did you see Die Another Day? If you did, you may remember her as the Bond Girl who wasn't Halle Berry. Here's a funny story she told W Magazine about borrowing a dress from her mother (an opera singer) for a screen test. Did you see The Libertine? Well, if you did, you may remember her as Johnny Depp's daughter. (I couldn't find a funny story she told W Magazine about that.)
I don't remember those movies, but she still looks familiar.
Well then, you've probably seen either Joe Wright's wonderful and elegant Pride & Prejudice, in which she has a scene-stealing role as the gorgeous but not super-smart Jane, or you've seen Lone Scherfig's wonderful and elegant An Education, in which she has a scene-stealing role as the gorgeous but not super-smart Helen.
Oh, I loved An Education!
Me, too! In fact, one of my favorite parts is this particular exchange between Rosamund and Carey Mulligan. Just listen to her say, "No, you didn't. You said something completely different!" It's basically a star-making line.
You said she played "not super-smart" characters in those movies. Is she not super-smart in real life?
No, she is super smart! Rosamund graduated from Wadham College in Oxford, where she read English literature — like Carey Mulligan's character in An Education! She also plays the cello.
So you're saying reading English literature and playing the cello means you're automatically "super smart"?
I guess. Probably? Right? I don't really know any cellists, though. Wait, why are you changing the subject?
Okay, back to Rosamund. If she was soooo great in Pride & Prejudice and An Education, then why did it take five years for me to figure out who she is?
Well, she spent those years taking small-ish roles in some fairly well-received movies like Barney's Version, Jack Reacher, and The World's End. And, because actors need to pay the bills just like the rest of us, some fairly poorly received movies like The Big Year and Wrath of the Titans.
I didn't see any of those.
I figured. But those first three I mentioned are actually pretty good! (They were bigger hits overseas than they were in the U.S. Isn't that always the case?) And The World's End and Jack Reacher are both streaming on Netflix, so you can check them out if Gone Girl is sold out all weekend.
So basically you're telling me I didn't know what I had 'til she was … Gone?
That's exactly what I'm telling you.
Well, I'm glad she's finally doing well.
Honestly, Rosamund has been pretty successful throughout this first decade of her career, and she might even be an Oscar nominee by spring. She just needed a big starring role to really break out!