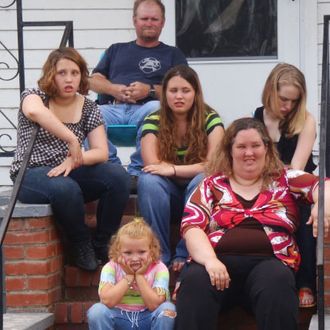 Photo: Chris Fraticelli/TLC
Well, that was quick: Barely 24 hours after TMZ published a photo of Here Comes Honey Boo Boo matriarch Mama June Shannon with a convicted child molester, TLC has decided it's better to no longer redneckognize its spinoff of Toddlers and Tiaras. The network has shelved the upcoming third season of the show (even though the episodes had already been filmed) and says it has no plans to even air reruns of the show. It's a dramatic development, and a decision TLC executives probably didn't make lightly. "There's a whole season that had been shot. You don't walk away from that unless you're really concerned," one reality TV veteran told Vulture Friday. So why did TLC move with such speed and seeming finality? Three reasons immediately come to mind:
1. Honey Boo Boo is still a hit, but it's not irreplaceable.
While the show's overall audience last season of around 1.5 million wasn't huge, it remained a demographic dynamo for TLC. Episodes last summer regularly beat all cable competition Thursdays at 9 among the network's target audience of women under 50, and among all TLC shows this year, it remains a Top 5 show with women under 35. And yet, ratings declined a bit when the show move to Thursdays this year, and after 50 half-hour episodes, the odds of ratings growth next year were tiny. Plus, the Nielsen half-life of most cable docusoaps is usually about two to four years (see Jersey Shore or the recent Nielsen free-fall for Duck Dynasty). While Honey probably could've lasted at least another year, or maybe two, as a vibrant part of the TLC lineup, the loss of the show won't devastate the network. As for the money spent producing the new shows? TLC's accountants will probably be able to write off a big chunk of the cost as a business loss, much the way movie studios do when a feature film completely tanks.
2. It's better to be safe than sorry.
Mama June is saying she's not dating the sex offender in question; TMZ claims otherwise. TLC's statement suggests it believes TMZ, without ever explicitly acknowledging the TMZ report or its validity. We're not gonna play Detective Munch here and try to determine what's actually happened or happening between MJ and her alleged boyfriend. But if there's even a hint of truth to what TMZ has reported, it's not at all illogical that TLC would bail so quickly. It couldn't afford to let the news cycle get ahead of it while it tried to figure out the truth, or before non-TMZ outlets investigated and confirmed the report. Broadcast and cable networks have tolerated a lot of sleazy behavior on the part of their reality-show contestants over the years. Sometimes, a fake "suspension," as happened last year with Duck Dynasty loose cannon Phil Robertson, is enough to quiet critics. But with charges of child molestation involved? The financial impact of not airing the show pales in comparison to the potential harm to the female-friendly TLC brand if it were seen to be supporting or condoning a child sex offender. Much the way Paula Deen's diehard fans wailed when she was dropped by various networks after her racist comments were uncovered, supporters of Mama June will no doubt cry foul — particularly given her denial. But quick, decisive action was the only real option for TLC.
3. The action can be reversed if the facts change.
As of now, people familiar with TLC's thinking say the cancelation of Honey Boo Boo is very real and very complete. There are no plans to show reruns, and episodes have been pulled from all the international markets where TLC has channels. Still, nothing the network has done today prevents a rapprochement between it and Mama June should new details emerge proving her contention that she's had nothing to do with McDaniel, or that the TMZ photo was somehow doctored or misleading. (We're not challenging or questioning the credibility of the news organization's report, just positing future developments). If — and it's a big "if" — the situation evolves in a new direction, TLC could easily reschedule the already filmed episodes, or even resume production on the show. There are no sets that need to be rebuilt, or actors who've booked new shows. Admittedly, this all seems unlikely right now. But as TLC quickly mapped out its strategy for handling these developments, the knowledge that its decision could be reversed likely made it easier to be decisive.